The Best Ever Easy Vegan Baked Beans made in the pressure cooker, slow cooker and stove top. Each recipe made from scratch, thick, smokey and soul-soothing! Take them to BBQs, cookouts, picnics and backyard parties.
I have to admit that making these baked beans in 3 different mediums was some of the most fun challenge I have had since starting this blog.
Each recipe is different and getting the ingredients just right had the wheels in my head running a marathon!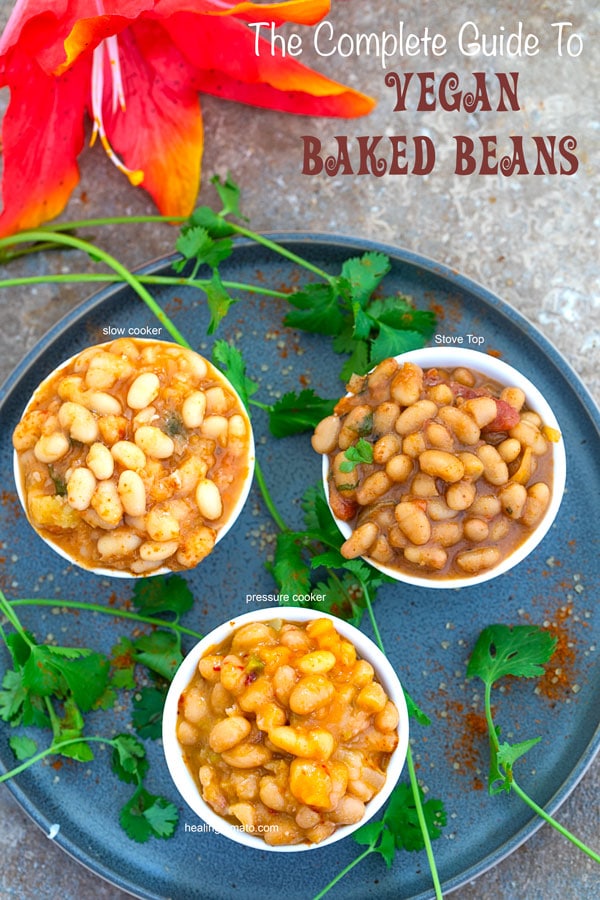 I use three ways to make the baked beans. You can click on the each one and it will take you directly to the recipe:
Tips for soaking navy beans
The best way to soak these beans is to find a bowl that is twice the size of the amount of beans you are using. For 2 cups of navy beans, use a 4-quart bowl or larger. The reason to use a large bowl is that the beans will double in size after the soaking process. It helps if they have plenty of space to "bloat"
Wash, Wash and then wash some more. When you remove them from their packaging, place them in a sieve and put them under running water. This will remove any of the grime or "bean dust" in the packaging. If you noticed things that might look like gravel, remove those too
Always cover the beans while they are soaking. This might seem strange but the reason to cover them is to prevent any air particles like dust, dirt, smoke, etc getting into the soaking water. Nothing ruins the flavor of a good baked beans than dust and dirt
If you have the chance, drain the water at about the 5 hour mark. You will notice that the has developed a light film or whitish water on top. So, drain the water and give the beans a little rinse. Add fresh soaking water and cover them again to soak for another 5 hours. This process will also keep the beans from stinking when you use them in the cooking process
When they have soaked for 10 hours, drain any excess water in the bowl. Use a (Affiliate Link) tea towel or paper towels to soak up any extra moisture on the beans
Keep the towel-dried navy beans covered until ready to put into the recipe
You can refrigerate the soaked beans for about 24 hours before putting in the recipe. Or freeze them for about 3 months in freezer friendly containers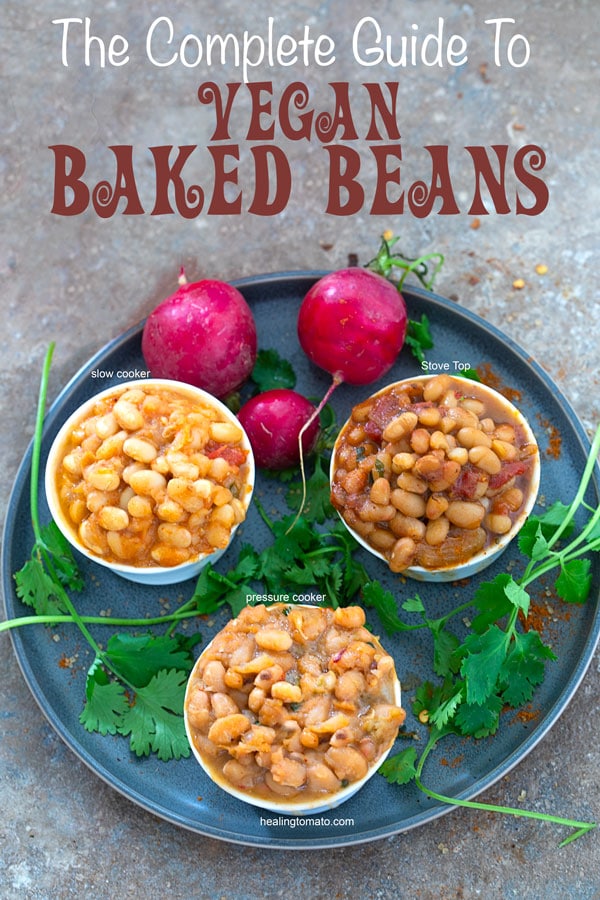 What types of beans to use?
Traditionally, baked beans are made with Navy beans because they are really easy to cook and soak up the flavors in every molecule. I used dry navy beans for all three recipes, but, you can easily use canned navy beans. I will arm you with all the information you need when making baked beans with either type.
You can also use Great northern beans (dry or canned) for this recipe. I know some areas of the country refer to "navy beans" as "Great Northern Beans" or vice versa. To me, they are exactly the same, so, use the one you prefer.
P/S: If you like navy beans recipes, check out my recipe for a super simple Navy beans salad or Pressure Couscous salad.
Other types of beans
The unconventional beans that I have seen being used in vegan baked beans recipe are
Butter Beans
Lima beans
Pinto beans
Cannellini beans
Kidney beans.
For me, butter beans are a little denser, so they take longer to cook as I noticed when I made my Pumpkin Soup with the big butter beans. I think Lima beans are better suited for stews and side dishes like my lima beans
It always comes down to what you may have in your pantry. If you have navy beans, use those and keep the pinto beans to make homemade refried beans.
Do the dry beans need to be soaked overnight?
The answer is "NO" if you are cooking it in the slow cooker (crock pot) or pressure cooker. They cooking process in these machines makes it so that the beans soften as they cook. They also absorb the flavoring while they are softening and that means you don't have to do any work!
Was that a "YAY!" I heard you say? And yes, I said it too!
In any other device or cooking method, these beans do absolutely have to be soaked overnight. Soaking them makes them easier on the gut.
In the pressure cooker, soaked navy beans will cook really well.
Side note: No matter what kind of dry beans you use, please soak them overnight.
Can they be frozen?
Yes, you can absolutely freeze the vegan baked beans once you have cooked them. They freeze very well and still retain their flavors when you defrost them.
How Long will cooked beans last in the refrigerator? They can last for about 3 months and I have even seen people freeze the vegan baked beans for about 6 months. Personally, I prefer using them up sooner than that. So, make the baked beans and choose a freezer friendly container to freeze them.
I like using these (affiliate link) Deli Food Storage containers for refrigerating the vegan baked beans. This is because they are really easy to defrost and place into a sauce pan to re-heat.
How to serve them
The beauty of these baked beans is that you can serve them in so many, many ways. The sky is the limit when it comes to serving these baked beans:
Baked beans and toast
Did you do a double take? "How can toast and baked beans be served together???" This might be a strange thing to do for my American audience, but, my UK audience will know exactly what I am talking about!
Growing up in a very British influenced home, we used to eat baked beans over toast all the time. Its one of those really easy meals to make when the parents are exhausted and just need a break. The baked beans are cooked slightly differently than in this recipe, but, they taste just as good.
Once the bread slice is toasted, pour a ladel full of these baked beans on toast and serve immediately.
This toast recipe is one of those things that you just have to try it yourself to understand its flavors. I can't do it justice by talking about it here.
Incidentally, if you like bread and navy beans, check out my Ribollita recipe.
Over a bed of rice
This is an epic way of serving the baked beans. I want to warn you before-hand that this method is a carb heavy, tryptophan loaded, must-take-a-nap after eating it, type of meal.
The rice adds to the heartiness of the vegan baked beans and makes it the best comfort food recipe you can make!
So, make sure you are wearing sweat pants when you dive into a bowl of rice and baked beans! Have a pillow and blanket within arms reach, so, you can go to sleep right away. Trust me, you won't have the energy to get up after eating it.
I served them over my cooked Basmati Rice and they were beyond delicious!
In a tortilla wrap
This is more to the liking of my American readers. Wrap them in a tortilla and take a huge bite out of it! Sure, its going to be messy, but, who cares about the mess when it tastes soooo good.
Another way to use them in a tortilla is to roll them in a tortilla and place them in a casserole dish, like an enchilada! Place as many rolled tortillas as will fit in your casserole dish. Drizzle some of the sauce from the baked beans and a little enchilada sauce
Drizzle some vegetarian or vegan cheese on top and bake in the oven at 400° for about 10-15 minutes. Serve them immediately when cooled to touch
Over sweet potatoes
These baked beans can be drizzled on a loaded potato and served as a side dish or as an appetizer!
You can use either a sweet potato or a russet potato that is baked. To make it even more interesting, use potato skins as the bowl and fill it with these baked beans.
The first thing to do is bake the sweet potato. There is an art to baking a sweet potato, so, visit my 5 tips for baking the perfect sweet potato. Use these tips to bake the sweet potato and then when its done, slit the baked sweet potato longitudinally. Pry it open gently without splinting the potato into have.
When you have created the cavity, pour about 1 ladle of the baked beans in the middle and serve immediately.
I also have a different kind of loaded sweet potato recipe that is just too delicious!
Serve them as is
This is my favorite way of eating the baked beans. When they are done cooking, I will put a huge scoop of the vegetarian baked beans into a GIANT bowl and dig in with my GIANT spoon. They taste so good when you eat them by itself and piping hot.
Are they good for you?
Glad you asked me this question, but, I have to stress that I am not a dietician or nutritionist. So, take this answer with a grain of salt (Did you see what I did there?)
You and I both know the struggle of being a vegan. One of the hardest things to incorporate into our diet is protein! Much as you and I love lentils, it gets repetitive after a while. I truly love my kale curried lentils recipe, but, I can't eat it every single day.
So, vegans are always looking for new protein rich recipes to make that will keep our taste buds entertained. These vegan baked beans are going to be like birthday party, Christmas day and world chocolate day all rolled into one!
Ok, I might be (slightly!) overselling it, but, I truly believe that these baked beans are delicious and they are good for us.
Now, let's talk about some of the small side effects. One of the main side effects is feeling gas-y after eating it. Beans have a soluble fiber that makes us gassy.
The good news is that Huffington Post has 7 ways of preventing the gas, or at the very least, reduce the gassy effects of eating beans. Come back and tell me which one worked for you.
3 ways of making them
So, now we get down to business. Here are 3 ways to make baked beans. In the pressure cooker, stove top and in the slow cooker. Which is your favorite way?
Pressure cooker method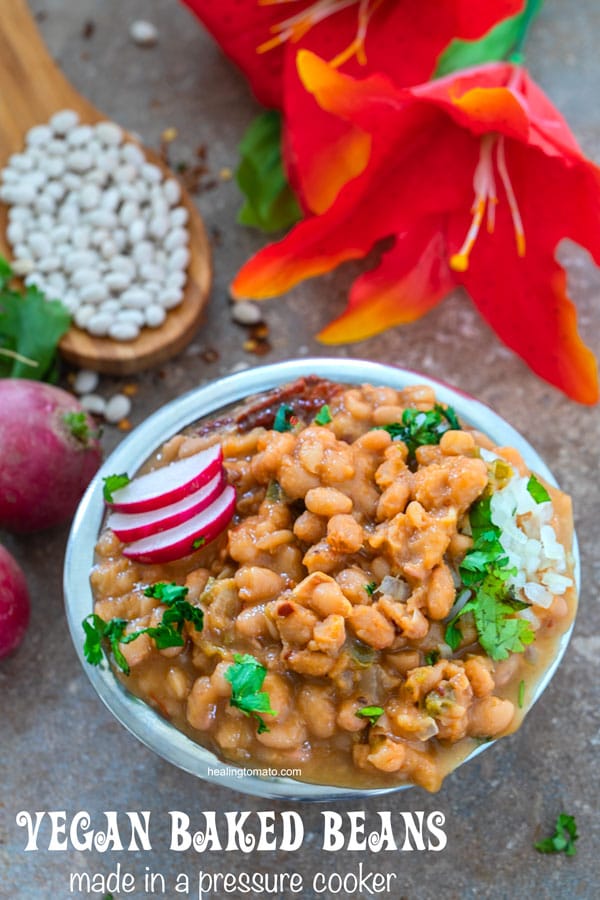 This is definitely the fasted way to make baked beans. It takes an hour to cook in the pressure cooker and its very effortless. The navy beans didn't need to be soaked overnight either. I just dumped dry navy beans into the pressure cooker, set it to 1 hour and choose the "Bean" option. Once it was done cooking, I poured myself a huge bowl and dove in with my spoon!
Side note: I use my (affiliate link) Bestek pressure cooker for this recipe. If you use a different pressure cooker, you may need to adjust the amount of water and timings based on your machine.
You can also get the printable version of the pressure cooker method.
Ingredients For The Pressure Cooker
– 1.5 Tbsp extra virgin olive oil
– 5 Radishes
– 1 Green apple
– 1/2 Green Bell Pepper
– 1/4 Red onion
– 3 Chipotles in Adobo Sauce
– 2 tsp Salt
– 2 tsp nutritional yeast
– 1 clove garlic (diced)
– 2 Tbsp cane sugar (vegan)
– 1 lb Navy Beans, dry
– 6 cups water
– 1 tsp lime juice
Instructions For The Pressure Cooker
– Add all the ingredients into the pressure cooker, EXCEPT the lime juice.
– Mix well, close the lid and set the pressure valve to "closed"
– Set your pressure cooker to 1hr timer and choose the "Bean" option
– When done, release pressure valve and wait for all the steam to dissipate
– Open the lid, add the lime juice and give it a quick stir
– Remove the large pieces of chipotles (optional)
– Use a hand blender and quickly blend just some areas of the container. This will help thicken the sauce
– Serve immediately or transfer to meal prep containers
Cook time – approximately 1hr 15min, Calories – approximately 1045 kcal
Video for Pressure Cooker Vegan Baked Beans – https://youtu.be/-C9TXfTcYiE?t=3m43s
Crock pot method
Making the vegan baked beans in the slow cooker is the easiest thing to do. The only downside is that it requires a lot of patience. The beans took about 4.5 hours in the crock pot to fully cook. Its really hard to be patient especially when the aromas coming out of the slow cooker are so intoxicating! I kept asking myself, "Is it done yet", "Is it done yet"???
My patience was rewarded at the end because these baked beans turned out even better than I imagined! So, make them today and let me know what you think.
Get the printable version of the slow-cooker method.
Ingredients for the Slow Cooker
1.5 Tbsp Oil
1/4 mustard seeds
1 Clove of garlic (diced)
1 Yellow onion (Diced)
1/2 Red bell pepper (diced)
2 tsp salt
1 tsp smoked paprika
1/4 tsp whole black peppercorns
1.5 Tbsp Adobo seasoning
1 tsp nutritional yeast
1 lb Navy beans
6 cup water
1.5 cup cherry tomatoes (halved)
3 Tbsp cane sugar
3 drops Liquid Smoke
2 Stems cilantro
1 tsp Lime juice
1/4 cup crushed pineapple
Instructions for the Slow Cooker
– Set your slow cooker to high
– Add all the ingredients until the cherry tomatoes
– Mix well and close the lid
– Let it cook on high for about 4-5 hours, stirring occasionally
– Open the lid and ad the remaining ingredients
– Blend some of the navy beans. Don't mush all of them.
– Mix well and let it sit on "keep warm" setting until ready to eat
Cook time – approximately 5hr 15min, Calories – approximately 1219 kcal
Video for Crock Pot Baked Beans – https://youtu.be/-C9TXfTcYiE?t=31s
Stove top method
I have to admit that the stove top baked beans recipe was my favorite out of the three, despite it taking more effort than the other two methods.
The best part of this recipe is that I made the molasses from scratch instead of using the store bought version. I don't know why I haven't done it before, but, I am definitely going to be making my own molasses from now on. It does take a little effort to make, but, completely worth it in the end.
If you want, you can get the printable version of this stove-top method.
Ingredients for the Stove Top
– 1.5 Tbsp oil
– 2 tsp crushed ginger
– 1 clove garlic
– 1/4 onion julienne
– 5 leaves of Rosemary
– 2 Tbsp Vegan Butter
– 1/4 cup Cane sugar (vegan)
– 1/4 cup Grade A Maple Syrup
– 1 Tbsp Tapioca Starch
– 1/4 Cup Orange Juice (pulp-free)
– 2 Cup Fire-roasted tomatoes (diced)
– 16 oz Navy Beans (cooked)
– 1.5 tsp salt
– 1 Tbsp smoked paprika
– 1 Tbsp Nutritional Yeast
Instructions for the stove top method
– Heat a pan on medium heat for 30 seconds
– Add the oil, garlic and ginger
– Mix well and let it brown slightly
– Add the onion and cook for about 5 minutes, until soft. Stir often
– Remove the onions to a plate and top with rosemary leaves. Set aside
– Don't worry if the pan is darkened. We are going to de-glaze it
– Add the Butter and let it melt for about 30 seconds
– Add the cane sugar and maple syrup
– Stir constantly, until it thickens (about 4 minutes)
– Add the tapioca starch and stir for about 4 minutes
– Add the orange juice, mix and let it thicken (about 4-5 minutes)
– Add the cooked onions and the remaining ingredients
– Mix well and let it cook on medium heat for about 5 minutes
– Serve immediately or let it cool before transferring to meal prep containers
Cook time (canned beans) – approximately 40min, Calories – approximately 1651 kcal
Video for Stove Top Baked Beans – https://youtu.be/-C9TXfTcYiE?t=6m30s
So, which one of these 3 methods for cooking the vegan baked beans will you use?
Vegan Baked Beans
3 Ways of making Vegan Baked Beans

Ingredients
Ingredients for the Pressure Cooker
Ingredients for the Slow Cooker
Ingredients for the Stove Top
Instructions
Instructions For The Pressure Cooker
Add all the ingredients into the pressure cooker, EXCEPT the lime juice.

Mix well and close the lid

Set your pressure cooker to 1hr timer and choose the "Bean" option

Close lid and set the pressure valve to "closed"

When done, release pressure valve and wait for all the steam to dissipate

Open the lid, add the lime juice and give it a quick stir

Remove the large pieces of chipotles (optional)

Use a hand blender and quickly blend just some areas of the container. This will help thicken the sauce

Serve immediately or transfer to meal prep containers
Instructions for the Slow Cooker
Set your slow cooker to high

Add all the ingredients until the cherry tomatoes

Mix well and close the lid

Let it cook on high for about 4-5 hours, stirring occasionally

Open the lid and ad the remaining ingredients

Blend some of the navy beans. Don't mush all of them.

Mix well and let it sit on "keep warm" setting until ready to eat
Instructions for the stove top method
Heat a pan on medium heat for 30 seconds

Add the oil, garlic and ginger

Mix well and let it brown slightly

Add the onion and cook for about 5 minutes, until soft. Stir often

Remove the onions to a plate and top with rosemary leaves. Set aside

Don't worry if the pan is darkened. We are going to de-glaze it

Add the Butter and let it melt for about 30 seconds

Add the cane sugar and maple syrup

Stir constantly, until it thickens (about 4 minutes)

Add the tapioca starch and stir for about 4 minutes

Add the orange juice, mix and let it thicken (about 4-5 minutes)

Add the cooked onions and the remaining ingredients

Mix well and let it cook on medium heat for about 5 minutes

Serve immediately or let it cool before transferring to meal prep containers
Notes
Total Times:
Pressure cooker – 1hr 15 minutes
Slow Cooker – 5hrs 15 minutes
Stove Top – 40 minutes (using cooked navy beans)
Stove Top – approximately 14 hours (using dry navy beans)
Please note that the nutrition information for this recipe is approximate
Nutrition
Calories:
894
kcal
Carbohydrates:
151
g
Protein:
29
g
Fat:
23
g
Saturated Fat:
3
g
Sodium:
3689
mg
Potassium:
1743
mg
Fiber:
37
g
Sugar:
56
g
Vitamin A:
3015
IU
Vitamin C:
70.8
mg
Calcium:
331
mg
Iron:
9.8
mg