Vegan Caesar Salad is quick and easy to make using romaine lettuce and a simple vegan Caesar salad dressing that has extra garlic. It's Gluten free and keto because it is made with baked tofu and not bread croutons.
This post was updated for text on Sept 11, 2019. The recipe and images remain exactly the same as Version 1
Once in a while, I like a dressing made with a comfortable dose of garlic!
This is one of those vegan salad dressings that will open up your sinuses and awaken your taste buds.
That's what I experienced!
Tips for making it
Be sure to thoroughly clean the romaine lettuce and dry it. Get in between the crevices to remove any dirt or grime.
I used organic ingredients in this Caesar salad to make it more delicious.
Don't use a knife to cut the romaine lettuce. Roughly shred the romaine lettuce using your hands. Knife will make the romaine lettuce wilt faster.
Make the Caesar salad dressing a day before. This will give it time to marinate a little longer and make it extra garlicky.
You can use regular croutons in this salad, if you don't like tofu.
I don't add tomatoes to my caesar salad, but, you can add it if you like. Go with oven roasted cherry tomatoes for best results
Ingredients
Raw cashews (unsalted, soaked overnight) – Cashews add a creaminess to the dressing. They are rich in iron and help lower LDL cholestrol. Source: The Cashew Council.
Garlic – Garlic adds a lot of flavor to the salad, but also brings with it a boatload of nutrition. Garlic helps lower blood pressure, blood sugars, improve cardiovascular health, good for skin and so much more. Source: British Heart Foundation, Cleveland Clinic, PubMed.
Shredded coconut – Coconut has good fats, has a ton of polyphennols and also adds an exotic taste to this vegan Caesar salad. Source: Real Simple, Dr. Axe.
Salt – I use pink Himalayan salt which I find to be much better than regular salt.
Extra Virgin Olive Oil – It's packed with good fats and Omega 6. I have also tried this salad with avocado oil too. Source: Mind Body Green.
Apple cider vinegar – It helps lower blood sugar levels. Source: UP Medical Center.
Answering common questions
Why can't vegans eat Caesar salad?
Eggs! Vegans don't eat eggs which is the base of Caesar salad dressing. There are also some vegetarians who don't eat eggs, so this salad is perfect for them too.
What can I use instead of croutons?
Use baked tofu which looks a lot like croutons but has none of the side effects. Tofu also brings protein to the salad.
If you want more info on what vegans can and cannot eat, I created a helpful guide.
Don't like a garlic salad? I have a huge list of Salad Dressing Recipes that you can choose from.
Tofu croutons are the better way to go
I love regular croutons and I have nothing against them. But, I never liked them with a garlic flavored dressing.
This is my personal preference, so, feel free to use regular croutons instead.
Tofu croutons also add more nutrition like protein to this vegan Caesar salad and they are taste great with a garlic based Caesar dressing. B est part is that they are really easy to make too.
If you don't want to cook the tofu, use my vegan feta cheese which is marinated with spices. Or, make this Greek Prasini salad which uses real feta cheese and it's very similar to Caesar salad.
Try some other ingredient in this salad? I would love to hear how you adopted it to your taste.
Do you prefer regular croutons or tofu croutons?
Try these salad recipes
Here are more salad recipes from my blog. My favorite is my spinach salad recipe. Which one is your favorite?
Spinach salad with bagel chips – A really quick and easy salad that is so delicious.
Watermelon Salad – this cool and refreshing watermelon salad can be taken to picnics and outdoor parties.
Fruit Salad – Made with stone fruits, this is a the perfect salad to enjoy all summer long.
Mushroom salad – It's a warm mushroom salad that is simply delicious.
Olive salad – This is a different kind of salad because it's made mostly with olives.
Sharing is caring
Don't be shy, chime in below in the comments. Let me hear your opinion on this vegan Caesar salad recipe. If you enjoyed this, please give it 5 stars and share it on Facebook, Pinterest, Twitter, and Instagram.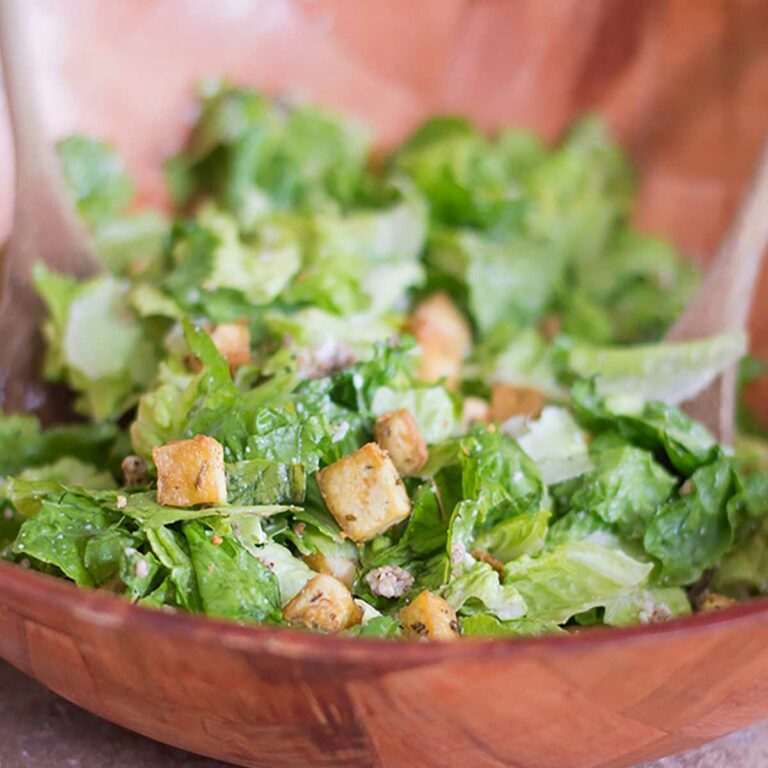 The BEST Keto Vegan Caesar Salad
Quick and easy vegan caesar salad recipe. Make this healthy salad recipe for lunch or for dinner appetizer. Has vegan salad dressing and vegan Parmesan
Ingredients
To Make The Tofu
1/2

block

Tofu

drained and cubed

1

Tbsp

extra virgin olive oil

1

tsp

dried rosemary

1

tsp

dried oregano

1/4

tsp

salt
To Make the Parmesan
1/4

cup

raw cashews

(dry, unsalted)

2

tsp

pecans

chopped

2

tsp

almonds

sliced
To Make The Vegan Caesar Salad Dressing
1/4

cup

raw cashews

(unsalted, soaked overnight)

2

cloves

garlic

1/2

tsp

shredded coconut

(optional)

1/4

tsp

salt

1/2

tsp

agave

1/4

cup

extra virgin olive oil

1/2

tsp

apple cider vinegar

3/4

cup

water
Assemble the salad
2

bunches

romaine lettuce
Instructions
To Make The Tofu
In a wok, add 1 Tbsp of extra virgin olive oil and heat it at medium heat

Add salt, dried rosemary and dried oregano

Gently add the tofu and stir fry for 7-10 minutes.

Stir it frequently until browned on all sides

Turn off the heat and let it cool
To Make the Vegan Parmesan
In a food processor, add cashews, pecans and almonds

Blend on low speed until the ingredients are finely chopped and moist in consistency

To Make The Vegan Caesar Salad Dressing
In a food processor, add soaked cashews and blend them on low speed until it is mushy

Blend in the garlic, shredded coconut, salt and agave using low speed


Add extra virgin olive oil and blend for 10 seconds

Add apple cider vinegar and water

Mix well until very smooth

Assemble the salad
Roughly tear romaine lettuce and add it to a salad bowl.


Add the Parmesan and tofu to the salad and mix


Add half of the salad dressing and toss using wooden spoons.

Serve the vegan Caesar salad immediately
Notes
Refrigerate the remaining Salad dressing for up to 1 month