This quick and simple breakfast recipe for Vegan Chocolate Chip Pancakes is perfect for breakfast or brinner. Takes only a few minutes to make
Pistachios make for a great pancake, I have discovered. Today's recipe is a vegan chocolate chip pancake with pistachios.
I know how ironic this sounds. Presenting a breakfast recipe by a person who never eats breakfast.
I am more of a "brinner" type of person. I like my breakfast foods during dinner time.
You better not be judging me right now!
Ok, go ahead and judge. It is so much more satisfying to have my pancakes for dinner
This vegan chocolate chip pancake will make for a great brunch item this Sunday.
This recipe is a vegan version of pancakes. Trust me, it is not bad at all. The almond milk and flax seed flour is a great substitute for eggs. I promise you that you will not miss the cholesterol eggs in this recipe.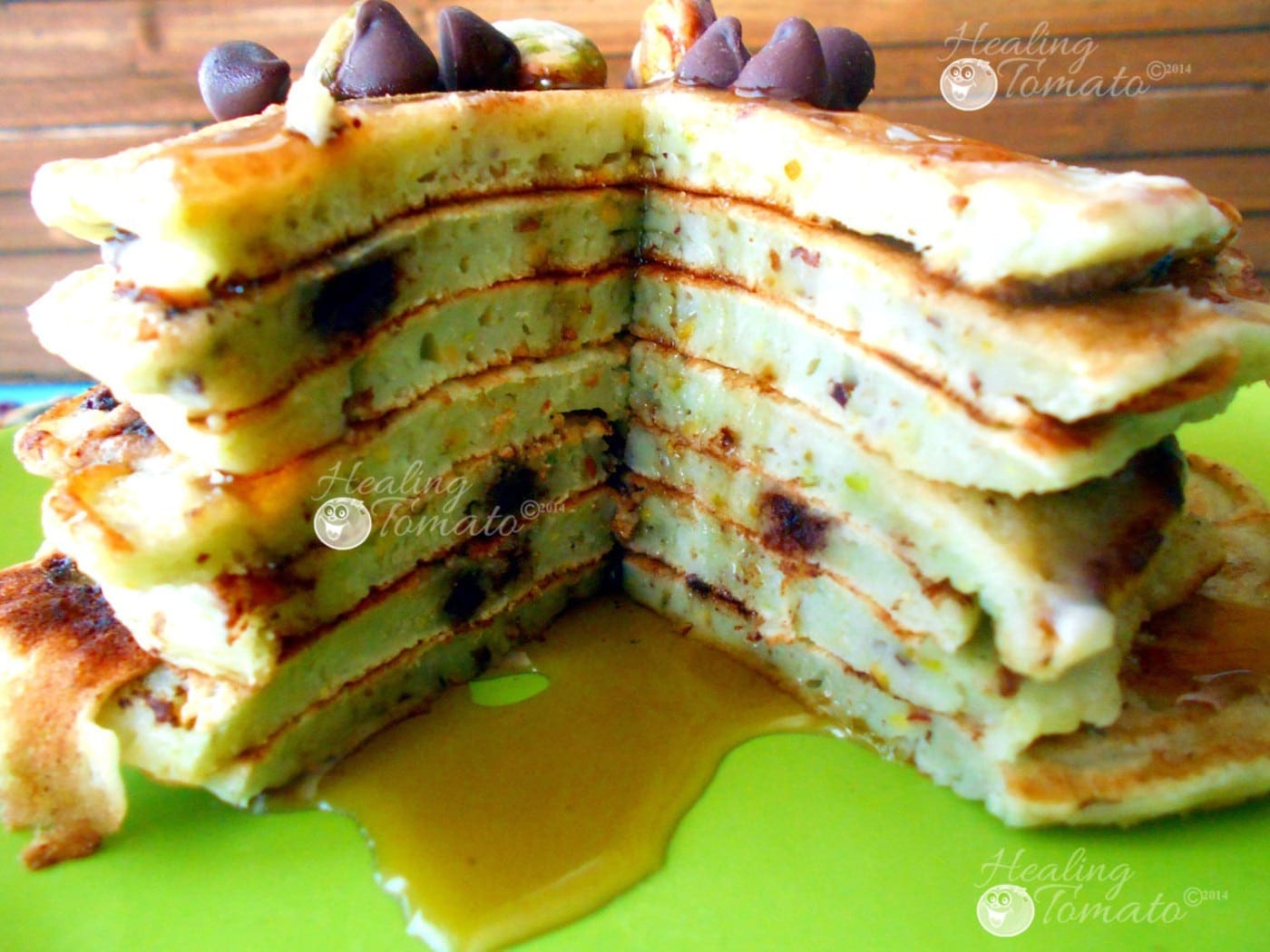 Also, what is a pancake without buttermilk, right? So, I found a recipe for making vegan buttermilk. It is so simple to make and you won't know the difference. For my recipe, I used almond milk to make the buttermilk. However, you can use Soy milk also to make it but don't use rice milk.
Since this pancake was a little out of the ordinary, I wanted to add something that would make it a little more like traditional. Enter chocolate chips! They melt into the pancake and into your mouth.
To emphasize the green color, I added some (affiliate link) vegan green food coloring. Or, you can make your own food coloring using spinach.
Now that you know how easy it is to make buttermilk, will you make your own?
Check out my vegan matcha pancake recipe. Or a savory scallion pancake may be more of your style?
Do you like waffles? I made these Kale waffles and they turned out really delicious.


Vegan Chocolate Chip Pancakes
Vegan Chocolate Chip Pancakes with Pistachios
Vegan Chocolate Chip Pancakes with pistachios

Ingredients
For the Buttermilk
1

cup

almond milk

1

Tbsp

lime
For the Pancake
2

cups

all purpose flour

unbleached

2

tsp

flax seed meal

6

tsp

water

1

cup

almond milk

2

drops

vanilla extract

1/8

tsp

salt

optional

2

tsp

baking powder

1

cup

pistachios

unsalted and grounded finely

1/2

cup

chocolate chips
Instructions
How to make the Buttermilk
Mix the almond milk and lime juice


Using a fork, stir the mixture aggressively

Let it sit for about 10 minutes
Making the Pancakes
In a large mixing bowl, bring together all the dry ingredients (except the baking powder). Set aside


In a small bowl, add the flax seed meal and water. Stir well

Add this mixture to the dry ingredients

Add the vanilla extract

Slowly add the buttermilk and stir with a spoon

Start adding the almond milk with one hand and stirring with the other.

Once all the almond milk is added, stir the mixture.


If it is too thick, add a little more almond milk. Lumpy is ok too


Heat a pan or griddle until it is HOT

While the pan or griddle is warming up, add the baking powder to the mixture and stir it well.

Add 1 ladle worth of the batter to the pan


When you start seeing the bubbles form on the sides of the pancake, flip it carefully

Keep the pancakes on the flipped side for about 2 minutes and then remove from heat

Repeat for the remaining batter
Notes
Nutritional info is approximate