Vegan colcannon recipe like you have never seen before. Made with collard greens and topped in filo shells. Great appetizer for your St. Patrick's day menu
Did you know that colcannon is referred to as Irish soul food?
I had no idea until I researched the traditional recipe and absolutely loved reading that. Soul food makes me happy and it makes everyone happy.
What better time to make a happy Irish dish than on Saint Patrick's day, right?
I am all about bite sized recipes. If I can convert a recipe into a bite-sized brunch recipe, you know I will do that. Why eat in a bowl with a spoon when you can just grab and pop them in your mouth!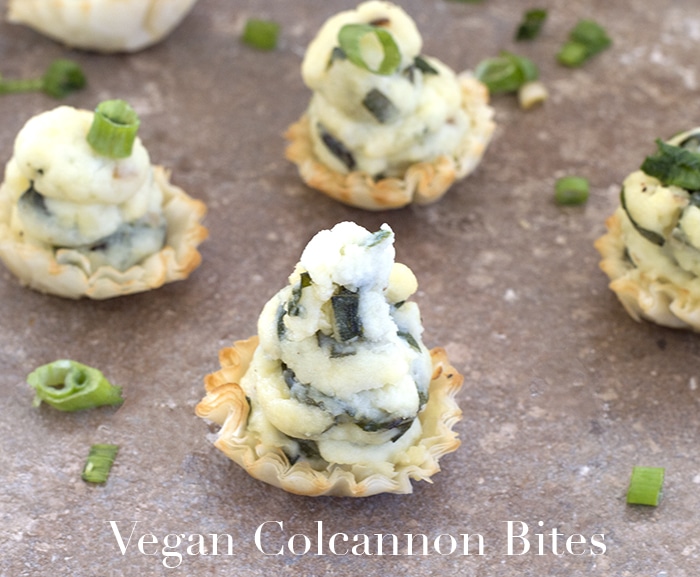 No mess, no fuss, no cleanup!
Related: 5 Tips For Baking The Perfect Sweet Potato
Collard greens are the traditional southern comfort food, so, I figured they would fit right in with my vegan colcannon recipe…
….and, boy, did they fit in!!
Every since I made my collard green stew, I have been enamored with them. These collard greens are filled with vitamins, nutrients and anti-oxidant properties. They are also strong leafed greens, so, I can cook them in almost any recipe.
The secret to fluffy mashed potatoes is yogurt! Specifically, I used vegan yogurt made from coconut milk. I felt like I was eating clouds because they were so smooth.
The green onions added just a hint of spice and a little crunch.
What is your favorite way to celebrate St. Patrick's day?
How to make them
1) Preheat oven to 350 degrees.
2) Melt 1/2 a stick of Earth Balance butter. Take 10 filo shells and lightly brush the butter on them. Place them on a baking tray and place them in the oven for about 7 minutes. Remove and set aside.
3) On the stove top, place a medium sized pan. Fill it to about 3/4 of the way with water.
4) Wash 2 potatoes thoroughly and add them to the water. Let them cook for about 25 minutes on high heat. When they pass the knife test, turn them off and use tongs to gently remove them from the water. Set aside to cool
5) While the potatoes are cooking, prepare the collard greens. Remove the tough stems and fold them tightly. Cut them into ribbon shapes and set aside. I used 3 collard green leaves for this recipe and had about 2 cups when cut into ribbon shapes
6) Finely chop 1/4 of a red onion and crush 2 cloves of garlic. Take one sprig of green onion and chop it into small pieces
7) In a small pan, add 2 Tbsp of canola oil
8) Add the onions and garlic. Stir and let them turn slightly brown
9) Add the greens and set the heat to medium. Let it sit for a few minutes and then stir
10) Add 1 tsp of salt and green onions. Keep stirring frequently until the greens are half their size. Add 1/2 cup of water
11) Keep stirring until all the water has burnt off and the the greens are slightly crispy. Add the lime juice and stir. Turn off heat and set aside
12) In a bowl, add the potatoes after removing their skin. Add 1/2 tsp of salt and 1/2 tsp of black pepper
13) Add 1/2 cup of vegan yogurt to the potatoes. I used coconut milk based vegan yogurt.
14) Using a potato masher to completely mash the potatoes. I like my potatoes to have a silky texture.
15) Add the cooked collards and mix well.
16) Take one 12″ decorating bag and add Wilson Tip 1A to the bottom of the bag. Leave about 1 inch from the bottom of the bag.
17) Fill the bag with the potato mixture and remove any air bubbles. Cut the bottom 1″ from the bag and push the tip to the bottom
18) Twist the bag and gently fill the filo shells
19) Drizzle with the melted vegan butter on top of the potatoes and gently place in the oven.
20) Bake the colcannon bites for about 7-10 minutes
Gently remove from the oven and let them cool for about 2 minutes before serving
Vegan Colcannon Bites
Vegan colcannon recipe like you have never seen before. Made with collard greens and topped in filo shells. Great appetizer for your St. Patrick's day menu
Ingredients
½

Stick

vegan butter

12

filo shells

Water

To Boil Potatoes

2

Idaho potatoes

3

collard green leaves

¼

red onion

2

cloves

garlic

1

sprig

green onion

2

Tbsp

canola oil

1

tsp

salt

(for the collard greens)

½

cup

water

½

tsp

salt

for the potatoes

½

tsp

black pepper

½

cup

vegan yogurt

½

tsp

lime juice
Instructions
Preheat oven to 350 degrees.

Melt 1/2 a stick of Earth Balance butter. Take 10 filo shells and lightly brush the butter on them. Place them on a baking tray and place them in the oven for about 7 minutes. Remove and set aside.

On the stove top, place a medium sized pan. Fill it to about 3/4 of the way with water.

Wash 2 potatoes thoroughly and add them to the water. Let them cook for about 25 minutes on high heat. When they pass the knife test, turn them off and use tongs to gently remove them from the water. Set aside to cool

While the potatoes are cooking, prepare the collard greens. Remove the tough stems and fold them tightly. Cut them into ribbon shapes and set aside. I used about 3 collard green leaves for this recipe and had about 2 cups when cut into ribbon shapes

Finely chop 1/4 of a red onion and crush 2 cloves of garlic. Take one sprig of green onion and chop it into small pieces

In a small pan, add 2 Tbsp of canola oil

Add the onions and garlic. Stir and let them turn slightly brown

Add the greens and set the heat to medium. Let it sit for a few minutes and then stir

Add 1 tsp of salt and green onions. Keep stirring frequently until the greens are half their size. Add 1/2 cup of water

Keep stirring until all the water has burnt off and the the greens are slightly crispy. Add the lime juice and stir. Turn off heat and set aside

In a bowl, add the potatoes after removing their skin. Add 1/2 tsp of salt and 1/2 tsp of black pepper

Add 1/2 cup of vegan yogurt to the potatoes. I used coconut milk based vegan yogurt.

Using a potato masher to completely mash the potatoes. I like my potatoes to have a silky texture.

Add the cooked collards and mix well.

Take one 12? decorating bag and add Wilson Tip 1A to the bottom of the bag. Leave about 1 inch from the bottom of the bag.

Fill the bag with the potato mixture and remove any air bubbles. Cut the bottom 1? from the bag and push the tip to the bottom

Twist the bag and gently fill the filo shells

Drizzle with the melted vegan butter on top of the potatoes and gently place in the oven.

Bake the colcannon bites for about 7-10 minutes
Notes
Nutrition info is approximate
Nutrition
Calories:
96
kcal
Carbohydrates:
9
g
Protein:
1
g
Fat:
6
g
Sodium:
332
mg
Potassium:
151
mg
Vitamin A:
200
IU
Vitamin C:
3.9
mg
Calcium:
18
mg
Iron:
0.3
mg