Vegan Mushroom Stroganoff made with Pumpkin Puree and Coconut Milk. This is the Perfect Weeknight Dinner Recipe. Made in Under 30 Minutes.
Pumpkin recipes are all over the internet lately.
This means that Pumpkin season is here?
But, I always feel that pumpkin never leaves our consciousness.
As far as I am concerned, its ALWAYS pumpkin season!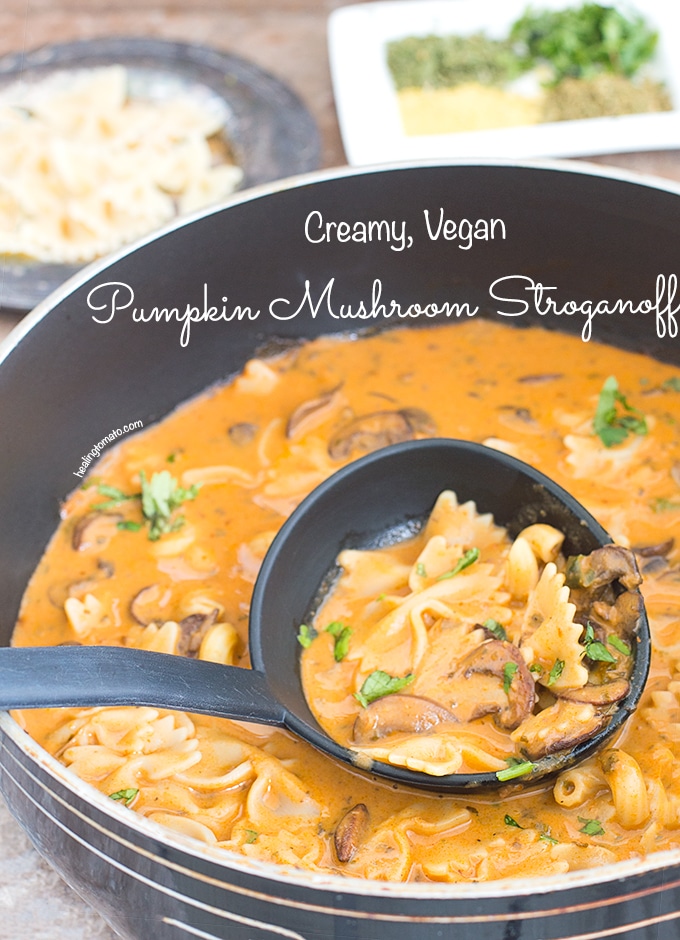 This week, its all about pumpkins! I have 3 recipes planned for pumpkin week that you will absolutely love!
First up, its this pumpkin mushroom stroganoff made with coconut milk and tomato sauce. Its much more fun to add pumpkin into a pasta recipe than I thought. I have always used it in soups like this pumpkin soup or into a pumpkin dip.
Next, I will bring you a pumpkin smoothie which is just magnificent! Also, I plan to ramble on about not making it to all the books my summer reading list. It should be a fun read, so, be sure to come back for it.
The last recipe in pumpkin week is actually about my favorite way to store pumpkin puree and use it all year round. I think you will appreciate how easy it is to make.
But, for now, let's talk about this creamy mushroom stroganoff.
Have you noticed that I have made so many mushroom recipes on this blog? Subconsciously, I have been craving them lately and no idea why.
If anyone knows why I am so obsessed with mushrooms, please enlighten me.
During the week, when things get so busy or you are late getting home because of bumper-to-bumper traffic, I think you will appreciate quick and easy dinners.
That theme was on my mind when I made this recipe, so, I made sure that it was ready in 30 minutes. If you want to save even more time, buy pre-sliced mushrooms for this recipe. I used button mushrooms, but, you can get creative and use different types. This photo has button mushrooms, oyster mushrooms, portobello mushrooms and shitake mushrooms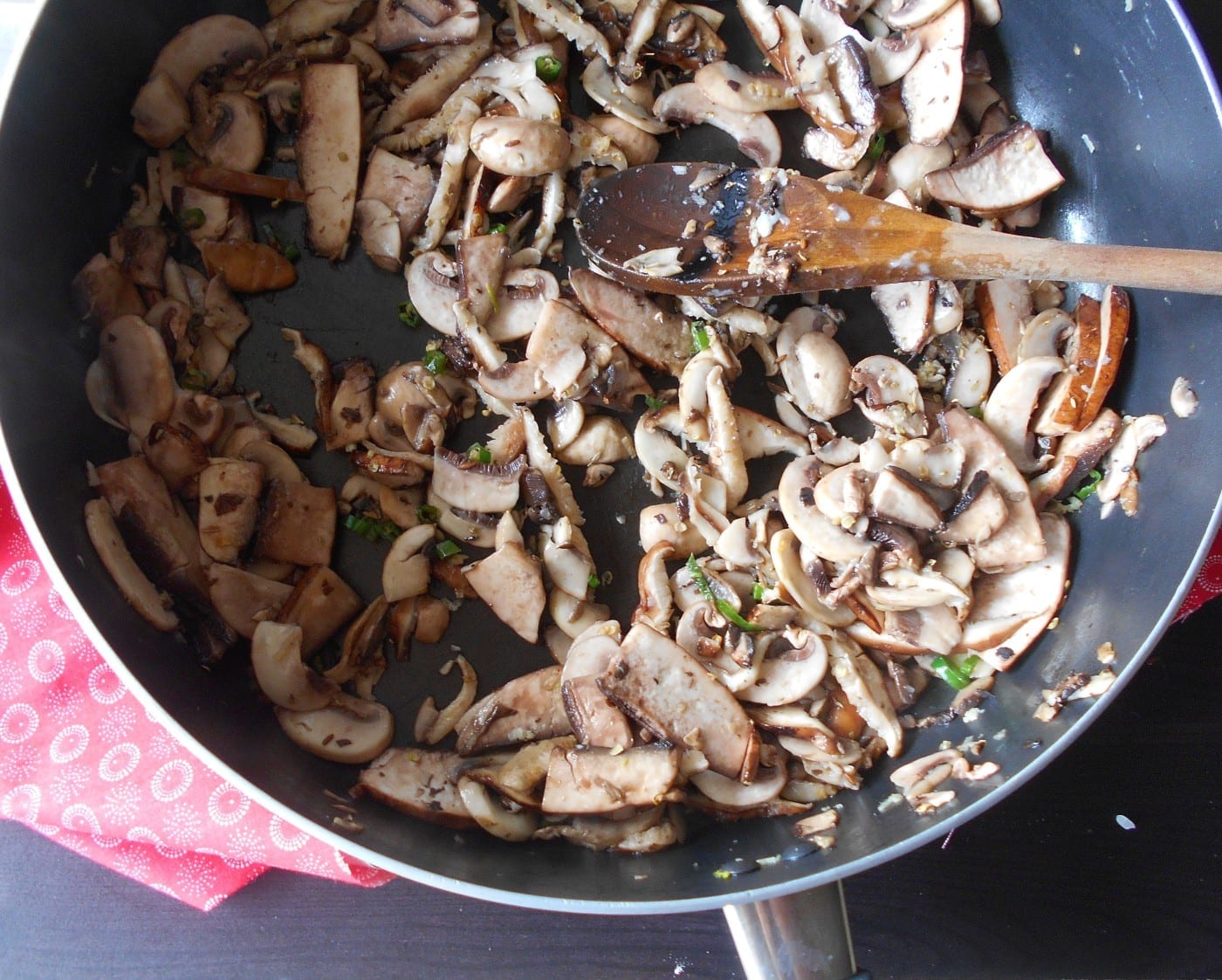 I added pumpkin puree because its faster. However, if you do have the time, I think making your own pumpkin puree from scratch would make this creamy mushroom straganoff taste even better.
To make pumpkin puree, preheat oven to 350°. Wash and cut a pumpkin into half. Remove all the seeds and strings. Very lightly oil the inside of the pumpkin and then cover with foil. If you have left over pumpkin puree, check out how I like to preserve the leftover pumpkin puree.
Place in oven for 65 minutes or until the insides are very tender. Remove and let it cool before scraping the insides and placing them into a blender and blend until pureed
For the pasta, I have to tell you something funny. When I was deciding on making this recipe, I intended to use only farfalle pasta. However, when I went to make it, I realized that I didn't have enough of it.
So, I decided to add (affiliate link) ridged elbow pasta left over from my easy weeknight pasta recipe and turns out, I didn't have enough of that either. After I chuckled a little, a lightbulb went off in my head.
Why not use both in this recipe? It can't be that bad, right?
And, I am am delighted to tell you that it was so delicious. I think the farfalle appealed to the adult me and the elbow pasta appealed to the kid in me.
You can use any pasta you want for this recipe. Its common to use it on top of linguini or spaghetti.
Do you love this easy stroganoff recipe?
Vegan Mushroom Stroganoff
Quick under 30 minute creamy mushroom stroganoff with pumpkins

Instructions
Add the oil to a hot pan and heat for 30 seconds


Add the onions and let them caramelize


Add the garlic and let it brown


In a medium saucepan, add the olive oil and allow it to heat

Add the crushed garlic and ginger


Sautee for 30 more seconds and then add the mushrooms


Cook the mushrooms for about 10 minutes on medium heat until softened, stirring frequently


When the mushrooms have shrunk to half their size, turn up the heat slightly and let the mushrooms crisp a little

Add the tomato sauce, spices, salt and pepper


Mix well and let it cook until most of the tomato sauce is turned into past. The mixture should be almost dry


Add the pumpkin puree, water and coconut milk. Mix well


Feel free to add crushed nuts like pistachio or pecans


Heat for about 5 more minutes and then turn off the heat


Add the bow tie pasta and garnish before serving

Nutrition
Calories:
569
kcal
Carbohydrates:
65
g
Protein:
16
g
Fat:
30
g
Saturated Fat:
25
g
Sodium:
3853
mg
Potassium:
1198
mg
Fiber:
6
g
Sugar:
10
g
Vitamin A:
9800
IU
Vitamin C:
13.4
mg
Calcium:
86
mg
Iron:
7.3
mg