Creme Fraiche – Looking for a Healthier Substitute? This Vegan Version Will Truly Satisfy That Craving! Uses Only 4 Ingredients and Made in 15 Minutes or Less.
I have always loved Fresh Cream, but, I didn't have a vegan version. So, I kept using the vegetarian version.
Vegans shouldn't have to miss out on fresh cream just because it's not vegan.
Now, I am glad that I made a vegan version and it is delicious.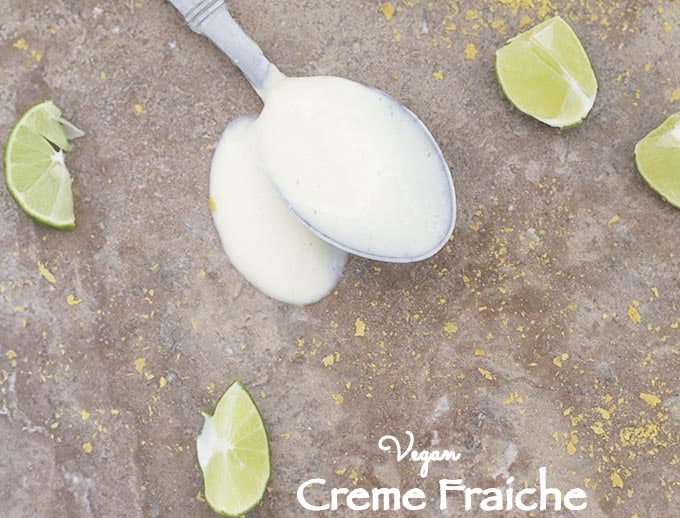 I had noooo idea just how easy it would be to make creme fraiche!!
It always seemed like an intimidating recipe to convert for vegans. Then, I started researching it and found a perfect substitute using only 4 ingredients! Best part is that it took less than 15 minutes to make!
The hardest part was to drain the soft tofu and that was no trouble either. I used paper towels to soak the water and that was all it needed.
Once it is drained, I just put it into a food processor, added nutritional yeast, lime juice and almond milk. Just like that, I had my very own vegan version of creme fraiche!
In my version, I don't put any salt. That is because this creme fraiche is never consumed by itself. Since it is always part of a recipe, I leave the salt to the recipe itself. This way, I have more control over the salt amount.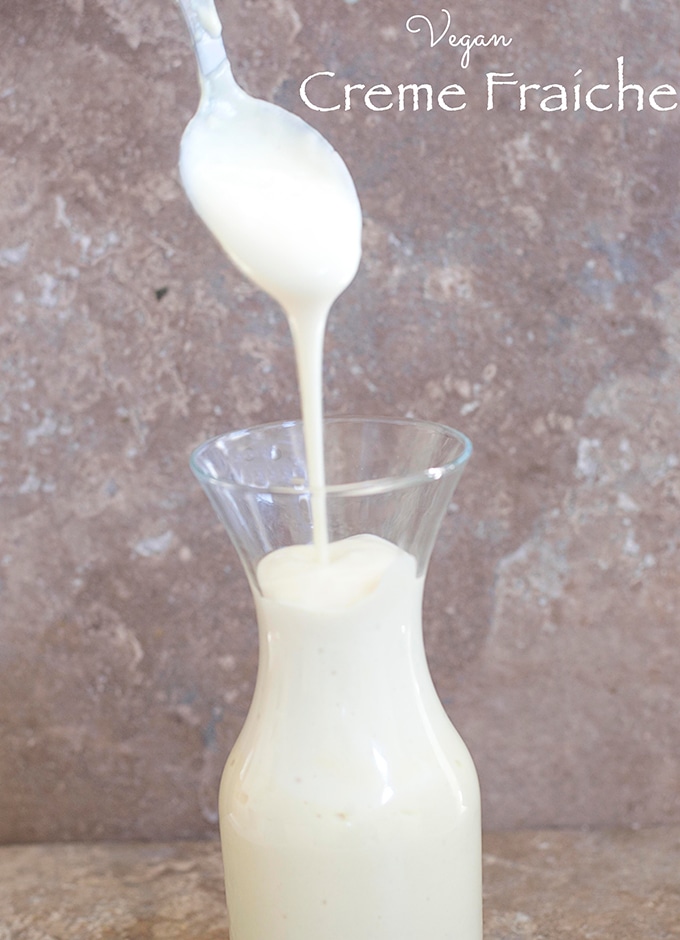 I cannot tell you how delighted I am to bring this recipe. It is one of the easiest recipes I have ever made and it is an awesome substitute for those of us who cannot consume the real creme fraiche.
I used this creme fraiche in a pasta dish that is perfect weeknight dinner recipe
Talking about missing recipes, have you signed up for my free newsletter? I will deliver free recipes directly to your inbox! Now is the best time to sign up for it because I am giving away a free eBook! This eBook has my 7 MUST have salads for 2017. Get your free copy here!


What recipe can't you wait to try using this vegan creme fraiche?
Vegan Creme Fraiche Substitute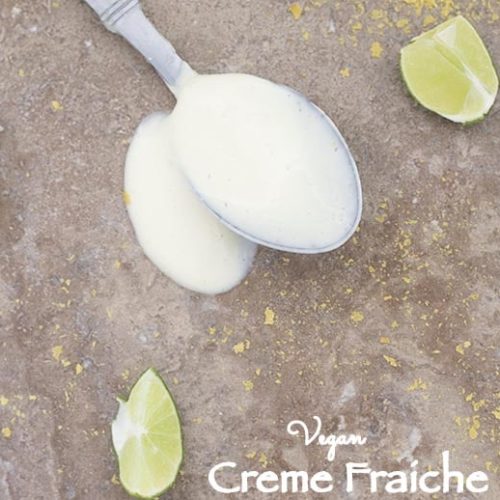 Creme Fraiche Recipe With Four Ingredients (Vegan)
If you are looking for a healthier creme fraiche substitute? This vegan version will truly satisfy that craving! Uses only 4 ingredients and made in 15 minutes or less.
Ingredients
1/2

block

Tofu

Silken (about 252g)

3

Tbsp

nutritional yeast

2

Tbsp

lime juice

Or lemon juice, both to taste

1/4

cup

almond milk
Instructions
Take half of the contents of silken tofu and refrigerate the remaining

Place a paper towel on a plate and put the tofu on top

Cover with another paper towel and lightly weigh it down. I took a light plate and placed it on top

After 5 minutes, take the drained tofu and place it in a food processor

Add 3 Tbsp of nutritional yeast to the processor

Add 2 Tbsp of lime juice (or lemon juice).

Add 1/4 cup of almond milk and blend the contents on low speed until it is of creamy consistency

If it feels to dense, add 2 tsp of almond milk
This will keep for up to 2 weeks when refrigerated.
Notes
This will keep for up to 2 weeks when refrigerated.