These quick and easy vegan cupcakes in ice cream cones are a delicious dessert idea. Make them for birthday parties, baby showers or bake sales.
Disclaimer: Vegan Cupcakes Post is brought to you by HHGregg. All Opinions are mine
Ok, you have had regular cupcakes and they are delicious!
But, that's so boring now!
Use mini cones to make these perfect little cone cupcakes.
This way, there would be no cupcake paper to throw away. The whole cupcake would be edible and trees would be thankful.
The cupcake when topped with pistachios and peppermint is my idea of perfect dessert idea!
I deliberately chose the mini cones for this vegan cupcake recipe. They are so small and can be consumed in one bite. It makes them perfect for any get together, birthday party or baby shower.
What is your favorite cupcake recipe?
Make the cupcake batter
1) In a mixing bowl, sieve 1 cup of unbleached all purpose flour
2) Take 1/4 a cup of unsalted and shelled pistachios and roughly grind them. Sieve the pistachios into the flour
3) Set aside the big pieces of pistachios. They will be used as toppings on the vegan cupcakes
4) Add 1/4 tsp of baking soda and a 1/4 tsp of baking powder.
5) Add 2 drops of vanilla essence
6) Add 1/2 cup of granulated sugar
7) Add 1/2 tsp of Apple cider vinegar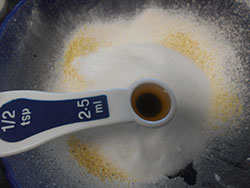 8) Add 1/2 cup of Almond milk. If you feel it is dry, add no more than 1 Tbsp of more almond milk
9) Using a hand blender or mixer, blend the ingredients at low speed until all the mixture has batter consistency. Set aside
Prepare the cones
1) Preheat oven to 350 degrees. Remove the mini cups from their packaging.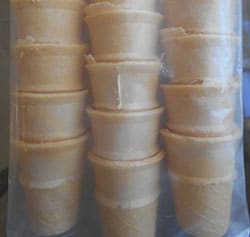 2) Use a mini muffin tray for holding the cups
3) Wrap the top with aluminum foil
4) Using a sharp object, pierce a hole in the middle of each muffin hole. I used an uncooked spaghetti pasta.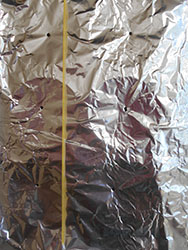 5) Using your fingers, make the hole slightly bigger and place a mini cup gently in the hole. Do the same for the rest of the cups
Make the cupcakes
1) Using a spoon or frosting bag, add the batter to the cups. Do not fill it more than 2/3 of the way. They will overflow when in the oven.
2) Place the tray in the oven and cook for about 20 minutes or until the cupcakes have risen and the top is golden brown. Remove from the oven and cool for about 15 minutes
3) Frost with my vegan buttercream frosting or your favorite frosting.
4) Take 3 tsp of peppermint bits and mix with the pistachio pieces. Top the the frosting with these combination and serve immediately
If you like regular cupcakes, try my vegan cupcakes made with cake batter.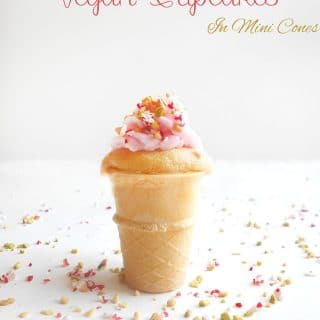 Vegan Cupcakes in Mini Cones
How do you make Vegan Cupcakes even better? Use Mini Cones as the base instead of cupcake paper. This is the best comfort food recipe ever. Part of Cook For The Cure and 10,000 Cupcakes
Ingredients
17

mini cones

1

cup

all purpose flour

(unbleached)

¼

cup

pistachios

unsalted, shelled and ground

¼

tsp

baking soda

½

cup

granulated sugar

⅔

tsp

baking powder

2

drops

vanilla essence

½

tsp

apple cider vinegar

½

cup

almond milk
For the Buttercream Frosting
1

cup

confectioners sugar

vegan confectioners sugar

1

cup

vegetable shortening

2

drops

vanilla essence

1

Tbsp

almond milk

2

drops

natural pink food coloring
Instructions
To make the batter:
In a mixing bowl, sieve 1 cup of unbleached all purpose flour

Sieve the pistachios into the flour

Set aside the big pieces of pistachios to be used as toppings


Add the baking soda and powder


Add Apple cider vinegar and almond milk


Blend the ingredients at low speed until all the mixture has batter consistency, set aside

To make my Vegan Buttercream Frosting:
Sieve the sugar in a separate bowl and set it aside.

In a separate bowl, add vegetable shortening

Using a hand mixture, blend on low speed for about 7 minutes or until it becomes smooth


Add vanilla essence and blend for 30 more seconds

Add the sieved confectioners sugar to the shortening

Blend with a hand mixture on low speed. Blend until the shortening and sugar mix.

Add almond milk and blend again. Blend until all the mixture is blended well together and it is light and fluffy.

Add pink food coloring and mix well. Set Aside
Prepare the mini cups:
Preheat oven to 350 degrees. Remove the mini cups from their packaging.

Use a mini muffin tray for holding the cups

Wrap the top with aluminum foil

Using a sharp object, pierce a hole in the middle of each muffin hole. I used an uncooked spaghetti pasta.

Using your fingers, make the hole slightly bigger and place a mini cup gently in the hole. Do the same for the rest of the cups
Make the cupcakes:
Using a spoon or frosting bag, add the batter to the cups. Do not fill it more than 2/3 of the way. They will overflow when in the oven.

Place the tray in the oven and cook for about 20 minutes or until the cupcakes have risen and the top is golden brown. Remove from the oven and cool for about 15 minutes

Frost with my vegan buttercream frosting or your favorite frosting

Take 3 tsp of peppermint bits and mix with the pistachio pieces. Top the the frosting with these combination and serve immediately
Notes
Nutrition info is approximate