This is a quick and easy vegan fried rice recipe made with tofu and fresh vegetables. Its the perfect side recipe or lunch.

Vegan Fried rice and I are best pals. We have known each other for a very long time and it is one of my favorite rice dishes to make.
So, vegan diet can be difficult . There are very few vegan recipes that you can find in Chinese restaurants. If you are a vegan and find yourself in Chinatown NYC, go to "House of Vegetarian" on Mott street.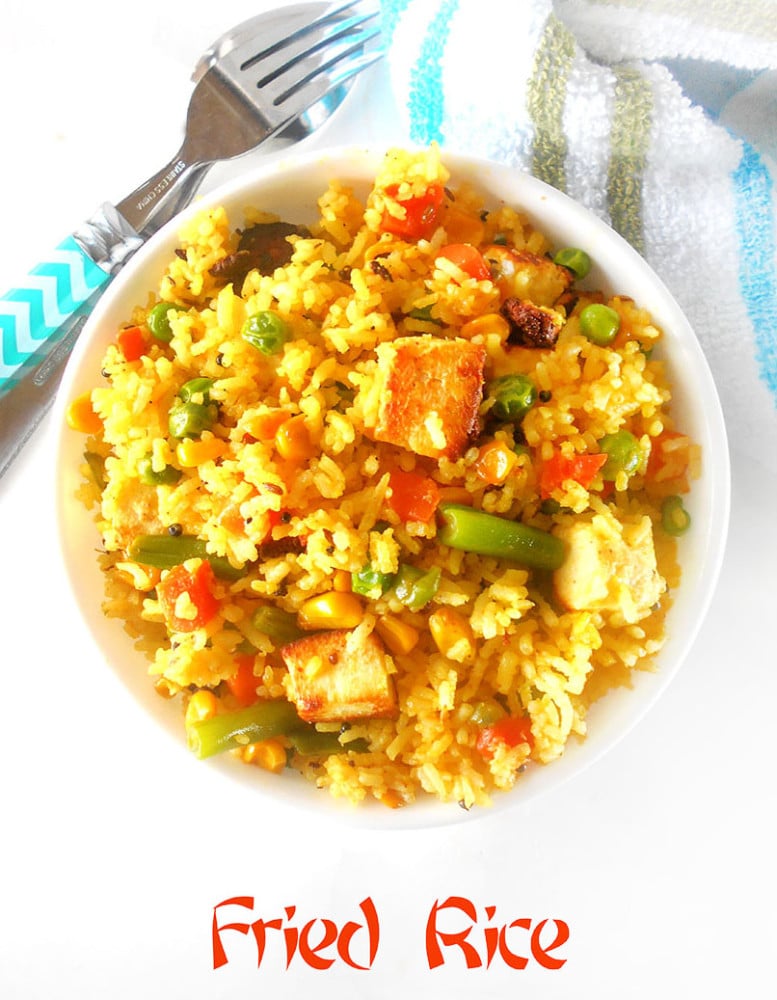 When you open the menu, you will be wide-eyed in wonderment. It is a cornucopia of wonderful vegetarian and vegan recipes. I have been to a few restaurant where I can order anything from the menu.
This is one of them
For my fried rice, I went with tofu. I found that if I shallow fry the tofu, it makes for a great addition to the rice. I hope you love trying a quick easy meals like this vegan fried rice.
It also works for vegetarian meals or when you are looking for weeknight easy dinner ideas.
If you don't have any of the fresh vegetables, you can use the frozen version of mixed vegetables. Microwave about 2 cups of the vegetables for about 45 seconds before stir frying them.
For this recipe, I went with basmati rice because it is long grain rice. Also, it is very easy to make basmati rice and the trick is to wash it first. I made a quick step-by-step tutorial on how I like to cook Basmati rice.
If you don't have Basmati rice, any long grain rice will be work well in this recipe. Once, I tried vegan fried rice with brown rice. It wasn't bad at all, but, I prefer long grain rice.
This version of rice is on the spicy side because I use Thai chile and sriracha sauce. If you prefer to go a little less spicy, skip the Thai chili.
How To Make Vegan Fried Rice
Vegan Fried Rice
Quick and easy vegan fried rice recipe made using fresh veggies.

Ingredients
For the vegetables
1/4

cup

sweet corn

1/4

cup

French cut beans

cut into 1" long beans

1/4

cup

carrots

cut into small cubes

1/4

cup

cherry tomatoes

cut into small pieces

1/4

cup

red onions

finely diced

2

tbsp

olive oil

for veg

1

tsp

sea salt

or to taste

1

Thai chili

(finely chopped, optional)

3

cloves

garlic

finely chopped

1

tsp

ginger

Finely grated

1/2

tsp

black mustard seeds

1/2

tsp

Turmeric
For the tofu
1/2

block

tofu

cut into small cubes

2

tsp

olive oil

1

tsp

cayenne pepper
For the sauce
1

tbsp

sriracha

1

tbsp

hoisin sauce

2

tbsp

soy sauce

(or to taste)

1

tsp

agave

1

tsp

rice wine vinegar
Remaining Ingredients
3

cup

basmati rice

cooked

1/4

cup

cilantro

chopped, for garnish
Instructions
Mix the ingredients of sauce. Blend well and set aside

In a medium wok, add the oil for Tofu and heat for 30 sec on medium heat

Add the tofu and salt

Toss the tofu for about 3 minutes until they are evenly browned on all sides

Add cayenne and toss one more time

Remove the tofu to a plate and set aside

Using the same wok, add the oil for veg and heat for 30 sec

Add all the vegetables and salt

Toss the veggies in the wok for about 10 min, stirring frequently

Add the rice, sauce and cooked tofu


Mix well and cook for about 3 minutes on low


Serve immediately

Notes
You can use frozen mixed vegetables. Microwave them for 30 seconds before putting them in the wok
Nutrition information is approximate