These easy vegan nachos loaded on Smiles are the perfect family night get-togethers. Made with beans, avocado, pickled peppers and homemade green apple salsa.
"This is a sponsored conversation written by me on behalf of McCain Foods. The opinions and text are all mine."
Summer is around the corner, y'all! Doesn't it feel like it was just yesterday when we were celebrating New Year's Day?
June is only a month away and I, for one, cannot wait to dip my feet in the pool!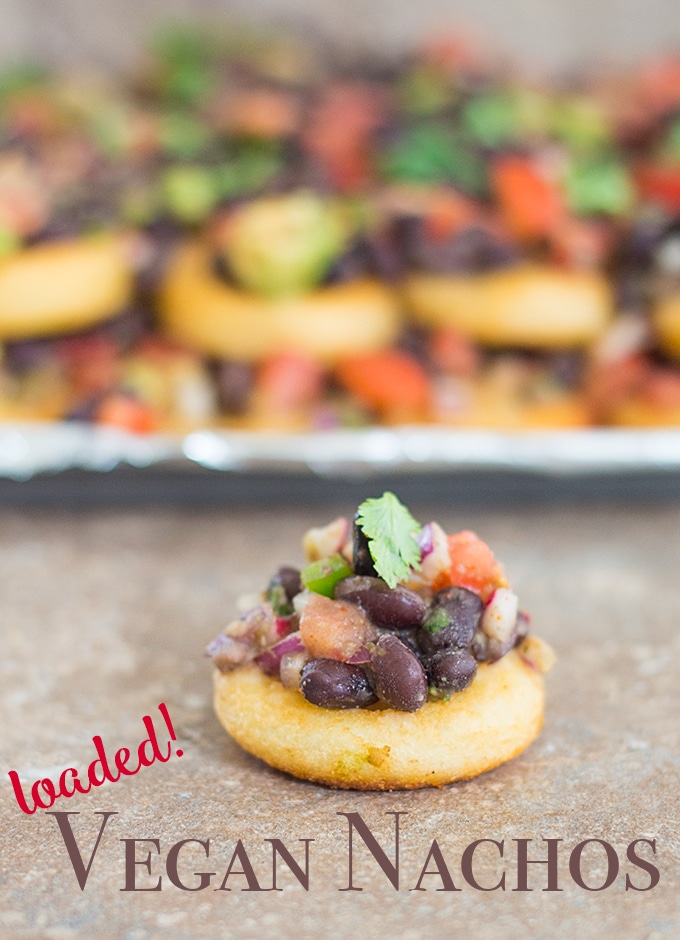 Who wants to spend lazy summer afternoons indoors?
Not me! Not you! Not your family!
I would rather be with the family jumping around in the backyard instead of playing scrabble indoors.
The sun is out and that is my excuse for having an impromptu picnic in the backyard. My favorite thing is to munch on delicious food while the sun sets lazily into the evening sky!
Summer days call for simple recipes that our families can sit and enjoy together. My challenge was to create a recipe that is easy to make, requires little cleanup and everyone would devour it.
"Nachos!"
That word jumped into my head and I knew instantly that it is THE perfect recipe for a summer-day-picnic-in-the-backyard. Is there anyone who doesn't love nachos? No, there isn't!
So, I made a 1-pan, double-decker vegan nachos loaded with nothing but comfort-y goodness. Beans, onions, avocado, tomatoes, homemade green apple salsa and pickled peppers are all inside these nachos.
Everybody uses chips in their nachos, so, I thought I would mix it up!
When I saw how thick and sturdy McCain Smiles are, I knew they could handle a load of ingredients. Guess what? I wasn't wrong and I wasn't disappointed.
They didn't get soggy or dry which makes them the greatest invention ever!
They are my favorite discovery this year. Not only are they made with REAL potatoes, they also have no artificial colors or flavors. When I tasted them, they practically melted in my mouth. I think I ate about 10 of them after taking them out of the oven.
The smiles are made in 4 simple steps:
Wash potatoes
Peel them
Mash them
Shape them
I got McCain Smiles from my local Publix, but, you can get them anywhere. Use their store locator today to find them near you because I know you can't wait to try them!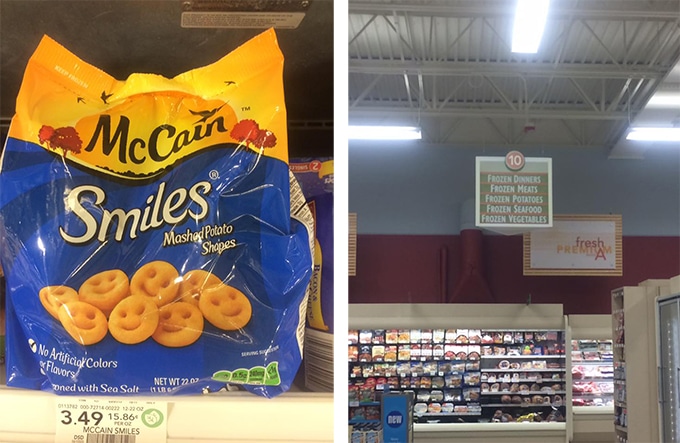 I found that this smiles tastes so much better when they are baked in the oven because they retain their flavor and softness. They took only about 6 minutes to bake on each side which is awesome. While they were baking in the oven, I assembled the other ingredients. Then, I assembled the nachos and popped them back in the oven for a few minutes before serving.
They have so many great recipes on their site and I plan to make as many as I can! There is a recipe for pizza where the smiles are used a topping!! That is one recipe I have to try on Pizza night.
You can learn all about McCain's products and how they make them. Their site is filled with delicious information. Click here to learn more about their products.
So, tell me what summer family event is your favorite?
You may also like: Vegetarian Nachos and Greek Nachos


Vegan Nachos
Vegan Nachos
Easy vegan nachos loaded with beans, avocado, pickled peppers and homemade apple salsa. on McCain Smiles

Ingredients
2

bags

McCain's Smiles

1.5

cup

black beans

1

Roma Tomato

cubed

1/2

cup

red onions

finely chopped

1

Jalapeno

1/4

cup

picked red peppers

finely chopped

5

radishes

finely chopped

1

avocado

cubed

1

tsp

black pepper

1

Tbsp

Lime Juice

3

Tbsp

Salsa Verde

1

Tbsp

Taco Seasoning

1

tsp

cilantro
Instructions
Preheat oven to 425°
Spread out 1 bag of McCain's Smiles on each tray. Make it a single layer so they can bake evenly

Place the trays in the oven and bake them for 6 minutes on each side

While the Smiles are baking, add all the ingredients (except the Smiles) into a bowl.


Remove the smiles from the oven and let them cool for about 3 minutes

Layer the first tray with half of the topping

Use the Smiles from the second tray and layer it above the toppings

Layer the remainder of the black bean toppings

Place the tray in the oven for no more than 5 minutes

Remove the loaded vegan nachos and serve immediately
Notes
** Recipe Calories are an approximate in this recipe!
Other topping suggestions: curried tofu, jackfruit, white beans and corn