Red cabbage Coleslaw is a fun twist on the traditional coleslaw recipe and its just as delicious. If you are looking for a vegan coleslaw for summer picnics, you are going to love this recipe.
Whenever I make coleslaw, I try to keep it simple. Since I don't eat eggs, "keeping it simple" is a little challenging because I make a vegan version of the mayo first.
I finally perfected this vegan coleslaw recipe and I am so excited to share it with you!
I went with red cabbage because it adds are really nice crunch to any recipe or when eaten by itself. This coleslaw recipe works so well by itself or you can use it as a burger topping too.
I have made Vegan Mayo before and it has always turned out great. This time, I decided to use my Saffron Yogurt Mayo for this recipe because saffron and red cabbage really work well together.
The raisins and pineapple were so perfect for this recipe too. I liked the texture they provide to the coleslaw.
The best part of this coleslaw recipe is the the pineapple. It gave recipe a nice sweetness without having to use any sugar.
What is your favorite ingredient to use to make coleslaw?
Red Cabbage Coleslaw

1. Shred the red cabbage or chop it by hand and place them in a large mixing bowl bowl. I used about 2 cups of shredded cabbage to make this coleslaw recipe
2. Shred carrots and add to the mixing bowl. I used one cup of shredded carrots
3. Add ¼ cup of corn. If you are using frozen sweet corn, thaw it for 30 seconds before adding it to the other coleslaw ingredients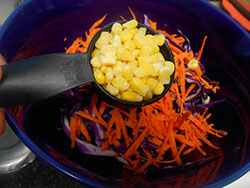 4. Add ¼ cup of pineapple. Use the canned version, if you cannot find the fresh one. I cut the pineapple into cubes. One tip, don't use frozen pineapple in this recipe
5. Add 1 Tbsp of freshly squeezed lime juice
6. Add 1 tsp of chopped jalapeno. This is optional because it will add some spice to the coleslaw
7. Add 1 tsp of ground cumin powder. If you don't want to use cumin powder, substitute with 1 tsp of taco seasoning
8. Add my saffron yogurt mayo to the mixing bowl or add your favorite mayo
9. Finally, add 2 tsp of raisins. This is optional because the pineapple adds the sweetness to the coleslaw. I like the added sweetness that the raisins gave this recipe
10. Marinate this red cabbage coleslaw overnight, if possible. Marination time should be 3 hours minimum. Adjust for taste and serve with other veggie recipes or as a meal by itself
Red Cabbage Coleslaw
Make Coleslaw with Red Cabbage
Coleslaw made using red cabbage and saffron yogurt

Ingredients
2

cup

red cabbage

shredded

1

cup

Carrots

shredded

¼

cup

sweet corn

If using frozen, thaw it first

¼

cup

pineapple

cubed

1

Tbsp

lime juice

freshly squeezed

1

tsp

Jalapeno

finely chopped

1

tsp

cumin powder

2

tsp

raisins
For The Saffron Yogurt
1

tsp

Spanish Saffron

divided into 2 parts

¼

cup

water

1

cup

vegan yogurt

¼

tsp

salt

½

tsp

ground pepper

¼

tsp

Rosemary

1

Tbsp

almond milk

¼

tsp

olive oil
Instructions
Mix all the ingredients for the Saffron yogurt and set aside


Add red cabbage and carrots to a mixing bowl


Add sweet corn to the bowl


Add the pineapple cubes and lime juice


Add jalapeno and cumin powder


Add the raisins and mix well


Add the Saffron yogurt to the bowl


Mix well and set aside for 3 Hours to overnight before serving

Notes
Note: For best results, Let this coleslaw marinate overnight. Since it is red cabbage, it requires a little more marination time.