A simple smashed potatoes recipe using tiny potatoes in a garlic, hot sauce and cream cheese sauce. Serve these potatoes with any meal
"Say HELLO to my little potatoes!"
Warning!
These potatoes are seriously addictive. They will have a complete hold over you, making you powerless over their flavors!
You won't be able to eat just one smashed potato!
Smashed potatoes roasted in the oven and topped with a creamy, spicy sauce!
Why would you even consider resisting them??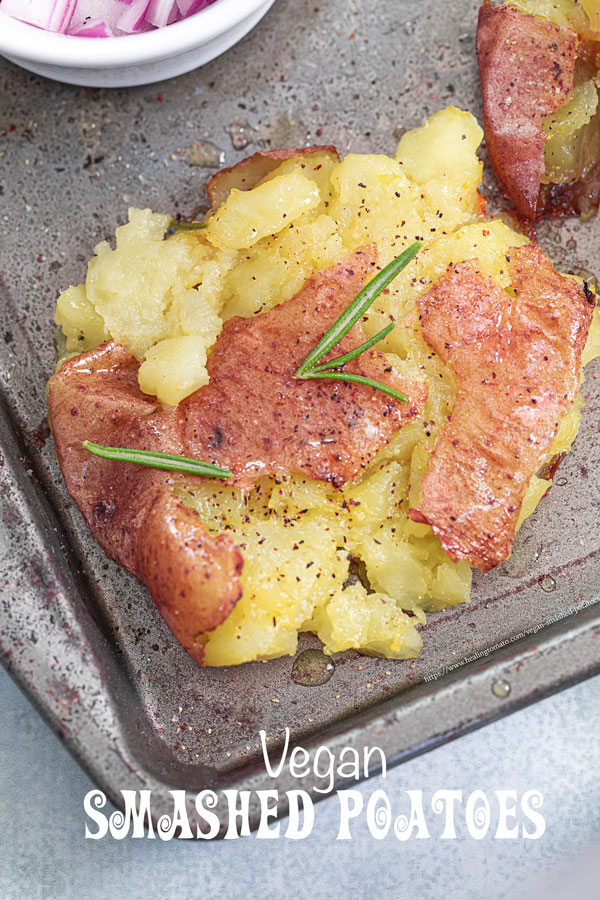 Tips for making them
Use the smallest potatoes you can find. They will boil and roast faster than bigger potatoes
Choose high starch potatoes over waxy potatoes since they mash better
The pan you use to boil the potatoes should be a strong bottomed pan. It distributes heat evenly
You can add salt to the potatoes while you are boiling.
I used vegan cream cheese for this recipe, but, feel free to use cheese of your choice
You can skip the cream cheese and just add the hot sauce
I like using a hot sauce that has only a few ingredients. These potatoes don't need too many flavors to taste great
If you don't have access to fresh herbs, use dried herbs
Why this is the best smashed potato recipe
Potatoes with a little kick are completely irresistible!
Top them with a cream cheese sauce and it's potatoes like you never had them before.
Plus, they take very little effort to make! All you have to do is set the potatoes to boil
Once they are boiled, spread them out on a baking tray and use the back of a spoon to flatten them.
Place in the oven and let them turn crispy!
So, to recap:
They are crispy
They are spicy
They are easy to make
And that's why they are the BEST potatoes recipe ever!
Answering your questions
While you make these easy roasted smashed potatoes, you just might have questions. Here are answers to common questions you may have.
If you have other questions, please feel free to ask in the comment section below
Do I remove the skin from the potatoes?
No, you don't need to remove the skin from the potatoes once they are boiled.
However, this is also a personal choice. Some people I know will not eat the skin of any potatoes. So, for them, I will remove the skin and roast them. They will remain crispy.
I like to remove the skin after they have boiled because it makes my life so much easier. Can you imagine peeling 20 of these tiny potatoes?
Too much work, right?
What can I use to smash potatoes?
– The back of a spoon. This is my favorite method even though it doesn't break the potato evenly.
– The bottom of a ramekin. This is generally considered the best method because the potato breaks evenly.
The bottom of a spice bottle.
– Small glass jar by pressing the bottom of it on a baked potato.
Can they be frozen?
Yes, you can freeze these smashed potatoes, but, the process matters.
First, boil them in the pan. Par-boil them, meaning they are boiled ¾ of the way. Stop the boiling process after 20 min of boiling them.
Drain the water and place them on a large tray. Smash the potatoes using the back of a spoon
Let them cool completely first. This is very important because they will freeze better
Once they are cooled, they are ready to be frozen. Don't add any of the other ingredients or roast them in the oven.
Ideally, you want to lining them in a single layer in a freezer friendly container. However, if that's not possible, use a ziploc bag
Make sure you write the boil date on your ziploc bag
Use it up within 6 months of boiling them
Toppings
Hot Sauce
Onions
Roasted garlic
Capers
If you like to serve different kinds of potato recipes, I have a huge collection of sweet potatoes and regular potato recipes you can choose from.
Reheating them
Freezing the potatoes is half the battle. The rest of the steps are so much easier from here.
First, thaw the potatoes for at least 5 hours. Your thaw time will depend on how frozen they are at the time you start to thaw them.
When the potatoes are not sticking together, you potatoes have thawed sufficiently
Now, place the potatoes on an oiled baking tray. Top a little butter on top of the potatoes
Place in a 400° preheated oven and roast for about 20 minutes or until they are crispy on the outside
Remove the potatoes from the oven and drizzle the creamy + spicy sauce. Serve immediately
If you made this recipe and devoured it because it was so delicious, I would love for you to give it 5 stars below and leave a small comment. Your ratings help me make more delicious recipes.
Now, it's your turn. What is your favorite potato recipe?
Other potato recipes you may like
Delicious French potato salad is made using Herbes de Provence and extra lavender. Blended with garlic and spicy brown mustard, this delicious potato salad is a party for your taste buds.
These potatoes and corn recipe is perfect for grilling outside or you can make them in your oven. You won't believe how easy it is to make them.
I made this potatoes and peas recipe in a Dutch oven! These are also super easy potato recipe to make and you won't have to work too hard to make them
Fingerling potatoes in rich vegan butter and sun-dried tomato sauce. Need I say more?
This is twist on the traditional mashed potato. Bake them in the oven and then serve your eager Thanksgiving guests
Sharing is caring
Thank you for reading this post all the way to the end! I hope you loved it as much as I do. Please feel free to comment below with your opinion.
⭐️ If you tried and enjoyed this smashed potato recipe, please rate it 5 stars! Share it on Facebook, Pinterest, Twitter, Instagram ⭐️
Vegan Smashed Potatoes
Moist, Fluffy, soft, buttery, herby vegan smashed potatoes are super easy to make in the oven. They are perfect to serve for Thanksgiving or as a side dish on any day of the week
Equipment
Stainless Steel Pan

13X9 Baking tray
Ingredients
9

baby potatoes

7

cup

water

2

Tbsp

vegan butter

1

sprig

rosemary

1½

tsp

salt

if you have sea salt, use that instead

1

Tbsp

lemon pepper

adjust to taste
Instructions
Add the water to a strong bottom pan

Place the pan on the stove and turn the heat to medium high

Gently put the baby potatoes in the pan

Cover and bring to a boil.

When the potato skin start cracking and a knife-tip goes through without effort, the potatoes are ready

Once the potatoes are done boiling, set your oven to heat to 400°

Gently drain the potatoes and set aside to cool to touch

Take a baking tray and oil it generously

Align each of the potatoes on the tray. Leave some space between the potatoes

Take the back of a spoon and gently press down on the potatoes. Flatten to the point where they are leveled

Melt the butter, rosemary, salt and lemon pepper

Drizzle this melted butter over the potatoes. Leave some for later

Place the potatoes in the oven and let them roast for about 10 min. I like to turn them over after 10 min so that they crisp up on both sides. This is a personal preference

When the potatoes are done roasting, remove from the oven and drizzle the remaining melted butter on it.
Notes
Be sure to choose tiny potatoes and make sure you wash them thoroughly

If you don't like the skin on, peel it after you boil the potatoes