Spicy Penne Pasta – Vegan Spicy Penne Pasta with roasted green beans and red bell peppers. Topped with simple lemon vinaigrette and red pepper flakes. Ready in 30 minutes
So, if I add veggies to pasta, it is ok to eat a whole bowl of it without feeling guilty, right?  I tried this using regular pasta and also using Modern Table's Lentil pasta which I had left over from my Lentil and beet pasta recipe.  They were both good and I felt no guilt devouring a plateful of each.
These pasta are ridiculously simple to make.  It is just a matter of roasting the green beans and bell pepper in the oven, while you cook the pasta on the stove.  When both are done, plate them and top with a simple lemon vinaigrette + red pepper flakes!!
And as they say in Italy, Finire!!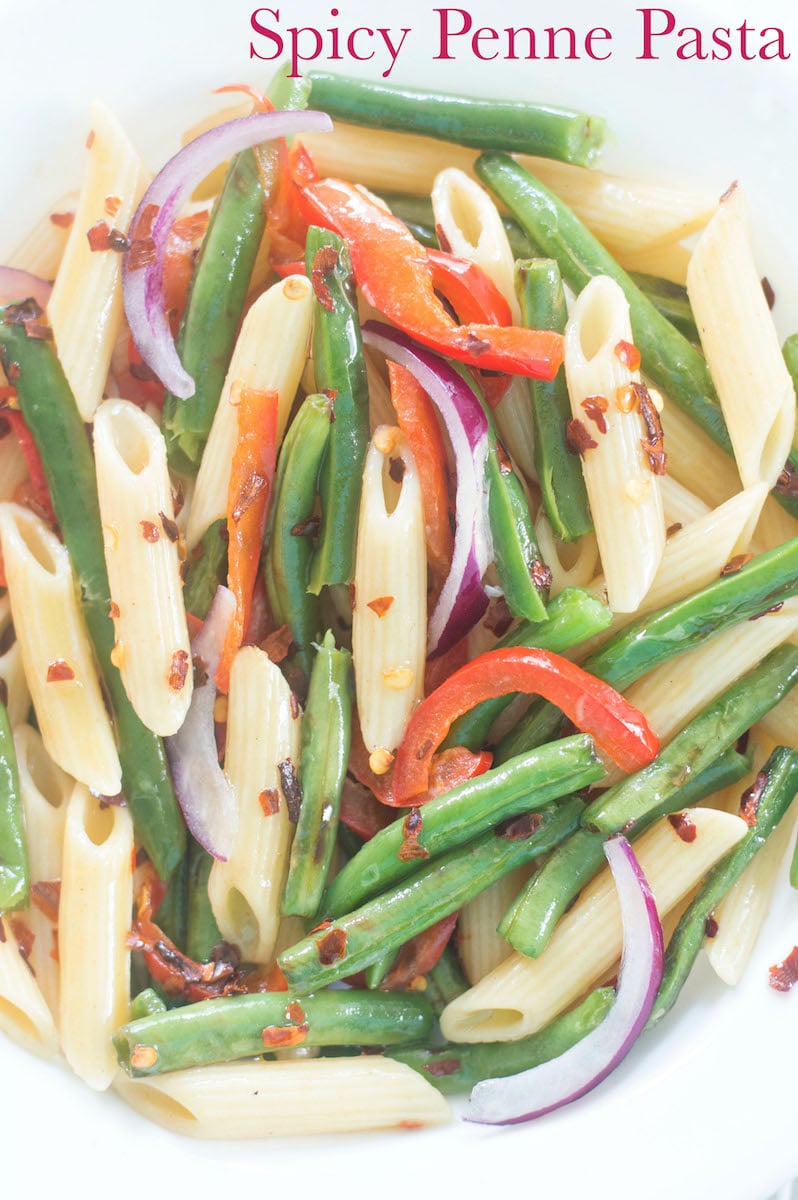 I used my simple lemon vinaigrette recipe as a dressing for this pasta.  Feel free to add your version of a simple vinaigrette.  This pasta recipe works great as a lunch recipe or you can eat it as a side dish.  It is a comfort food for all regardless of whether you are vegan, vegetarian or even an omnivore! Once in a while, we all could use a little spice in our life.
Green beans have slowly made a place for themselves in my taste buds and I find myself using them extensively in my daily diet lately.  Recently, I made my green beans and potatoes.  That is one of my favorite hearty meals ever.  Last year, these green beans ended up in a tangy yogurt sauce which were perfect for the holiday season.
What kind of pasta would you add to this recipe?
Vegan Spicy Penne Pasta
1) Preheat oven to 350 degrees.
2) Take a medium pot and fill it up about 1/2 way.  Add 1/2 tsp of salt and bring it to a boil. Add 2 cups of uncooked penne pasta to the boiling water and let the pasta cook for about 15 minutes or until they are soft.  Drain and set aside
3) While the pasta is cooking, wash and dry 8 oz of green beans. Cut of the ends and cut them into halves.  Place them in a bowl
4) Take 1/2 of a red bell pepper and cut them into thin, long strips.  Add them to the green beans bowl
5) Add 1 Tbsp of extra virgin olive oil, 1/2 tsp of sea salt, 1/4 tsp of freshly ground black pepper and 1 tsp of dried oregano
6) Mix well and spread them out on a baking tray
7) Place the veggies in the oven and roast the veggies for about 7-10 minutes until they green beans start to brown.
P/S: You can always saute the green beans and red bell peppers on the stove top instead of roasted them in the oven.  Use whichever method works better for you.
8) In the same bowl from step 3 above, add the cooked pasta, green beans and red bell peppers.  Drizzle with 2 Tbsp of your favorite lemon vinaigrette or use my lemon vinaigrette recipe.  Add 1 tsp of red pepper flakes and mix well.
9) Add 1/4 cup of thin strips of red onions for garnish and crunch
Serve these spicy penne pasta immediately
Spicy Penne Pasta With Green Beans
Vegan Spicy Penne Pasta with roasted green beans and red bell peppers. Topped with simple lemon vinaigrette and red pepper flakes. Ready in 30 minutes
Ingredients
Water to boil penne

1/2

tsp

of salt to boil pasta

2

cups

of uncooked penne pasta

8

oz

of green beans

1/2

of a red bell pepper

1

Tbsp

of extra virgin olive oil

1/2

tsp

of sea salt

1/4

tsp

of freshly ground black pepper

1

tsp

of dried oregano

2

Tbsp

of your favorite lemon vinaigrette

1

tsp

of red pepper flakes

1/4

cup

of red onion

, thinly sliced into strips
To Make your own Lemon Vinaigrette
1/4

cup

of extra virgin oil

1/4

cup

of lemon juice

(freshly squeezed is better)

1

tsp

of honey dijon mustard

2

cloves

of garlic

, finely chopped

1/8

tsp

of dried basil.

1/4

tsp

of salt

(optional)

1/4

tsp

of freshly ground pepper

(optional)
Instructions
Preheat oven to 350 degrees.

Take a medium pot and fill it up about 1/2 way with water. Add 1/2 tsp of salt and bring it to a boil. Add 2 cups of uncooked penne pasta to the boiling water and let the pasta cook for about 15 minutes or until they are soft. Drain and set aside

While the pasta is cooking, wash and dry 8 oz of green beans. Cut of the ends and cut them into halves. Place them in a bowl

Take 1/2 of a red bell pepper and cut them into thin, long strips. Add them to the green beans bowl

Add 1 Tbsp of extra virgin olive oil, 1/2 tsp of sea salt, 1/4 tsp of freshly ground black pepper and 1 tsp of dried oregano

Mix well and spread them out on a baking tray

Roast the veggies for about 7-10 minutes until they green beans start to brown.

P/S: You can always saute the green beans and red bell peppers on the stove top instead of roasted them in the oven. Use whichever method works better for you.

In the same bowl from step 3 above, add the cooked pasta, green beans and red bell peppers. Drizzle with 2 Tbsp of your favorite lemon vinaigrette or use my

lemon vinaigrette recipe

. Add 1 tsp of red pepper flakes and mix well.

Top with red onions for garnish and crunch

Serve these spicy penne pasta immediately