Looking for Quick Dinner Ideas? Then make these Mexican Taco Recipe. Vegan Tacos made with Pomegranate, Brussels Sprouts and Wild Rice. Vegan dinner
Did you know that pomegranates make for a very delicious ingredient in vegan tacos? That automatically makes you a foodie in my book!
I love adding pomegranates to my recipes because they are pleasing to the eye and the taste buds.
This recipe came about because I wanted to make tacos that tasted great without cheese. Mexican taco recipes always call for cheese and that puts off some vegans. Vegan cheese is great, but not popular with many vegans I know.
The tacos make for a very healthy snack and also works great when you are looking for quick dinner ideas. Brussels sprouts can be roasting in the oven while you make the Wild rice.
They can be done in than 20 minutes. Put them into taco shells. Top them with pomegranate and apple salsa!
Or, put the whole thing into a homemade taco bowl.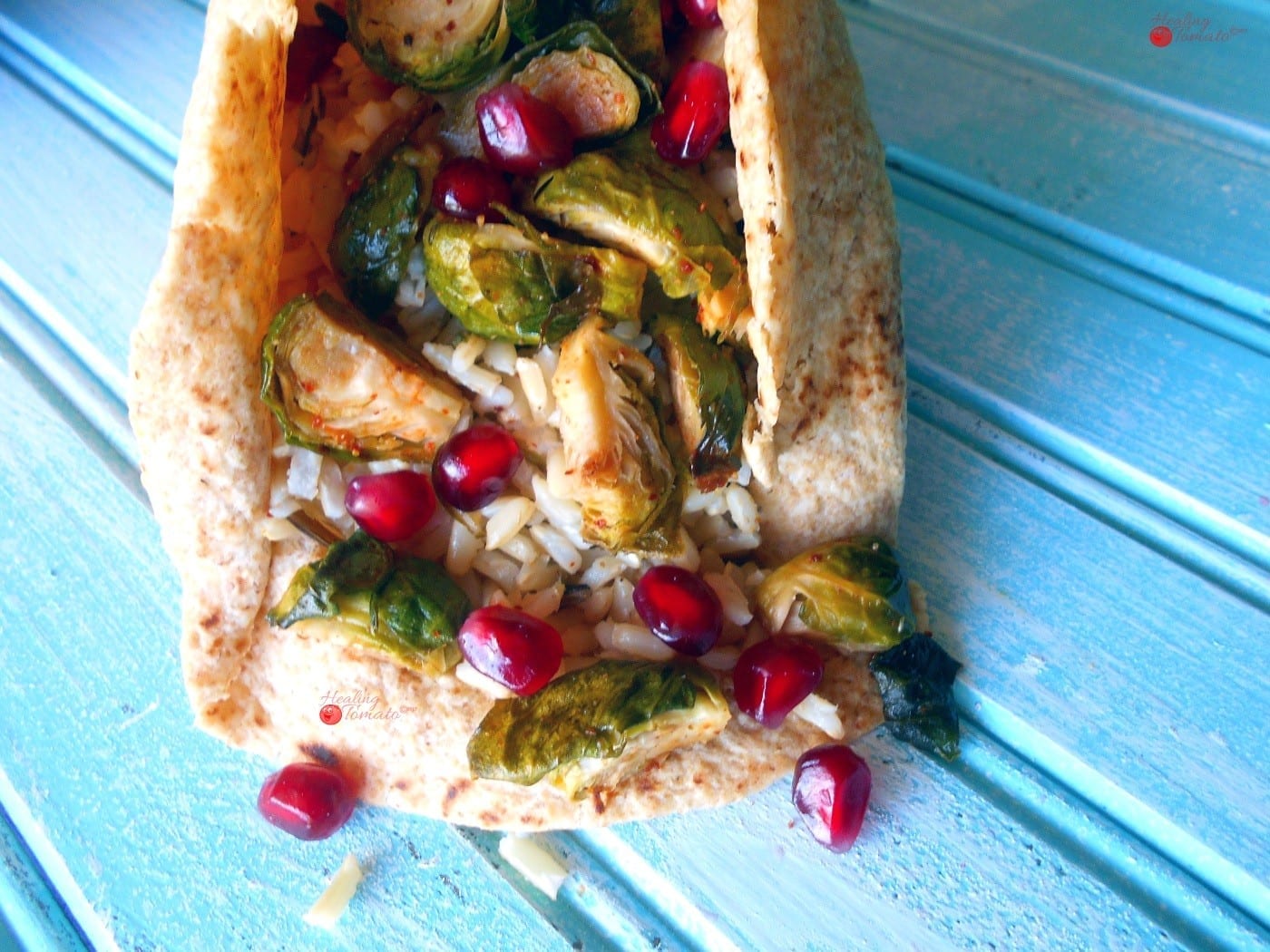 Voila! You have a meatless meal in less than 30 minutes. I think vegan recipes, especially the dinner recipes are very easy to make. Sometimes I think that they are easier than making vegetarian recipes.
If you have leftover pomegranate, put them into a colorful mung beans salad.
There is no cheese used in the vegan recipes and that saves so much time.
Shredding cheese is one of my least favorite tasks. I can shredded cheese all day, but, don't ask me to shred it. I tend to make it harder for myself because I always buy block cheese.
Stop me as I go off on a tangent about using block cheese over pre-shredded cheese. I can talk about it for hours. Freshly shredded cheese tastes so much better than store bought shredded cheese.
That is all I will say for now.
What is your favorite way to use Pomegranates?
How To Make Vegan Tacos Recipe

Vegan Tacos
Vegan Tacos made with brown rice, Brussels sprouts and pomegranate. Healthy, Quick lunch or dinner recipe.
Ingredients
4

Taco Shells

1

Pomegranate

de-seeded

2

cups

Wild Rice

Uncooked

1

cup

Brown Rice

Uncooked

2

cups

Brussels Sprouts

1

tsp

cayenne pepper

1

tsp

taco seasoning

2

tsp

Extra Virgin Olive Oil

2

tsp

sea salt

for the Brussels Sprouts

1

tsp

black pepper

(optional)

1

tsp

sea salt

for boiling the rice

Water

to boil the rice in

1

cup

apple salsa
Instructions
Preheat oven to 350 degrees

Cut each Brussels Sprout into 4 pieces. Cut lengthwise

Wash the wild rice in cold water

In a medium pan, add the water and the wild rice

Add the salt for the rice

Cook the rices until the rice grains have doubled in size (About 12min)


While the rice is cooking, mix the Brussels sprouts, EVOO, salt, black pepper and cayenne pepper

Lightly spray a baking sheet or casserole dish with cooking spray.

Add the Brussels sprouts to the tray and place them in the oven

Allow them to brown on the outside and then remove them from the oven

Remove the rice from the heat and drain out all the water

In a mixing bowl, add the Brussels sprouts and cooked rice

Add the taco seasoning and adjust any other spices or salt as needed
Bringing together the Vegan Tacos
If you are using store bought shells, toast them in the mini oven for about 2 minutes

Add the rice and Brussels sprouts mixture to the taco shells

Top with the salsa of your choice

Finish the vegan tacos by topping with the pomegranate seeds
Notes
Nutrition info is approximate