Vegan Tofu Wraps made with Tofu marinated in Peanut sauce. Quick snack idea, Healthy recipe. This is an easy dinner lunch recipe. Perfect vegetarian recipe
For lunch, a protein rich wrap is exactly what the doctor ordered. This wrap has ample protein in it, so, you will feel satisfied after devouring it.
The protein is in the Tofu, Soba Noodles, Hummus, baby spinach, PB&J Marinade and Wheat Wrap. The sweet red peppers add Vitamin C to the veggie wraps.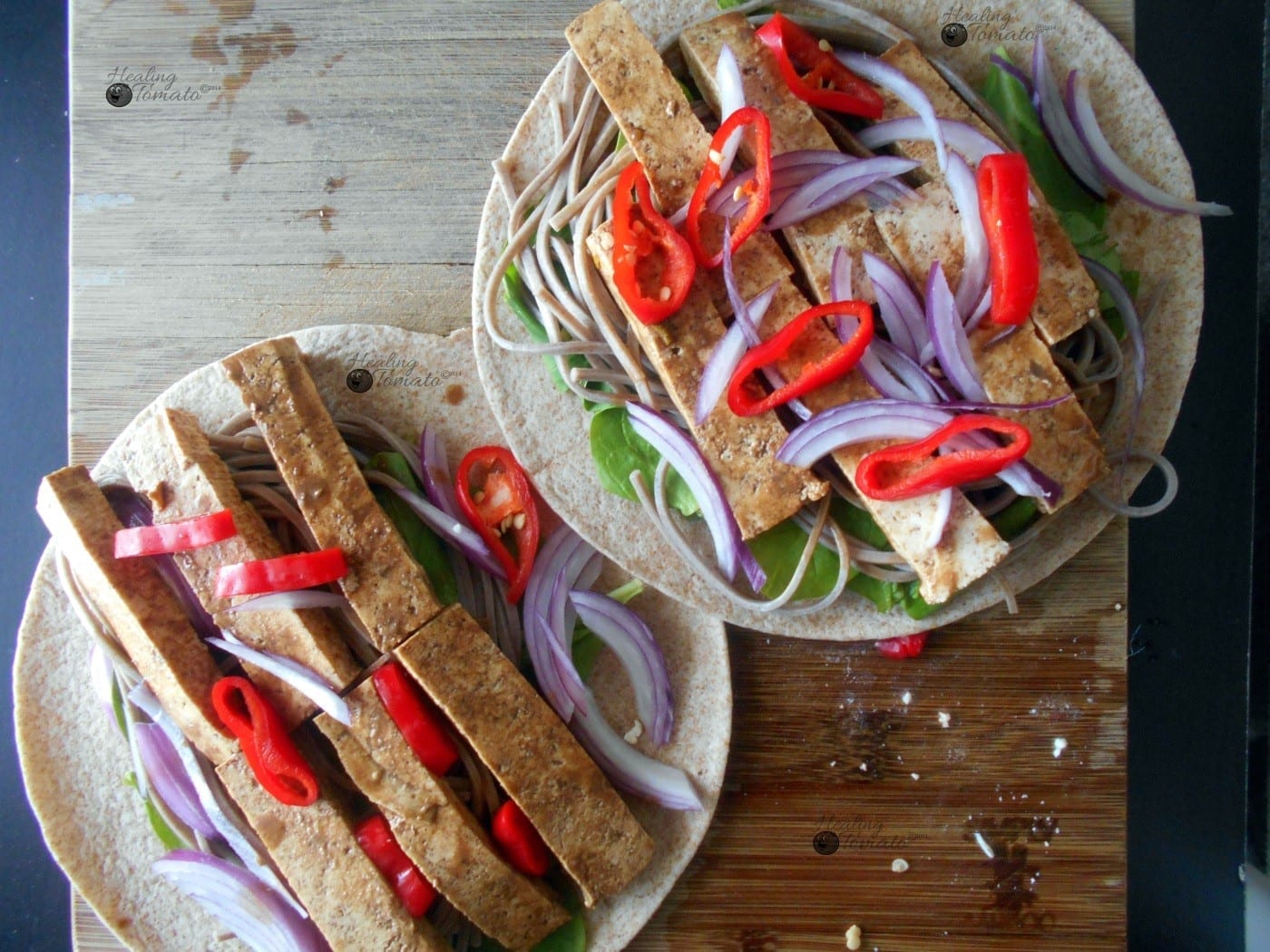 Protein helps with muscle building and hair growth, among many other uses for the human body.
Vegan recipes seem to be lacking in proteins, therefore, wraps like this are always a hit with veganites.
If you want to add more nutrition value to it, I suggest adding some flax seed powder to the marinade. This will give the recipe some Omega-3.
I am a huge fan of marinating tofu. In my vegan feta cheese recipe, I marinated tofu in sour ingredients to get that feta taste. I have also marinated tofu in salsa to make this delicious vegan tostada recipe.
Or, marinate it in an easy black bean sauce.
To make the marinade for the Tofu, I used Peanut Butter, flax seed flour and soy sauce with some brown sugar. If you are a fan of honey mustard, add some of it on the top. It may not provide much nutritional value, but it will add a little tang and spice to the veggie wraps.
Overall, this is recipe turned out to be the healthiest meal I have eaten all year. I am feeling really good, so, I think I will go now to get a quick workout.
What is your favorite protein meal?
Vegan Tofu Wraps (Protein-Rich)
Vegan Tofu Wraps made with Tofu marinated in Peanut sauce. Quick snack idea, Healthy recipe. If you are looking for an easy dinner or easy lunch recipe, this is a perfect vegetarian lunch recipe or post workout snack
Ingredients
For the Tofu Marinade
½

Tofu Block

1

cup

soy sauce

3

Tbsp

Peanut Butter

2

tsp

flax seed flour

2

tsp

brown sugar

1

tsp

cayenne pepper

(optional)

1

tsp

black pepper

(optional)

½

tsp

sea salt

(optional)
For the Wrap
2

Whole Wheat Wraps

1

cup

Baby spinach

4

oz

Soba noodles

(about ⅓ of a 12 oz packet)

2

mini sweet peppers

¼

red onion

1

cup

hummus
Instructions
Preparing the marinade
In a mini processor, bring together the ingredients of the marinade

Pulse at low speed for about 30 seconds

Cut the tofu in long strips

In a Ziploc bag, add the marinade mixture and gently place the tofu inside

Coat the tofu well and let it sit aside for 1 hour. If possible, let it sit overnight
Bringing together the Vegan Tofu Wraps
Cook the Soba noodles in boiling hot water for about 20 minutes

Drain the noodles and set aside

Cut the sweet peppers into small pieces

Cut the onions into long strips

In a medium pan, heat the whole wheat wraps for 10 seconds on each side

Spread equal amounts of the hummus on each wrap

Add a layer of baby spinach

Layer the soba noodles next. You can cut them in half or fold them on the wrap

Add the marinated tofu on top of the soba noodles

Top with the onions and mini sweet peppers
Serve the Vegan Tofu Wraps by itself or a side of Peanut Sauce
Notes
You can include mustard in this recipe
Nutritional info is approximate