If you are looking for a quick weeknight dinner, this vegetarian enchilada is perfect. It comes together in under 30 minutes and requires minimum effort.
There are days when I just don't want to cook!
You know the days I am talking about, right?
The traffic was a nightmare and you had a tough day at work.
Once in a while, it is ok to not cook a dish from scratch.
For me, I spent the holiday season cooking up a storm and I couldn't bring myself to cook a huge meal yesterday.
I was just popped!!
Personally, I am taking a vacation from my kitchen. There is going to be a lot of take-out for the next couple weeks.
I give you permission to take a vacation too!
This vegetarian enchilada recipe is quick and fast. It will guarantee that you won't be in the kitchen for more than thirty minutes.
I have often been asked to make recipes for college students, who neither have the time nor the energy to cook from scratch. Not to mention, they have flies in their wallet where there should be money.
So, this vegetarian enchilada would be perfect for them because they are using cheap ingredients to make a healthy, fulfilling recipe.
I like adding tomatoes to this recipe. Cherry tomatoes make a great addition to the recipe and also give it a little healthy flare. When you bite into this tomato, your vegetarian enchilada gets a whole new level of wonderful deliciousness. I like to marinate the tomatoes with oil and some of that taco seasoning.
Also add onions to your vegetarian enchilada because it will add a crunch to your dish. Can you imagine the burst of flavors when you bite into this? The spicy beans, the onions and the tomatoes make for a wonderful taste.
I use the large tortillas because you can get full in just one enchilada. You can try it with the smaller ones but I don't recommend it. Put in vegan refried beans in this recipe
In a baking dish, the large tortillas sit nice and snugly. These is important because they cook faster when they are together. They give their heat to the other and vice versa.
You are definitely going to need the whole can of enchilada sauce. Infact, don't be afraid to use more than one can. When the sauce is in the oven, it will burn off. So, the more sauce you have, the better. If you prefer a gluten-free enchilada sauce, I have you covered
Now, comes the best part! The CHEESE!
Sharp cheddar cheese is so awesome in this recipe. I have experimented with several other cheeses for this recipe and nothing comes close to this cheese. It adds a wonderful sharpness to the vegetarian enchilada. Combined with tomato, onions and beans, you will be in heaven with your first bite!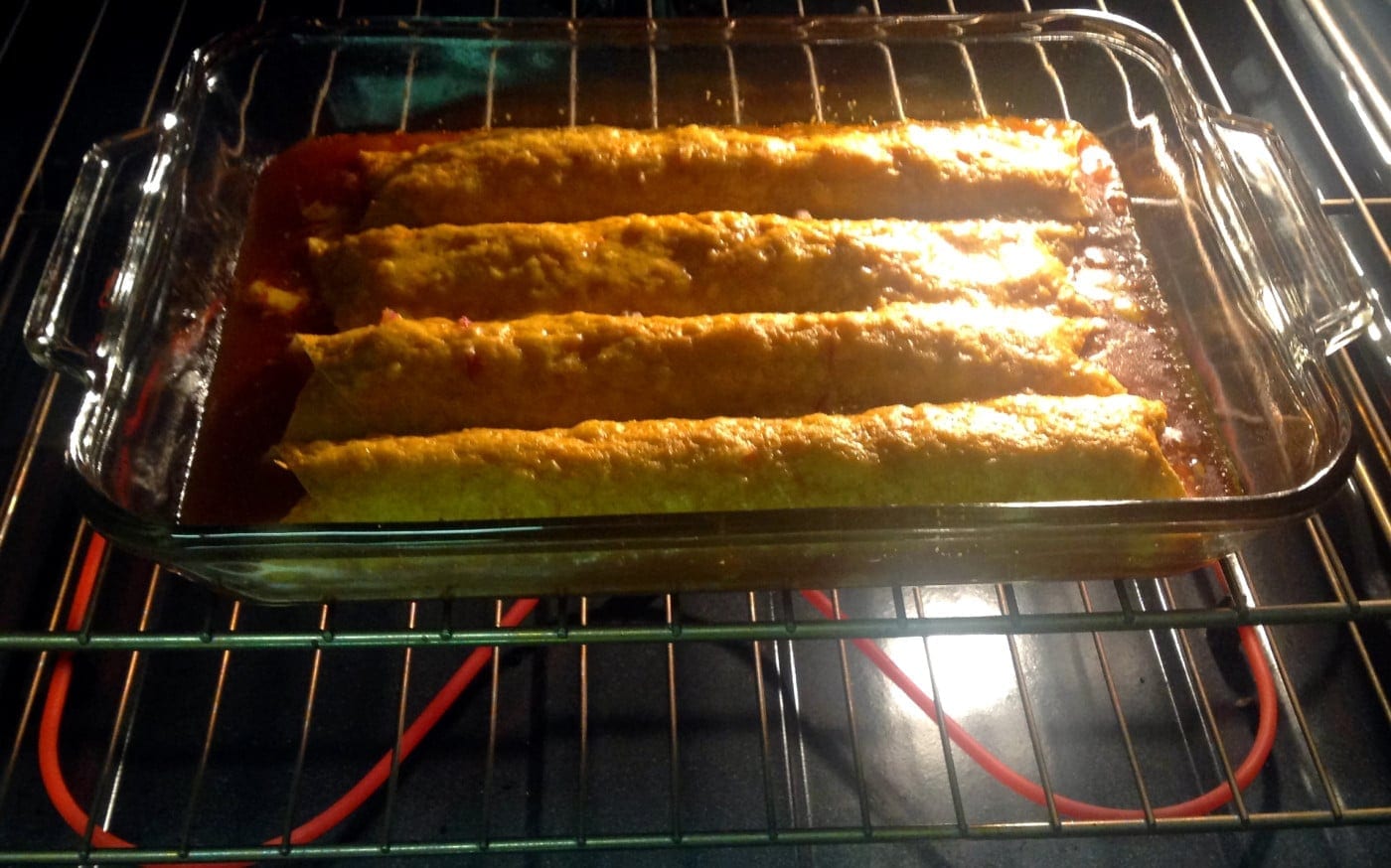 So, are you planning to get take out for the next few weeks?
If you like this enchilada recipe, check out my enchilada casserole made with fresh veggies
Vegetarian Enchilada
Quick weeknight vegetarian enchilada recipe for the whole family.

Ingredients
1

can

vegetarian refried beans

16oz can

1

can

enchilada sauce

10oz can

1

tsp

taco seasoning

12

cherry tomatoes

¼

red onion

2

tsp

olive oil

1

tsp

cumin seeds

4

large tortillas

cilantro

for Garnish

3

tsp

water

2

cups

sharp cheddar

finely shredded
Instructions
Pre-preparation
Pre heat the oven to 400 degrees

In a mixing bowl, add the tomatoes, 1 tsp of olive oil and 1 tsp of taco seasoning. Set aside for 10 minutes

Chop the onions finely

Open the tin cans

Spray the baking dish with cooking spray or you can oil it.
Preparation
In a medium sauce pan, add the remaining oil

Heat on medium heat and then add cumin seeds after 30 seconds

Add the refried beans

Add the water and the taco seasoning

Stir well for about 5 minutes (on medium heat)

Take 1 tortilla and heat it up for about 7 seconds in the microwave

On a chopping board, place the warm tortilla

Put a spread of the beans in a line on the tortilla

Add 3 cherry tomatoes

Add the onions

Roll them up tightly and place it on the baking dish.

Repeat for the remaining tortillas

Generously spread the enchilada sauce on the vegetarian enchiladas

Add the shredded sharp cheddar cheese to the enchiladas

Place in the oven for about 18 minutes or until cheese is melted


Garnish with the coriander and red onions


Keep a side of the enchilada sauce for your guests.
Notes
Nutrition Info is approximate