If you are looking for simple vegetarian recipes, here is a hearty vegetarian gumbo recipe that you will love. Serve over brown rice.
Fat Tuesday is here, so, let us celebrate it vegetarian style.
There is so much to like about Fat Tuesday. The music, the dancing, the celebration and of course, the FOOD!
Many of the southern dishes for Mardi Gras are intricate and flavorful. I like converting them into hearty and easy vegetarian recipes.
Today, I convert the Louisiana gumbo into a vegetarian version.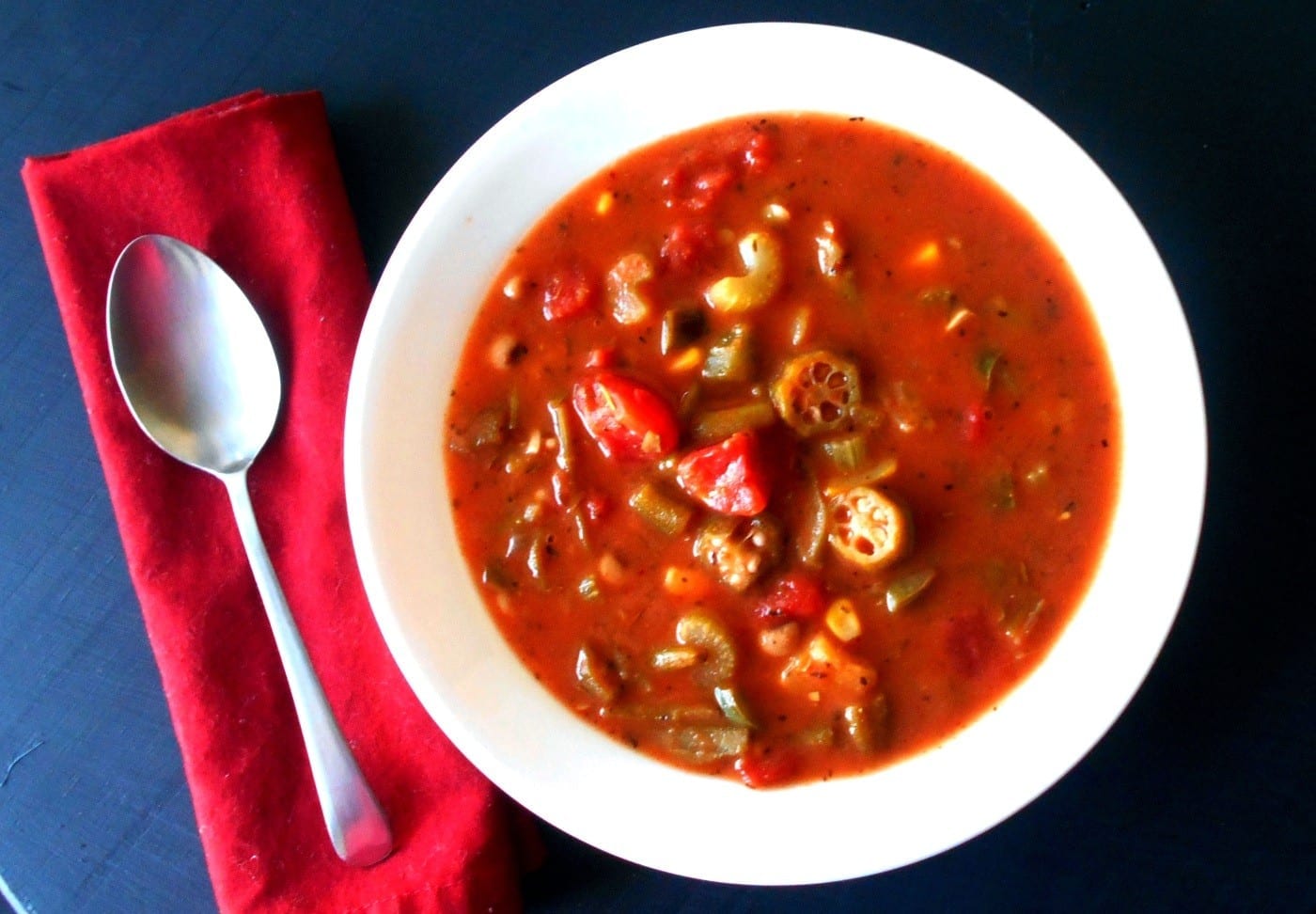 If you were to search the internet right now, you would find millions of search results. There are so many variations to the vegetarian gumbo.
You could spend the next 20 years making all the recipes and still not make them all.
However, there is one thing that all these vegetarian gumbo recipes have in common
It is the mighty Okra.
Now, Okra is not a common ingredient in many recipes. However, when it comes to gumbo, Okra is the king of the soup!
I hear you asking me, "Can I use frozen okra in this recipe?"
The answer is YES!! Actually, its the frozen okra that really makes this vegetarian gumbo delicious! This is one of the few rare recipes where I recommend using frozen veggies over fresh veggies. In my ropa vieja, the okra must be fresh!
Bet you didn't see that coming. If you are a regular visitor to my blog, you know that I ALWAYS recommend fresh over frozen.
This is the exception to the rule.
The main reason is that it is winter here in the United States. The okra that we get at this time of the year is generally very sticky and falls apart easily. It feels like something is missing, when I don't see cut okra in a Cajun gumbo.
For this recipe, I decided to get frozen green beans too. Since this is a French-Cajun dish, I thought it was appropriate to go with the French cut green beans.
This gumbo is more like a vegetable soup recipe. However, it works better if you serve it over rice. It is truly a comfort food meal. Brown rice works amazingly well with vegetarian gumbo.
If you are ever at a loss for healthy vegan recipes, I suggest you try this recipe.
For other vegan and vegetarian Mardi Gras ideas, try my ovenbaked okra recipe or my tomato cobbler. I even made okra in a blanket and it was sooo good.
So, how to make Louisiana gumbo recipe for Vegetarians and vegan? Here is the recipe:
Vegetarian Gumbo in One-Pan

Vegetarian Gumbo made in One Pan
This is a vegetarian version of the traditional gumbo.

Ingredients
For the Roux
1/4

cup

flour

2

tsp

sunflower oil

2

tsp

flax seed meal

(optional)
The Vegetables
1

cup

red onions

(finely chopped)

3

stalks

celery

(cut into 1/4 inch pieces)

1

green bell pepper

(cut into 1/4 inch pieces)

1

yellow squash

(cut into 1/4 inch pieces)

3

cloves

garlic

(finely chopped)

2

cups

okra

(frozen)

2

cups

French cut green beans

(frozen)

1/2

cup

corn

(frozen)

1

can

black eyed peas

1

can

diced tomatoes

4

cups

water

set 1 cup aside

3

tsp

tomato paste

4

tsp

hot sauce

(optional)
The Spices
3

tsp

cayenne pepper

3

tsp

cumin powder

2

tsp

dried basil

2

tsp

dried oregano

2

tsp

dried parsley

2

tsp

dried Rosemary

2

tsp

black peppers

(whole)

3

tsp

salt
Instructions
Take a large and heavy-bottom pan

Heat it for 20 seconds at medium heat and then add the oil

Add the flour

Stir constantly to make sure that it doesn't burn. When the color of the roux is dark brown, add the flax seed meal

Stir for another 45 seconds

Add the 1 cup of water and mix well


Add the Celery, onions, bell pepper and squash

Turn the heat to high and let the vegetables cook well. Stir constantly.

When the vegetables turn soft, add the remaining ingredients in the order listed above

Add the spices also

Stir well and then cover

Turn the heat to low and let the vegetarian gumbo simmer on its on


Stir occasionally to make sure that it is not sticking at the bottom

Cook for about 45-50 minutes on low heat until the gumbo is thick