Vegetarian Nachos Recipe made in mini skillet. Quick, simple and very easy to make. Added mangoes to make it sweet and spicy. Ready in less than 30 minutes
Vegetarian Nachos is not an oxymoron!
Many of my meat eating friends have always mentioned that veggie burgers and veggie nachos don't have a place in this universe.
I have proved them wrong, time and again, yet, they refuse to accept it. Now, I am in the market for new friends, preferably vegetarian.
Here is a vegetarian nachos recipe that all meat eaters can get behind. The recipe is about comfort food and it is about Cinco de Mayo!
Years ago, the best vegetarian nachos I had were in a hole-in-the-wall restaurant in Manhattan. They put mangoes in their nachos and that blew my mind! They also had a Pico de Gallo made from pineapples and tomatoes.
Since then, I have been bitten by the Nachos Bug!
Side note – I also have a very different type of vegan nachos, in case you are interested.
For my blog, I wanted to pay homage to that hole-in-the-wall restaurant where I first fell in love with beans and cheese. What better time to pay homage to it than on Cinco de Mayo?
Yes, I can appreciate the underlying irony.
Nachos are an Americanized Mexican dish and Cinco de Mayo is an Americanized Mexican Holiday.
Regardless of its origins, I can't help getting caught up in the spirit of Cinco de Mayo.
Some days, I like to browse the clearance section of Target and get lucky once in a while. I found these tiny cast iron skillets for only $2!
SCORE!
They are perfect for individual vegetarian nachos. This will work great as an appetizer for my Cinco de Mayo guests and also have a portion control factor to them.
Add Margaritas and you have the formula for a great party.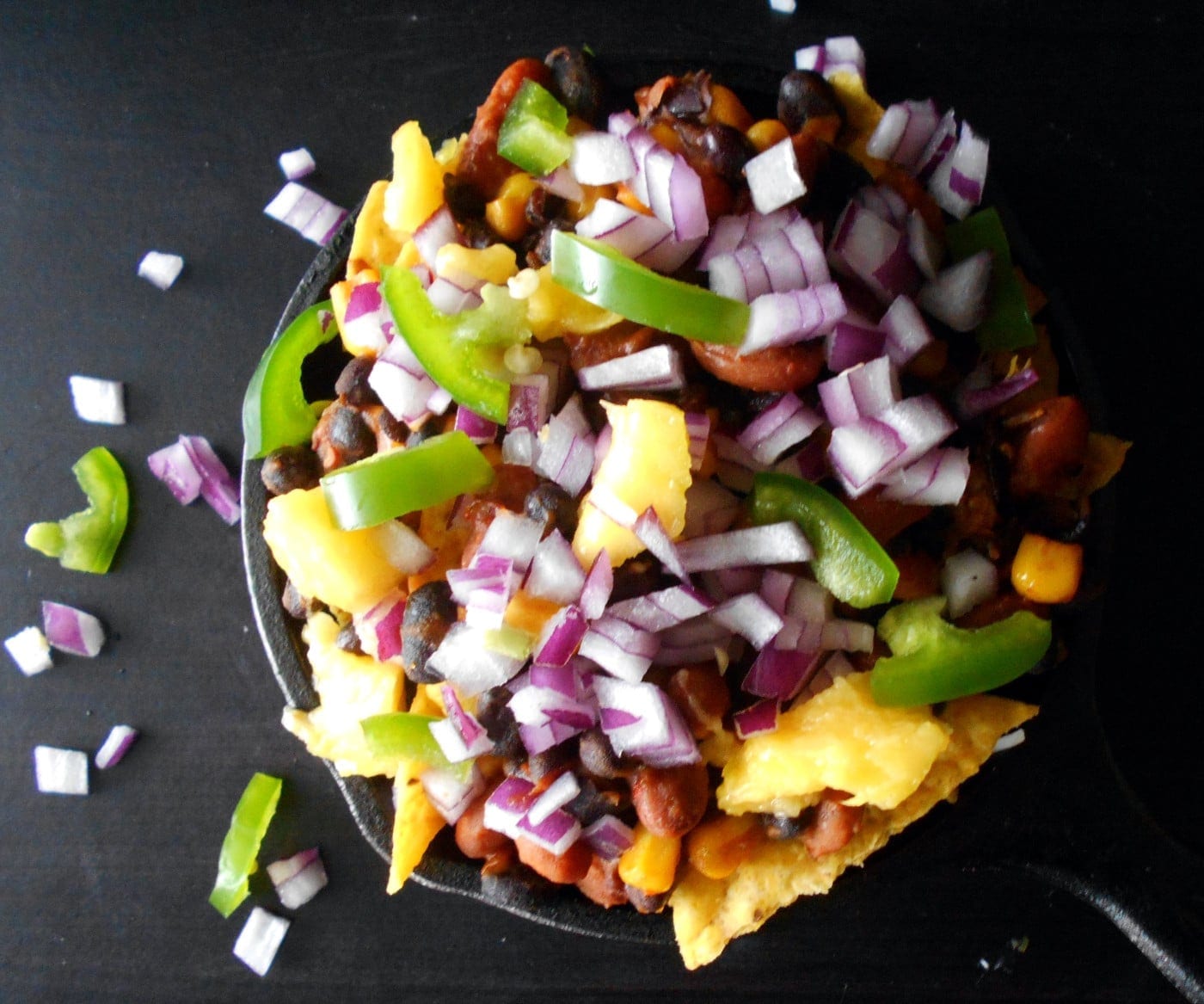 Mangoes make this recipe. Guests are not expecting a layer of sweetness to go along with the spiciness of the nachos, but, they are delighted when they first bite into it.
If you don't have fresh mangoes, you can substitute Pineapples. Canned pineapple will work if you can't get fresh pineapple
If you are looking to make a healthy vegetarian nachos recipe, skip the cheese in my recipe and use low fat nachos. Also, you can use the Greek yogurt dip recipe from Food.com instead of the sour cream dip.
A while back, I had made 5 tomato salsa which would go GREAT with recipe. Prepare the recipe as described below and top it with the 5 tomato salsa or use it as a dip. You can also serve it with my apple salsa verde.
What is your favorite Cinco de Mayo dish?
Recipe Details (Makes 2 portions of Vegetarian Nachos)
Vegetarian Nachos
Cheesy Vegan Nachos with Mangoes

Ingredients
For the Nachos
3

cups

Nacho chips

1

cup

black beans

from a can, throughly washed

1

cup

pinto beans

from a can, throughly washed

1

cup

sweet corn

Frozen or fresh

1

Jalapeño

½

red onion

finely diced

½

Avocado

cubed

½

mango

ripe, cubed

2

tsp

Taco seasoning

1

tsp

cumin seeds

1

tsp

sunflower oil

1

cup

shredded cheese

Mexican blend

½

lemon

juiced
For the sour cream dip
1

cup

sour cream

1

tsp

salt

1

tsp

black pepper
Instructions
Preheat the oven to 375


Cut the onions, Jalapeño, avocado and mangoes finely

Heat a small pan and add the oil

Add cumin seeds and allow them to brown slightly

Add the beans and corn to the oil

Add the taco seasoning and mix well

In a mini skillet, place a bed of nacho chips

Add a layer of the beans and corn mixture

Top with mango, avocado, red onions and jalapeño

Top with cheese

Add another layer of nachos and repeat the toppings

Be generous with the final cheese topping

Place the skillet in the oven and cook for about 7-10 or until cheese melts


While the vegetarian nachos are in the oven, mix all the ingredients for the dip


Remove from the oven and serve the vegetarian nachos immediately

Notes
Nutrition Info is approximate
Be sure you warn your guests that the skillet and contents are hot.