Wonderful recipe for vegetarian rolls made with paneer & soba noodles! Pair vegetarian rolls with a delicious star anise & apricot dipping sauce.
I find it so easy to make vegetable rolls, but, I have never tried putting paneer in it.
So, in this recipe, I added paneer to my usual round of veggies. The recipe turned out so good.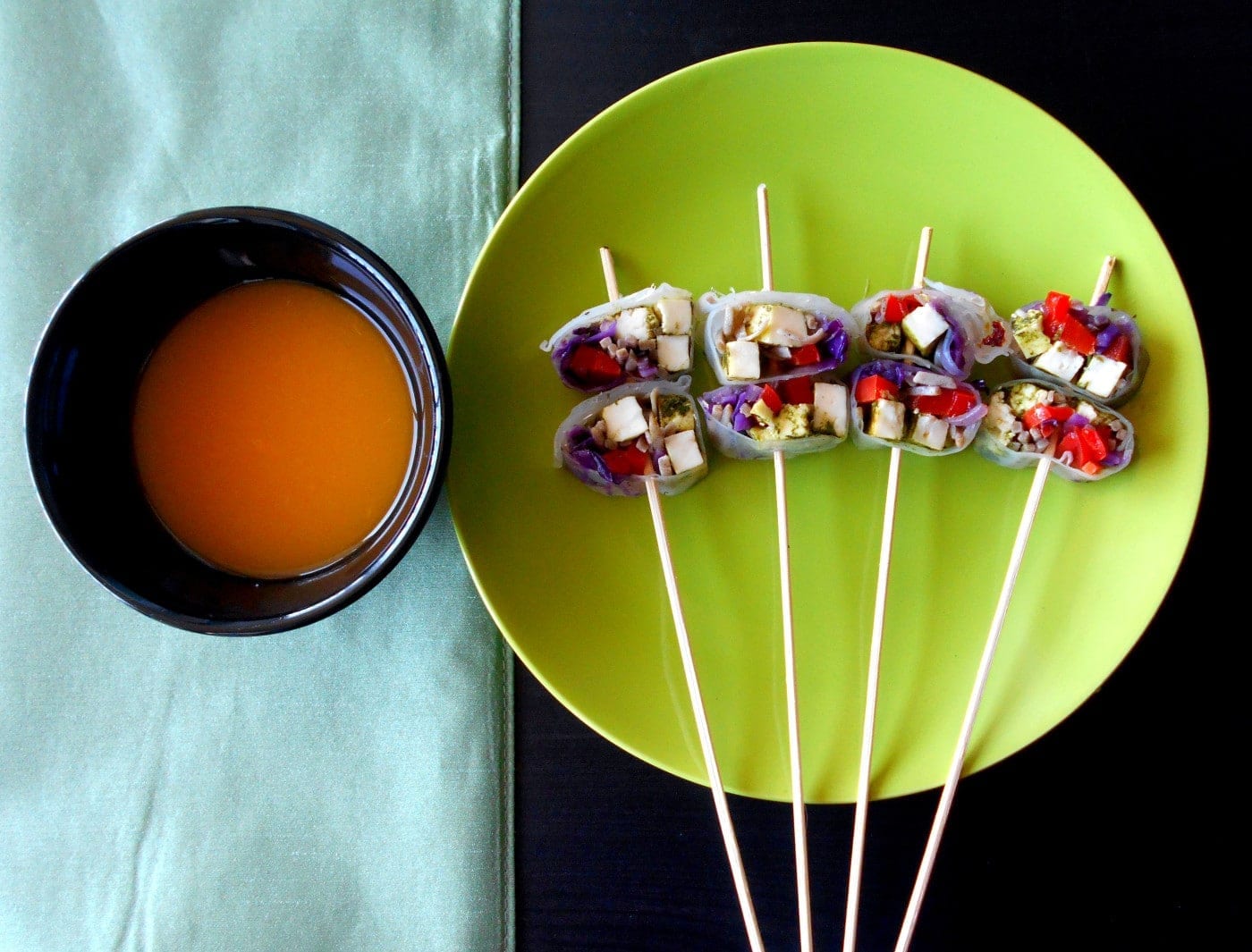 The trick is to marinate paneer thoroughly in cilantro sauce. This is such an easy way to do it that even I couldn't mess it up.
To add a spice to it, I used Thai chili. It is my go-to pepper in any recipe. Some people find it too spicy, but, I think it is the perfect level of heat
To make this into vegan recipes, use vegan yogurt and tofu. It tastes just as delicious because the tofu is marinated in the same cilantro sauce
In this case, I marinated the paneer into a coriander and sour cream chutney. The result is green paneer wrapped in vegetarian rolls that tastes so delicious.
I like to toast the paneer and vegetables lightly before I put them in a roll. This brings out their flavor and makes them very appetizing.
Of course, these vegetarian rolls would not be nearly as good if it weren't for the Star Anise and Apricot Dipping Sauce. Sure, you can try the traditional peanut and ginger sauce.
However, I like non-traditional dipping sauce for a non-traditional vegetarian rolls recipe.
I consider this as vegetarian spring rolls because of all the veggies. In fact, it is better than frying the spring rolls.
I served these vegetarian rolls at a get together recently and they were a hit. Although, some of the guests preferred dipping this in mustard. I tried it that way and it wasn't bad. But, I like it better with Apricot Dipping Sauce.
For all the paneer fanatics, I think you will also love this Paneer Pizza with Mediterranean flavors.
Do you prefer tofu or paneer for your recipe?
How to make Vegetarian Rolls with Apricot Dipping Sauce

Vegetarian Rolls with Apricot Sauce
Simple Vegetarian Rolls with Apricot Sauce.

Ingredients
For marinating the paneer
2

bunch

Cilantro

Remove the ends

2

cloves

garlic

4

Thai chili

optional

2

tsp

salt

½

cup

water

½

cup

sour cream

(or less if you like the color of the chutney to be green)

1

tsp

sugar
For the Vegetarian Rolls
6

Rice papers

1

block

paneer

1

cup

red cabbage

shredded

1

cup

carrots

shredded

6

Mint leaves

½

red onion

1

yellow bell pepper

(or choose your favorite bell pepper)

6

Sundried tomatoes

3

tsp

olive oil

½

tsp

salt

½

tsp

ground pepper

10

pieces

soba noodles

Bowl of warm water for the rice wrapper
For the Apricot Sauce
3

apricots

½

mango

ripe

1

chunk

ginger

the size of a grape

1

star anise

3

Thai Chili

optional

2

tsp

salt

3

tsp

sugar

½

cup

water
Instructions
Prepare the cilantro chutney
Wash the cilantro and put it into a food processor

Add the garlic and Thai chili to the processor

Add the water and blend until smooth. Watery is fine


After all the cilantro has been made into a pulp, add the sour cream and pulse again

Remove the chutney from the processor and into a zip lock bag. Seal tightly

Prepare the Vegetarian Rolls
In a saucepan, fill it halfway with water and heat it

When the water is boiling, add the soba noodles and allow it to soften (10 minutes)


Drain the water and set them aside


Cut the onions into thin long strips.

Cut the paneer into long and thin cylinder blocks

Place the paneer blocks into the zip lock bag with the green chutney and seal tightly

Gently coat the paneer well by moving the paneer around in the zip lock bag

Let it marinate for 30 minutes


In a medium pan, add 2 tsp of oil and allow it to heat

Add the cabbage, carrots, onions, yellow bell pepper, salt and pepper.

Stir fry for about 5 minutes on low heat.

Remove and set aside.

Use the same pan and add the remaining oil

Carefully stirfry the paneer on each side until its lightly browned

Bringing together the vegetarian rolls
In a bowl, add the warm water and immerse a rice paper completely for 10 seconds

Remove the rice paper and smoothly place it on a chopping board.

Start by placing the mint leaf in the middle of the rice paper

Place three paneer blocks on top of the mint. Lay them side by side

Place a few soba noodles on the paneer. Trim them to size

Add the stir fry items to this roll. Place them on top of the soba noodles.

Chop the sun-dried tomatoes into long strip.


Start by folding the left and right side of the rice paper.


Then roll from the edge closest to you and continue rolling until you have a log-shaped roll.

Moisten the end of the roll and it will automatically stick to the roll

Do the same to bring together the rest of the vegetarian rolls.


Cut into pieces and serve them with my Apricot Dipping Sauce
Notes
Nutrition Info is approximate