Simple veggie bites that are made with fresh veggies and dry herbs, they make eating chips a slightly healthier sport. Vegan snack that even kids can enjoy.
So, it is a glorious Sunday afternoon after a tumultuous and busy week.
The weather channel is showing hot day filled with an abundance of sunshine.
A quick glance at the date on my cell phone shows that August 2010 is about to be retired and September is eagerly awaiting its turn.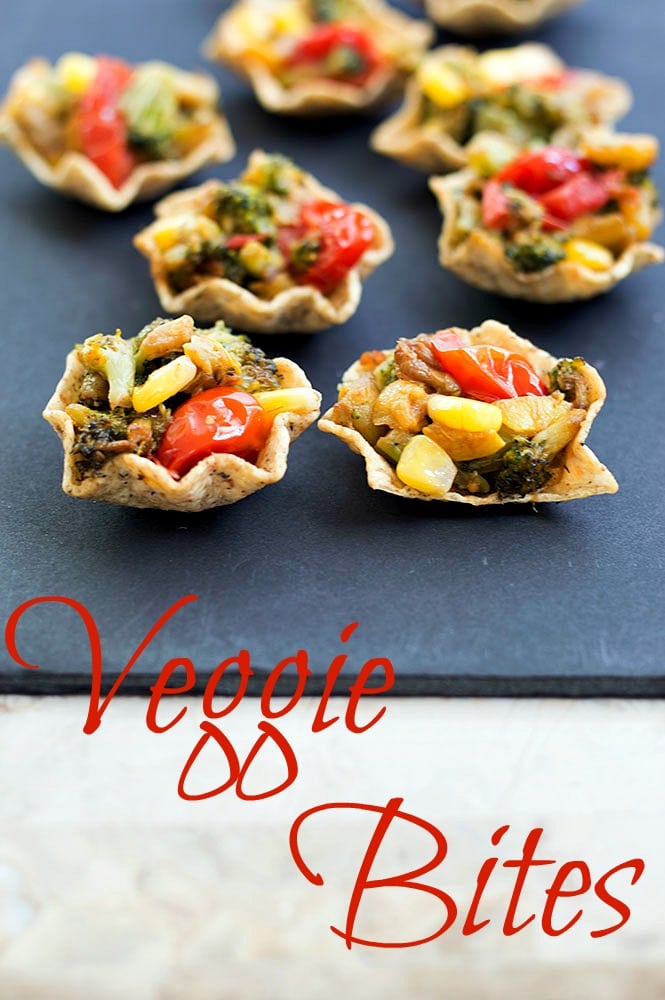 Winter is about to bear down, so, New Jersians are beginning to prepare themselves (mentally) for the coming winter by soaking up every last ray of sunshine being offered to us by the nature Gods.
For my part, I am soaking up the sun in the only place to get the best sunlight.
At the beach…
I am sitting at the beach with the novel (Affiliate Link) "Love and Summer" in one hand and a bag of chips in the other. Both were consumed in a matter of hours.
Guess which one I felt guilty finishing in its entirety? You guessed correct. Eating a whole bag of chips on a relaxing day is not healthy way to spend a summer day.
Now, like many of you, I am sure I couldn't stop eating chips. So, I had to find a way to eat just a few chips and add a healthy component to it.
That is how this veggie bites were born. I roasted a whole bunch of fall veggies and chopped them up into tiny pieces. Then, I put them in the chips and topped it with cheese. If you use only one veggie, I suggest broccoli because it is my idea of a healthy veggie. They can be "broccoli bites" instead. That is making me drool.
So, the cheese didn't make it into this recipe. In my quest to go full Vegan, I decided to skip the cheese. You can top them with chips if you like but I don't recommend it. The idea is to keep them healthy.
Use any veggies you can find, but, I like the squash and broccoli combination. I also added roasted cherry tomatoes because I am basically in love with them. They taste amazing when paired with chips.
I made a variation of these veggie bites by adding cheese and vegan pulled pork in it. Check out my mini pizza bites recipe because its perfect for any game day party.
Next time you are looking for healthier veggie snacks or vegan snacks,
What is your favorite way to enjoy the last days of summer?
Veggie Bites
For the tomatoes
1) Pre-heat the oven to 300 degrees
2) Cut each cherry tomato into half at the equator (1 cup). See this tip on how to cut them easily
3) In a medium bowl, add the cup tomatoes, 4 cloves of garlic, ¼ cup of balsamic vinaigrette, 2 tsp of brown sugar, 5 fresh mint leaves, 2 Tbsp of Extra Virgin Olive Oil, 1 tsp of salt (optional), 1 tsp of whole peppercorns (option). Gently mix the ingredients with your hands
4) Spread out the tomato mixture onto a baking dish. Make sure that the tomatoes are cut side up.
5) Place the baking dish in the middle of the oven and on the bottom layer
6) This will take about 20 to roast. When the top of the tomato starts to wrinkle, they are ready.
For the veggies
1) Chop 2 broccoli crowns, half of a small yellow squash, 5 baby carrots, 1 jalapeno (optional) and 1 shallot. Cut them into very small pieces because it will make it easier to top the scoops
2) In a stir fry pan, add 2 tsp of extra virgin olive oil and heat at low heat for 30 seconds
3) Add the garlic cloves and let them brown on medium heat. Should take about 1 minute
4) Add the shallots and roast for 45 seconds. Add the remaining veggies
5) Add ½ cup of corn kernels. If using frozen, microwave for 30 seconds before adding it to the veggies.
5) Add ½ tsp of salt, ½ tsp of black pepper, 1 tsp of dried parsley and ½ tsp of dried thyme
6) Stir fry for about 7-10 minutes on medium heat. When the broccoli starts to brown, turn off the heat. Add the roasted tomatoes and mix well. Adjust for taste at this point
Serve the veggie bites immediately. Tip: Only fill up the scoops when you are ready to serve the chips.
I also love these roasted corn salsa cups.
Veggie Bites Using Fresh Veggies
Simple veggie bites that are made with fresh veggies and dry herbs, they make eating chips a slightly healthier sport. Vegan snack that even kids can enjoy.
Ingredients
For the tomatoes
1

cup

cherry tomatoes

4

cloves

garlic

crushed

¼

cup

balsamic vinaigrette

2

tsp

brown sugar

5

mint leaves

2

Tbsp

Extra Virgin Olive Oil

1

tsp

salt

(optional)

1

tsp

whole peppercorns

(option)
For the veggies
2

broccoli crowns

cut into small pieces

½

yellow squash

cubed

5

baby carrots

cubed

1

jalapeno

(optional)

1

shallot.

chopped

2

tsp

extra virgin olive oil

2

cloves

garlic

crushed

½

cup

corn kernels

(frozen or fresh)

½

tsp

salt

½

tsp

black pepper

1

tsp

dried parsley

diced

½

tsp

dried thyme

diced
Instructions
For the tomatoes
Pre-heat the oven to 300 degrees

Cut each cherry tomato into half at the equator


In a medium bowl, mix all the ingredients for the tomatoes


Spread out the tomato mixture onto a baking dish with tomatoes' cut side up

Place the baking dish in the middle of the oven and on the bottom layer

roast for 20 minutes or until the tomatoes start to wrinkle

For the veggies
In a stir fry pan, add extra virgin olive oil and heat at low heat for 30 seconds

Add the garlic cloves and let them brown on medium heat (1 minute)


Add the shallots and roast for 45 seconds before adding the remaining veggies

Add salt, pepper, parsley and thyme


Stir fry for about 7-10 minutes on medium heat


When the broccoli starts to brown, turn off the heat


Add the roasted tomatoes and mix well. Adjust for taste at this point

Fill up the scoops 5 minutes before serving