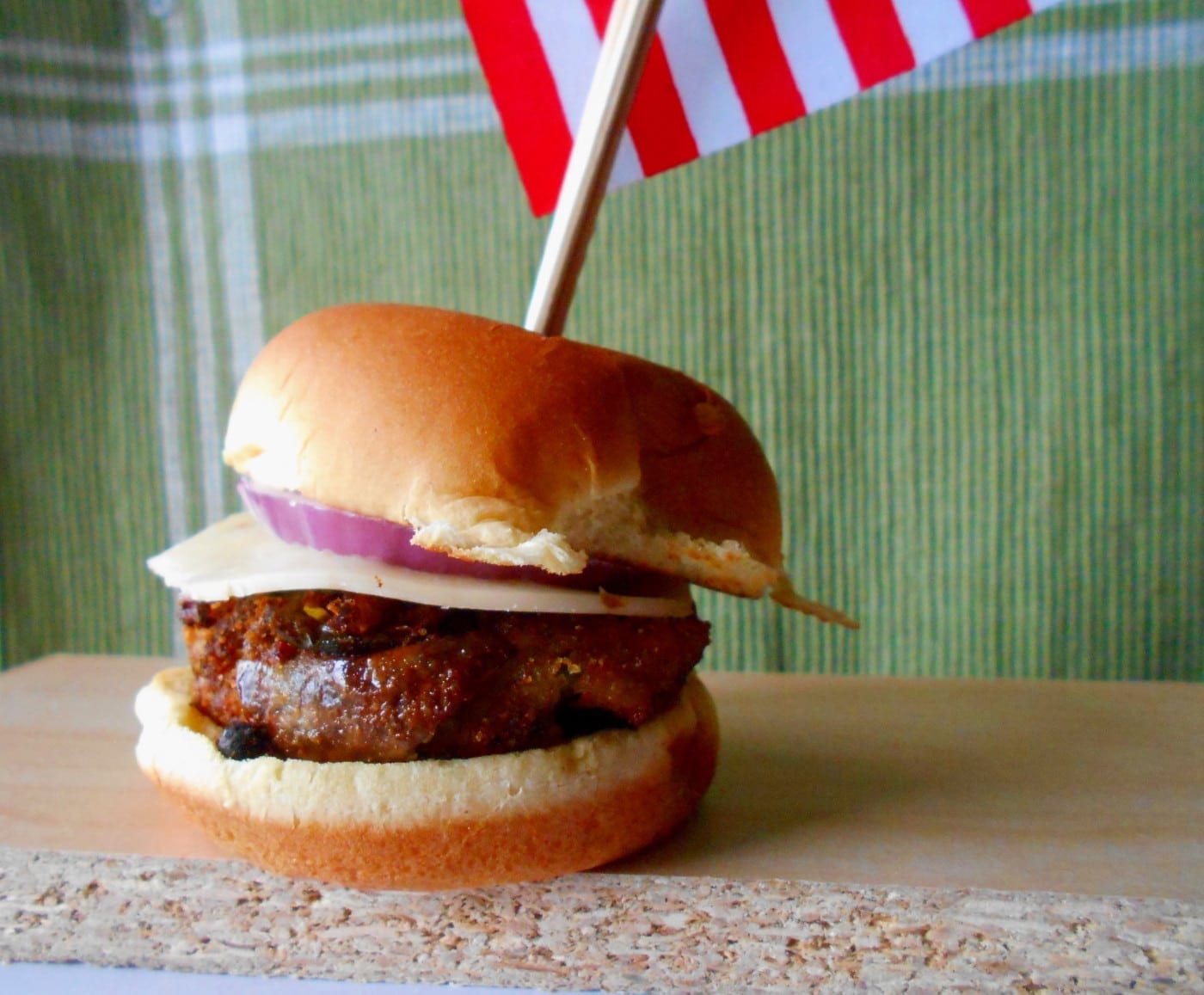 I have been very very lazy this week!
And it is evident in my blog! I have posted only one recipe in the last nine days. That is very sad.
Finally, I got around to making this yummy veggie burgers recipe.
It was totally worth the wait.
I love making a burger with fresh veggies. It gives the burger a nice "meaty" texture. This recipe has eggplants in it.
I think it is a very creative way to use eggplants. Once roasted, they will blend perfectly into the patti.
This veggie burgers works great when grilled. Grilling the patties of this veggie burgers brings out all the natural flavors.
The other option is fry the burger which is what I did. I didn't have access to a BBQ grill. Frying it may be unhealthy, but, the taste is so good.
The first thing I did was to grill the vegetables. In my case, I used my oven to roast the vegetables. However, you can wrap the vegetables in foil, including the peas and roast them on your grill. That will bring out the rosemary and oregano
It is game day Sunday. Superbowl XLVIII is this Sunday and I think it is between the Seattle Seahawks and Denver Broncos. These are just words to me. I got this info from Superbowl's official site!
Make hamburger recipes for your meat eaters and make this vegetarian recipe for us.
This burger is perfect for any grilling season. If you are having a BBQ on labor day to celebrate the end of summer, this burger is a good way to do so.
Serve this veggie burgers at your next bbq party and your vegetarian and vegan guests will thank you.
Veggie Burgers Recipe
Veggie Burgers Recipe
Ingredients
5-6

medium potatoes

3

baby eggplants

2

small yellow squashes

1

green squash

1/2

cup

of peas

1/2

cup

of corn

1

cup

of yellow cherry tomatoes

1

tsp

whole peppercorns

2 1/2

tsps

of salt

2

Thai Chillies

(optional)

1

tsp

dried oregano

1

tsp

dried rosemary

2

tsp

extra virgin oil for roasting the veggies

Sunflower oil for frying the patties

Burger buns or slider buns for the burgers

Onions to top the burger

Roma tomatoes to top the burger

Jalapeno Jack cheese or Vegan cheddar cheese

(Optional)

1

cup

of almond milk

(place in ta wide bowl)

Breadcrumbs to coat the veggie burgers with

(put the breadcrumbs in the plate)
Instructions
Pre-preparation
Roughly chop up all the eggplants, potatoes, squash and tomatoes

Pre-heat oven to 400 degrees.

Toast the buns or slider buns for the burgers and set aside
Preparation
In a baking dish add all the eggplants, potatoes, squash, tomatoes, corn and peas

Add the olive oil to the baking dish

Add all the salt, pepper, dried herbs & spices to the baking dish and mix well

If you are grilling this vegetables, transfer all the vegetables from the baking dish and into an aluminum sheet. Wrap the vegetables in foil and place on your grill

Place in the baking dish in the oven and allow all the veggies to roast for about 25 minutes

Remove the veggies from the oven (or grill) and allow them to cool

Using a potato masher, mash all the veggies. If you feel like using a processor, go for it. Just be sure not to make them a liquid consistency

Make small patties out of the mashed veggies.

Dip the patties in the almond milk and then coat with the breadcrumbs

For grilling option, place these patties on your grill and roast both sides

For the frying option, use the breadcrumbs to coat the patties well

Add the Sunflower oil to a frying pan and set it to medium heat

Wait for the oil to heat up and then, fry the patties.

Fry the patties on both sides and rest on a paper towel. Dab the patties with paper towel to suck off any of the extra oil

Bring this veggie burgers recipe to a close by assembling it. In the bottom bun, add a little ketchup and place a veggie patti on it

Add the rounded onions and tomatoes on it

Top with the jalapeno pepper jack cheese and close with the top bun
Serve this veggie burgers recipe with a side of sweet potato fries or sweet potato chips