Sweet & spicy veggie flatbread sandwich – a perfect brown bag lunch. The base is made with Tofu + Smucker's Fruit & Honey Strawberry Jalapeno Fruit Spread
Veggie Flatbread Sandwich – This shop was originally sponsored by Smuckers
Have you used a sweet spread in a veggie flatbread sandwich? If you have, then you and I know just how scrumptious that tastes.
Today's recipe makes use of a very delicious new product: Smucker's Fruit & Honey Strawberry Jalapeno Fruit Spread.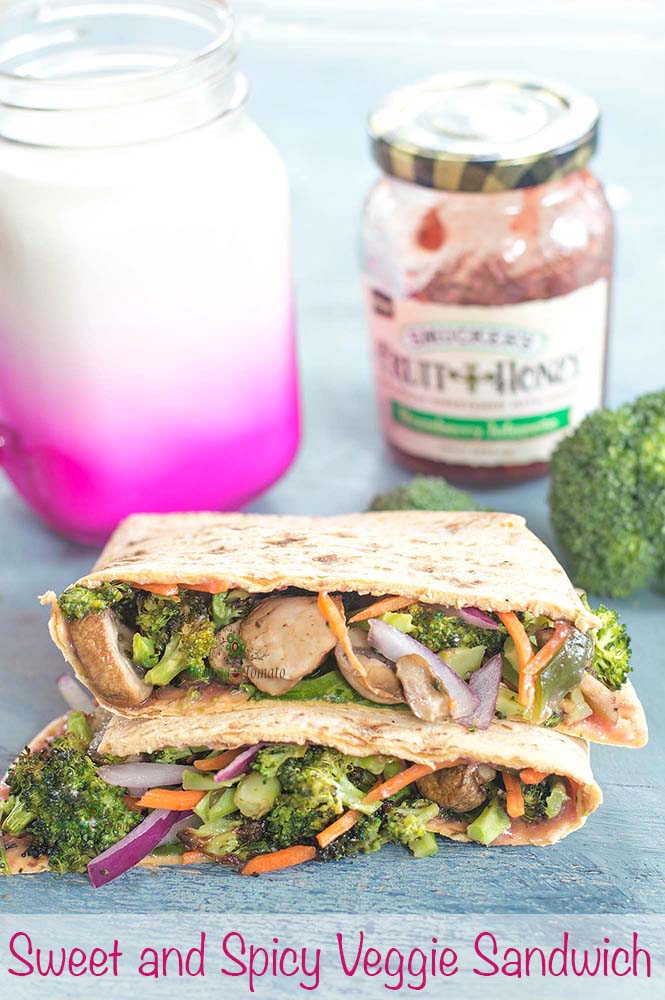 When I found out about the existence of this new spicy spread from Smucker's, the foodie in me stopped dozing to pay attention! A spread that has jalapeno? My love for spicy foods knows no bounds, so, this is exactly what I needed!
So, off I went to Wal-mart which just happens to be conveniently located less than a mile from me. I practically ran there and eagerly purchased my jar of this spread. Curiosity got the better of me and I tasted it right there even before my receipt had a chance to be printed.
This spread has just the right amount of jalapeno to it. It doesn't overwhelm your taste buds, yet, it alerts them to its existence. Being naturally sweetened with honey, it feels like it is better for you and me.
What happens when this spread meets broccoli and mushrooms? Think of it like a blind date that turns into the best date you ever had! The veggies are bland by themselves, but, together they can provide quite a punch of flavor.
Also, making your own jam can be so much fun. You have to try my crockpot blackberry jam or my tomato jam
Frankly, I would love to throw out that PB&J lunch habit for so many of my co-workers. It is my humble opinion that this veggie flatbread recipe is the better for you. Don't be surprised if you fall in love with broccoli all over again.
Other surprising ingredients in this recipe are kale, carrots, onions, garlic and tofu. I went with silken tofu that I blended with the strawberry jalapeno spread. The main reason for doing that is because it makes it easy to spread on the sandwich.
This recipe works great in a flatbread. However, you can try it as a vegetarian sandwich or even a veggie wrap. You cannot go wrong with any options. Check out some of my favorite sandwich recipes.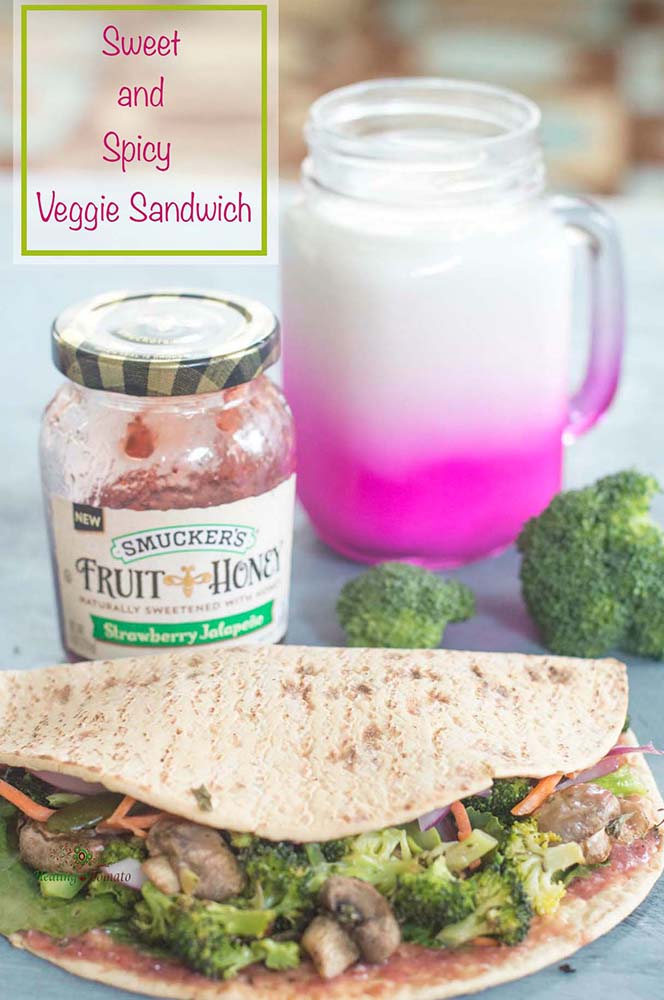 You can also make a boat out of the flatout flatbread and put quinoa in it.
Have you made a mad dash to Wal-mart JUST to buy one item that you are intensely craving?
Sweet and Spicy Veggie Flatbread Sandwich
1) Preheat oven to 400 degrees
2) Cut broccoli crowns into small pieces and add them to a mixing bowl. I used 1 cup in this recipe
3) To save time, buy chopped white mushrooms from the store. Add 1 cup of mushrooms to the broccoli
4) Finely chop 2 cloves of garlic and add them to the bowl
5) Add 3 tsp of extra virgin olive oil to the bowl. Add 1 tsp of dried parsley and dried oregano to the bowl.
6) Add ½ tsp of salt to the bowl. I always use caution when adding salt and I urge my readers to adjust it to their taste
7) Mix all the ingredients in the bowl and transfer to a baking tray. Spread the veggies evenly on the tray and then put it in the oven. Bake for 25 minutes or until the mushrooms get tender and crispy. Also, the broccoli crowns will start to turn brown. When the veggies are roasted, remove the tray from the oven and let it cool
8) While the veggies are roasting, add 1 Tbsp of silken tofu to a processor. Add 2 Tbsp of Smucker's Fruit & Honey Strawberry Jalapeno Fruit Spread to the processor and blend on low speed until well blended
9) Take a flatbread and roast it on both sides. I put the flatbread on a medium pan and roasted each side for 15 seconds.
10) Remove it from the heat and place it on a plate. Spread a generous layer of the spread and tofu mixture on the flatbread
11) All the veggies will be placed on half of the flatbread and the other half will be used to cover the veggies. Start by layering with a bed of baby kale. If you prefer baby spinach, use that instead
12) Add the roasted veggies first. I put about 1 cup on each flatbread
13) Add ¼ cup of shredded carrots and ¼ cup of red onions. Both the carrots and onions are cut julienne style in my sandwich recipe
14) Close the other half of the veggie flatbread sandwich and serve immediately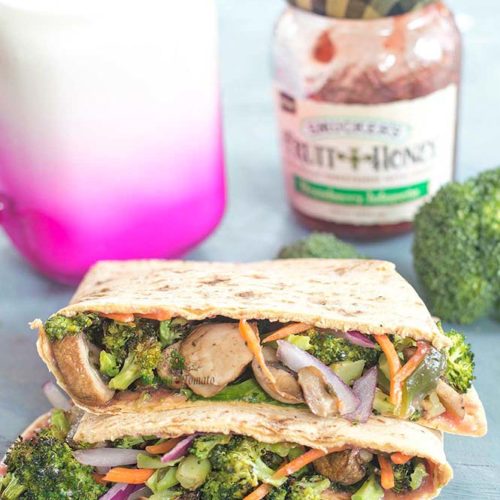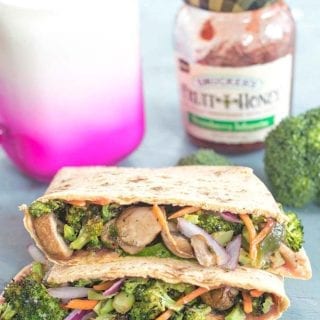 Veggie Flatbread Sandwich (Sweet and Spicy)
Sweet & spicy veggie flatbread sandwich with spicy jam

Ingredients
1

cup

broccoli crowns

chopped into small pieces

1

cup

white mushrooms

, cut lengthwise

2

cloves

garlic

3

tsp

extra virgin olive oil

1

tsp

parsley

dried

1

tsp

oregano

dried

½

tsp

salt

1

Tbsp

silken tofu

2

Tbsp

Spicy Jam

2

flatbreads

10

baby kale leaves

¼

cup

carrots

julienned

¼

cup

red onions

julienned
Instructions
Preheat oven to 400 degrees

Place broccoli and mushrooms in a bowl


Add garlic, oil, parsley, oregano and salt to the bowl


Mix all the ingredients in the bowl and transfer to a baking tray


Spread veggies evenly on the tray and then put it in the oven


Bake for 25 minutes or until the mushrooms get tender and crispy

When the veggies are roasted, remove the tray from the oven and let it cool

While the veggies are roasting, add silken tofu to a food processor

Add Smucker's Strawberry Jalapeno Fruit & Honey to the processor and blend


Take a flatbread and roast it on both sides stove top


Remove it from the heat and place it on a plate


Spread a generous layer of the spread and tofu mixture on the flatbread

Place roasted veggies on half of the flatbread

Top with carrots and red onions


Close the other half of the veggie flatbread sandwich and serve immediately
Notes
Nutrition info is approximate