This Watermelon Lassi is a twist on the traditional Sweet Lassi. I made it with fresh watermelon, cardamom and cumin. Cool and refreshing lassi that is ready in 5 min
Lassi is a family favorite summer drink for us. Nothing fights the harsh triple digit temperatures better than a cool lassi drink
If you order sweet lassi at Indian restaurants, keep reading below. I am going to show you how to make this sweet lassi at home in under 5 min!
Of all the Indian food recipes, this is the easiest to make and say.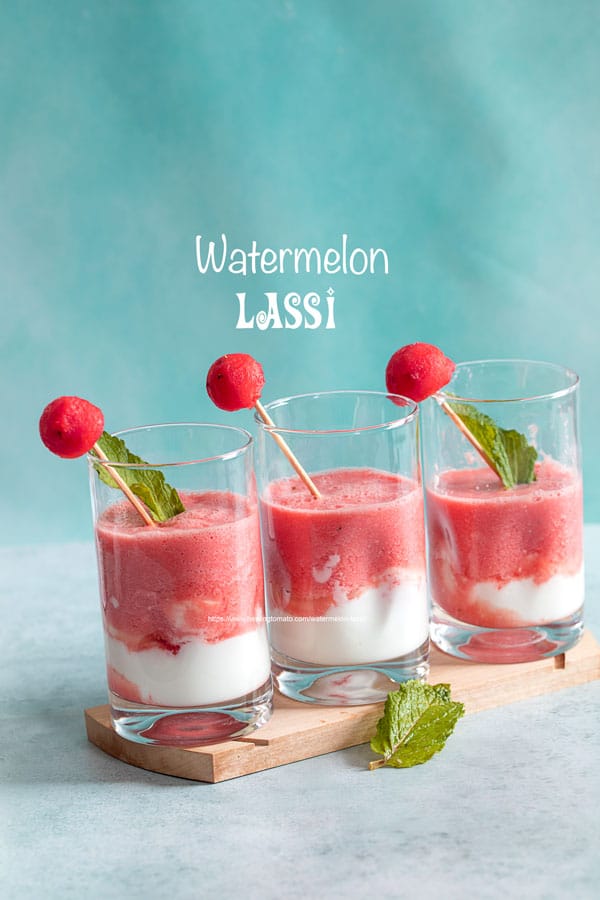 Tips for making this lassi
Use fresh watermelon that is on the sweeter side
Make sure the watermelon is cold because you won't have to use ice cubes
Save some of the juice from the watermelon as you are making pieces for the blender
If you can get seedless watermelon, use that instead
Use plain yogurt only. If you want to use flavored, then use non other than vanilla flavored yogurt. Other flavors will compete with the watermelon's distinct taste
Use cardamom pods instead of cardamom powder. Remove the seeds from the pod
The amount of agave you put into this recipe will depend on the sweetness level of your watermelon. So, adjust it to taste
Save the cardamom pods to put in soups, curries or Indian chai
Serve immediately after making it
You can serve this watermelon lassi it by itself or serve it in 2 layers of yogurt + watermelon, like I did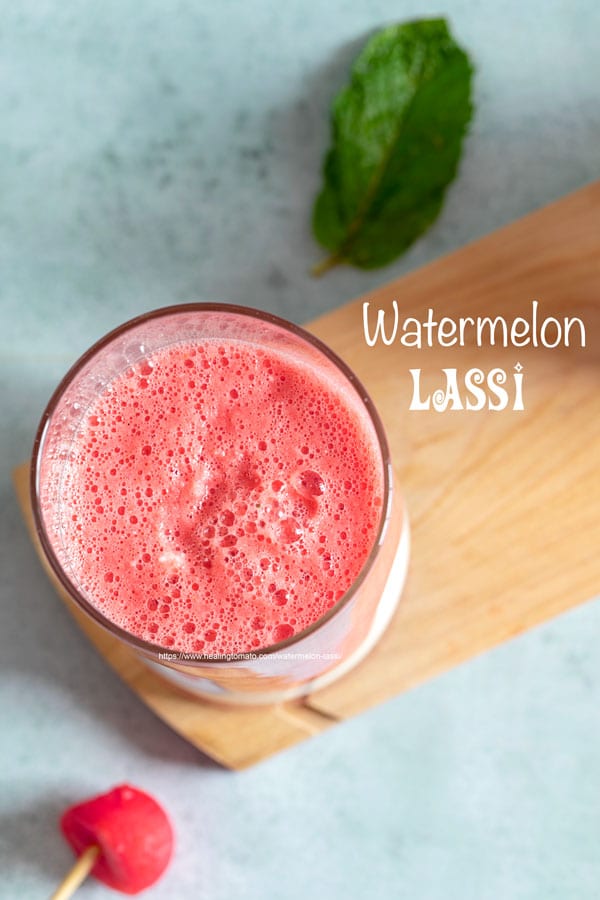 Vegan watermelon lassi
This watermelon lassi is vegetarian because I used regular yogurt. This was not my first choice, but, I had no other options.
I have bellyached about how hard it is to find plain vegan yogurt in my area. In the past, I have gone to 7 different grocery / big box stores and none of them carried it.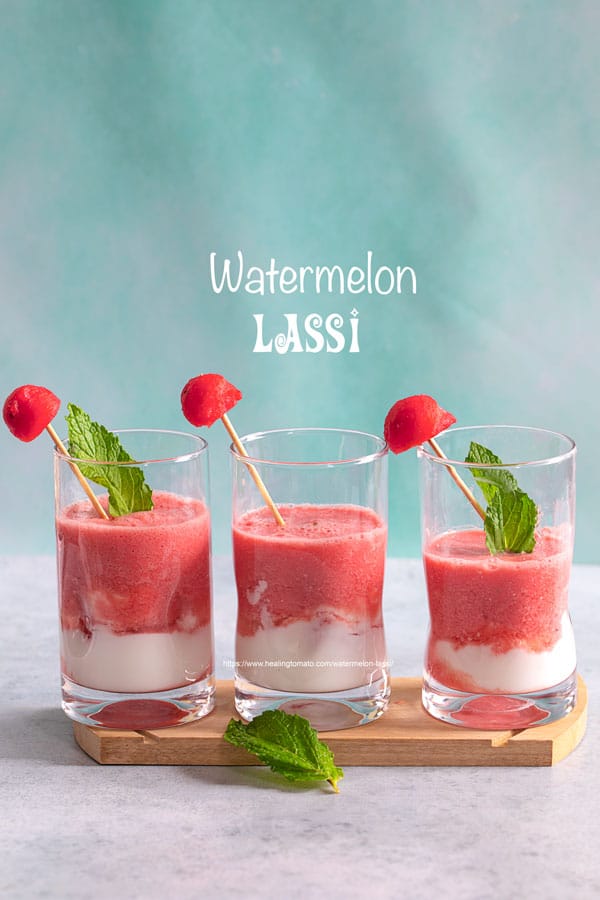 Its frustrating for me, but, if you can find plain vegan yogurt, please use that instead. The rest of the ingredients in this watermelon lassi are vegan friendly, so, you can follow the rest of the recipe as written
If you are confused about what is vegan and what is vegetarian, I have created a helpful vegan guide that talks about it all. If you have more questions, please feel free to comment below
Salted vs sweet lassi
When you go to Indian restaurant, they always ask you if you want sweet lassi or salted lassi. I always see people order sweet lassi and it always surprises me
You see, growing up we always made the salted lassi (get my salted recipe for it by clicking here). I had never heard of sweet lassi until pretty late in my teens. It was a foreign recipe concept for me.
So, what is the difference between salted lassi and sweet lassi. Its exactly like the name sounds. Sweet lassi is made with honey and yogurt while salted lassi is made with salt and yogurt
How do you make plain lassi? The traditional lassi recipes was always made with just 3 ingredients: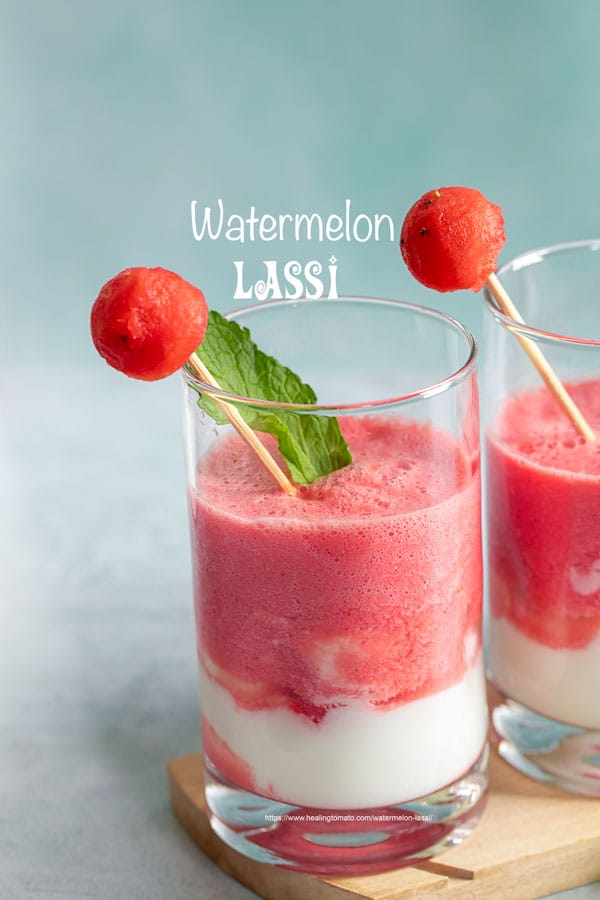 Over generations, people started adding cumin-coriander powder which is my favorite ingredient of lassi. Along with the yogurt, cumin powder is very good to the gut
So, are you a sweet lassi fan or a salted lassi fan?
Buttermilk vs lassi
Buttermilk is so much similar to lassi in many ways. They have the same texutre and ingredients
Buttermilk, however, is made from sour milk. However, lassi is made from full fat yogurt.
Lassi also includes spices which buttermilk doesn't have. I have always wanted to try adding cumin or cardamom to buttermilk. Have you tried it and what do you think?
Buttermilk is often used in cooking and baking recipes. Lassi, on the other hand, is often consumed by itself.
I am one of those few people who can drink buttermilk plain. Weird, I know, but, it does taste good to me.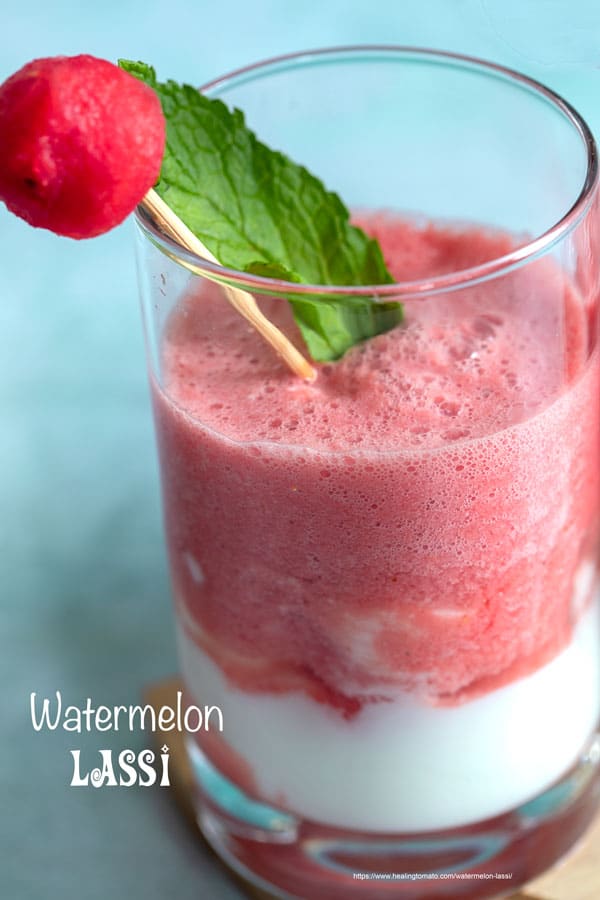 Health benefits
Sweet lassi and salted lassi have a very cooling effect on the body
Its a good thirst quencher and better than sports drinks, I think. There are no added sugars or refined sugars in lassi.
On a hot summer day, a cool watermelon lassi drink is a good drink to have. Its so much more delicious when the sun is blaring down
Its very quick to make. Most lassi recipes take less than 5 min to make which makes my life easier
Lassi is also good for those with gut issues. The bacteria in yogurt have been known to help with the good bacteria. I am not a health professional, so, don't take this as medical advice. Always consult your healthcare professional for more information
Common questions
Can I use fat free yogurt in this watermelon lassi recipe?
No, I don't recommend using any other yogurt. Full Fat yogurt is the best yogurt for making lassi.
Fat free, low fat, non-fat yogurt will make make this a very watery lassi recipe
How do you pronounce lassi?
Lassi is 2 syllables long – "La" and "ssi"
"La" is pronounced just like "lo" in love. (LAH)
"SSI" is pronounced like the word, "see".
So, its pronounced LAH-SEE!

What does Lassi taste like?
Lassi can be sweet, salty or tangy. Sometimes, it has no flavors at all when its made just with yogurt and water
Watermelon lassi has a sweetness and a slight tang to it.
What can I use instead of Agave
You can use honey, simple syrup, sugar or even maple syrup.
I used agave because I don't use honey anymore. Agave is very similar to honey in taste and viscosity. The only difference is that agave comes from plants
Can I freeze Lassi?
Freeze lassi in ice cubes only. Pour the sweet or salty lassi in ice cube trays
Then, use it in smoothies, milk, or use it as ice cubes in other lassi recipes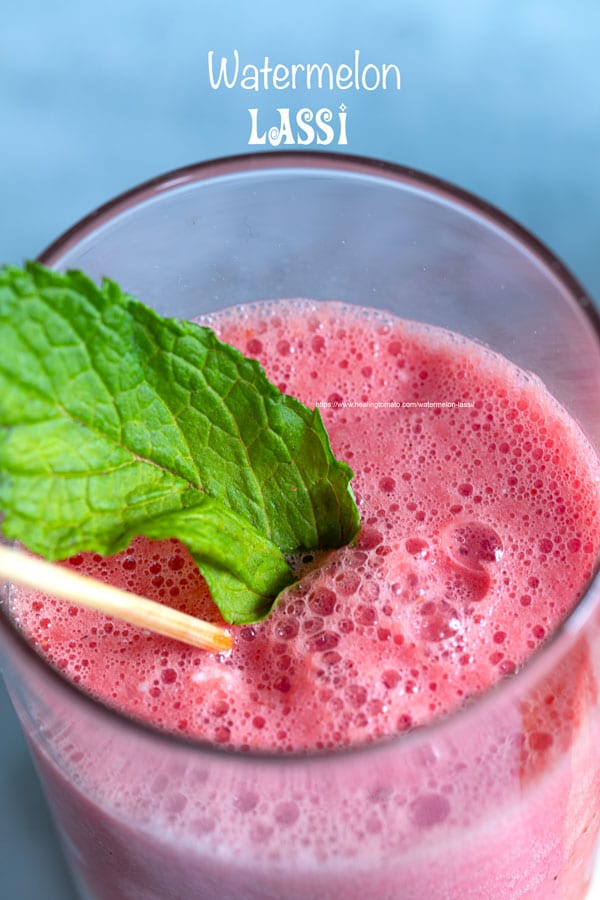 I made this watermelon lassi recipe as a way to combat some of the recent triple digit temperatures we have experienced here in Florida. Just like my beet lemonade, fruit infused drinks and my frozen hot chocolate, this is one more recipe that will help you combat super hot temperatures.
Sharing is caring
Don't be shy, chime in below in the comments. Let me hear your opinion on this recipe. If you enjoyed this, please give it 5 stars and share it on Facebook, Pinterest, Twitter, Instagram and Youtube.
⭐️ Want even more Healing Tomato recipes? Sign up for my weekly newsletter ⭐️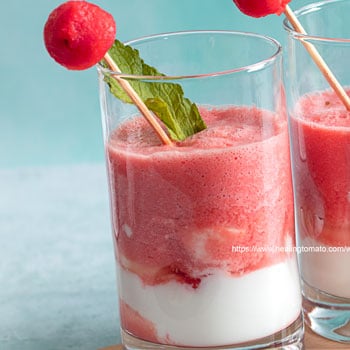 Watermelon Lassi
Cool and refreshing sweet watermelon lassi made with yogurt
Ingredients
1.5

cup

watermelon

sweet, roughly chopped and cold

1/2

cup

yogurt

use plain full fat yogurt or vegan yogurt

3

Tbsp

agave

adjust based on the sweetness of your yogurt

3

pods

cardamom

remove the pods and use the seeds only

1/8

tsp

cumin-coriander powder

2

Tbsp

watermelon juice

see notes

1

Tbsp

pistachios

roughly chopped, for garnish
Instructions
Place all the ingredients in a blender

Blend on low speed until all is blended well
Notes
– Nutrition Info is approximate
– Save some watermelon juice while you are cutting it and to use in this recipe. Can be substituted with water
– Use watermelon that was refrigerated because you won't have to use ice
Nutrition