Amaranth is part of the ancient grains and has been harvested for over 8000 years. For Vegans, it's one of the best sources of protein.

Have you ever thought you knew things about a type of food that turned out to be completely wrong?
For me, it's the Amaranth grain.
I always thought that it was Indian in origin and confined to Indian cooking.
None of that is true!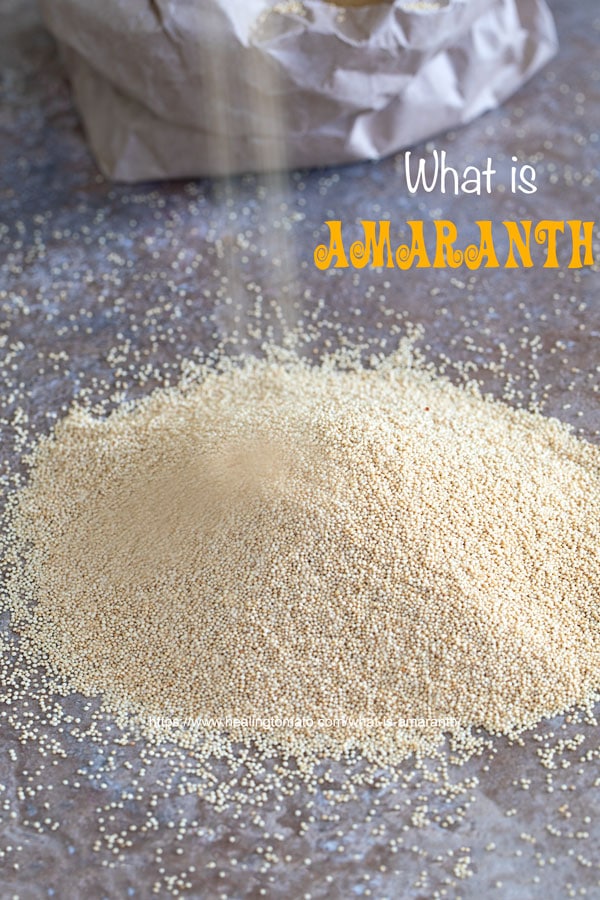 What is amaranth?
Amaranth is part of the ancient grains and has been harvested for over 8000 years. For Vegans, it's one of the best sources of protein.
I happened to be researching ancient grains when I saw the truth about Amaranth. It completely floored me and I felt that I need to research it some more.
The first thing that threw me off is the name. The first part of name, "Amar" translates to "immortal" in Hindi. So, you can see why I associated it with Indian cuisine.
Amaranth has found its way in Indian cooking and is more commonly known as "Ramdana" which translates to "God's Grain".
But, here is the real skinny on Amaranth…
The truth about amaranth
– Amaranth is the group name of about 60 different amaranthus plants – Source: Whole Grain Council.
– Of all 60 different plants, 3 of them are commonly grown as food consumption
– Amaranthus caudatus (AKA Love Lies Bleeding!)
– It was originally grown and harvested by the Aztecs. How cool is that! We are consuming the same grains that the Aztecs used to eat. It makes me so happy to know that fact. Source: AncientGrains.com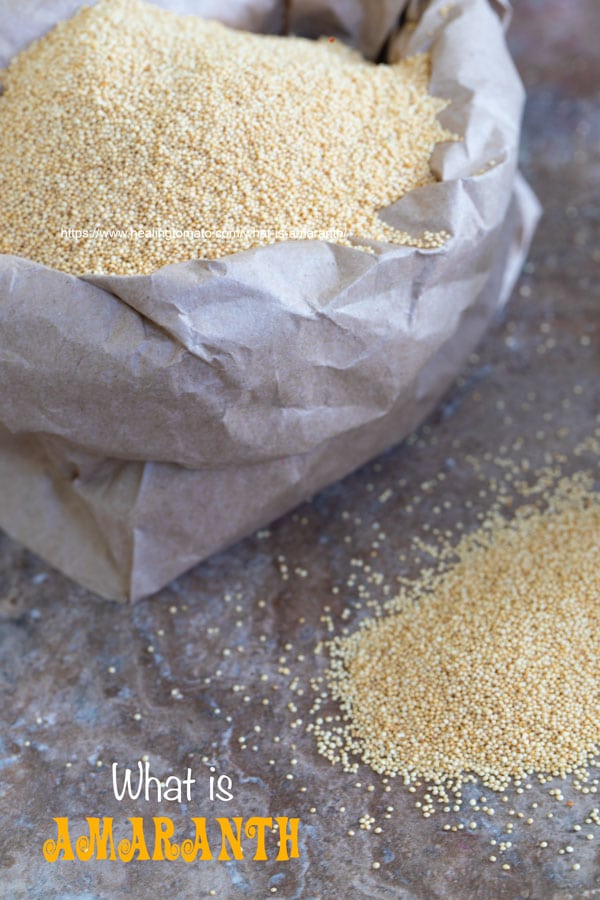 – The Aztecs didn't just use it for food. They used it in their rituals and also for medicinal purposes. This grain has so much nutrition, so, it's understandable that they thought it has healing powers.
– When the Spanish Conquistadors took over, they burned most of the plants. They considered the plants to be "evil". Anyone caught with it was punished heavily. Can you imagine living in a world where owning a grain could cause you to lose your life?
– The grain almost went into extinction, but, you just can't keep a good grain down! It found its way into Mexico and Central America where it flourishes today.
– It's considered a "Psuedo-grain" and not a true cereal grain. True cereals grow from the Poaceae family of plants. Pseudo-grains grow from other plants. To me, it makes no difference! Psuedo or true, I will devour it.
Where can I find it in the grocery store?
The grain, if the store carries it, will be in the flour section or the "lentil" section. I have to admit that I have found it hard to get this grain in my local grocery store.
– I think there are very few Publix that carry it. The good news is that you can always ask the store manager to stock the shelves with it.
– Walmart has it in only some of its stores. They are also very happy to carry it in their stores if you ask them.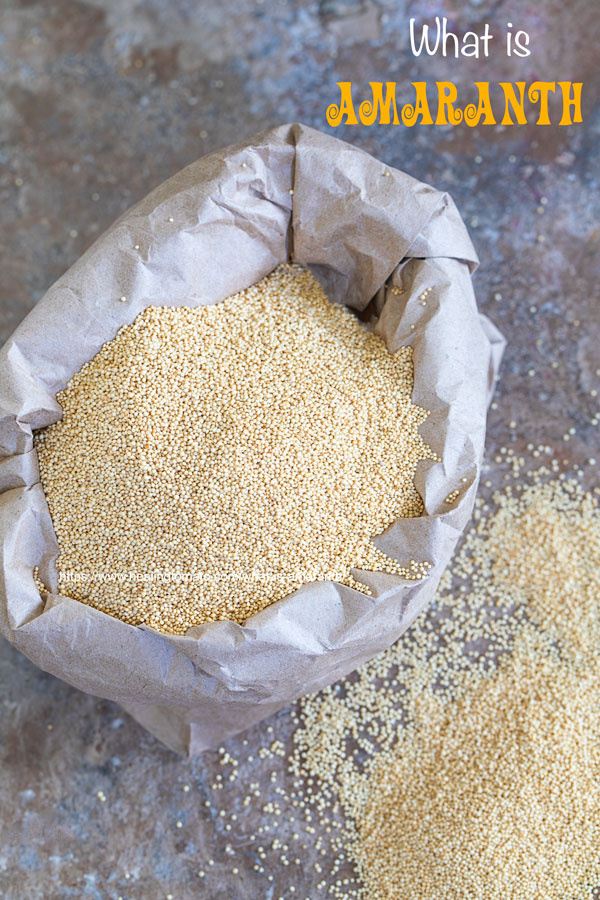 – Whole Foods occasionally carries them in their grains aisle
– I haven't seen it in any Target stores, but, I did ask the manager if they would be kind enough to carry it in their stores. They said they would try their best to carry it, so, you might get lucky and see it in your local Target soon.
If all else fails, there is always the Cyber Aisle!
Where to buy it online
I feel so lucky to be living in the cyber age where I can order almost any ingredient online. This 8000-year-old grain is so easy to order online!
– (Affiliate Link) Amazon
– Walmart – You can order it online and have it shipped to your local Walmart. This way you don't have to pay for shipping. Of all the ways to order it online, I found Walmart to be the cheapest
– Google Express – I believe that Whole Foods sells Amaranth via Google Express
– Vitacost – Vitacost is my go-to place for anything vegan or vegetarian that is hard to find elsewhere. They also have a huge collection of Amaranth for you to choose from. This link is from search results for all their Amaranth products.
– Directly from Bob's Red Mill – I haven't purchased anything directly from Bob's Red Mill, so, I can't vouch for their ordering process. But, they carry Amaranth and other grains online.
How to store amaranth
– Remove the Amaranth from their packaging and transfer to a glass bottle.
– Keep it tightly sealed
– Store in a cool, dry place. I keep it in the back shelves of my pantry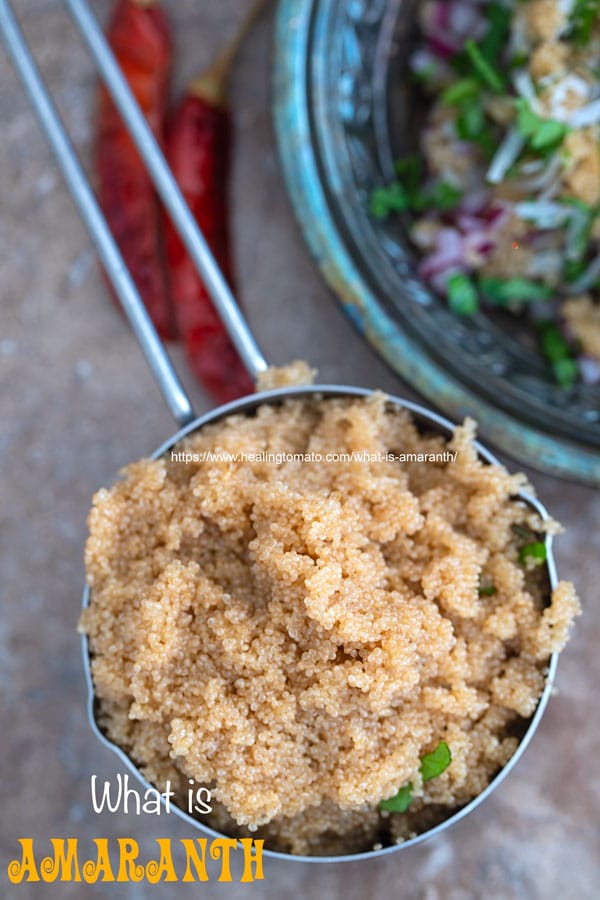 How long does amaranth last?
Amaranth is "immortal", so, they can last for a very very long time. My personal preference is to use them within 6 months of opening the packet.
Amaranth doesn't go bad, but, I live in Florida where I see flour bugs (weevils) quite often. So, I like to use all dry ingredients as soon as I can.
Amaranth is good in so many recipes, so, a one-pound bag can be consumed in less than a month.
Nutritional benefits
Amaranth is known as a superfood for good reasons. Cook one cup of Amaranth and you get so much nutrition from it!
Just one cup of Amaranth has:
– 9g of Protein (18% RDA)
– 5g of Dietary Fiber (20%)
– 11% Calcium
– 28% Iron
– 40% Magnesium
– 15% Vitamin B6
As a vegan/vegetarian, those numbers make me do cartwheels!
I find that Amaranth also gives me so much more energy because I don't feel sluggish after eating a salad. I also find that it helps my digestion process. So, I see so many benefits of it.
What are ancient grains?
Ancient grains are grains that haven't changed in thousands of years. They existed in the early days of man (or possibly before that) and continue to thrive in our century.
Some of these ancient grains are processed and have gone through selective breeding in their long history. But, they remain part of the ancient grain collective.
They are also referred to as heritage grains.
Source: The Ancient Grain Council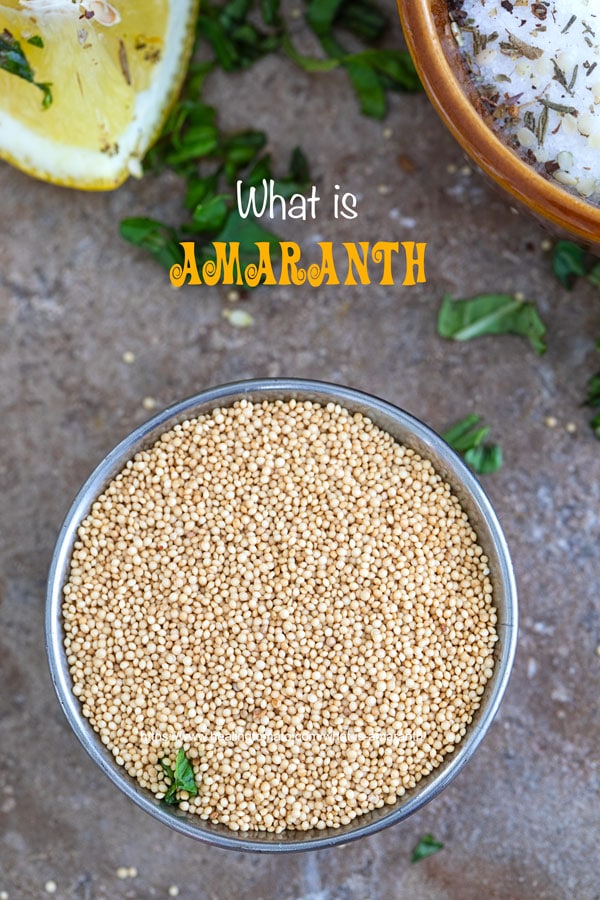 List of ancient grains
1. Amaranth – I have an AMAZING amaranth recipe. It's the best Amaranth recipe you have ever seen!
2. Buckwheat – I am working on a dessert recipe using buckwheat and will post it soon.
3. Chia – Having chia seeds on this list makes me really happy. Have you tried my Mandarin Oranges or Peanut Satay sauce? I put chia seeds in them and they made the recipe taste incredible!
4. Millet – No plans for a recipe just yet, but, I am working on it.
5. Quinoa – I have so many delicious recipes that use Quinoa. My favorite are Quinoa Fajitas and Quinoa Salad Wraps
6. Sorghum – I haven't had much opportunity to work with this grain, but, I hope to learn more about it soon. I would love to make some vegan waffles out of them.
7. Farro – I discovered farro about 6 years ago at a hole-in-the-wall restaurant in Queens. I have to say that I loved how delicious it tasted and try to eat is often. You have to try my Farro salad which is beyond delicious.
8. Teff – Of all the grains on this list, Teff is the one that has given me the biggest challenge. I haven't been able to get a good recipe out of it, but, I love the challenge that it gives me. I would love to make vegan bread out of it someday. Teff is not easy to find in stores, but you can easily find it on (affiliate link) Amazon.
Source: The Chopra Center
There are more ancient grains like rice, spelt, millet and others. The Ancient Grain council has the complete list of grains it considers ancient.
Amaranth vs quinoa
Both grains look so much alike and they are easy to confuse. They have the same color, shape, and texture!
The main visual difference, however, is that quinoa is slightly larger and a little lighter in color. Even with a clear visual difference, it is easy to mix those two up.
The solution?
I label them with the brand and type of grain. I am sure I could have put fancy labels or even printables with the name of grains written in calligraphy.
But, where is the fun in that, right?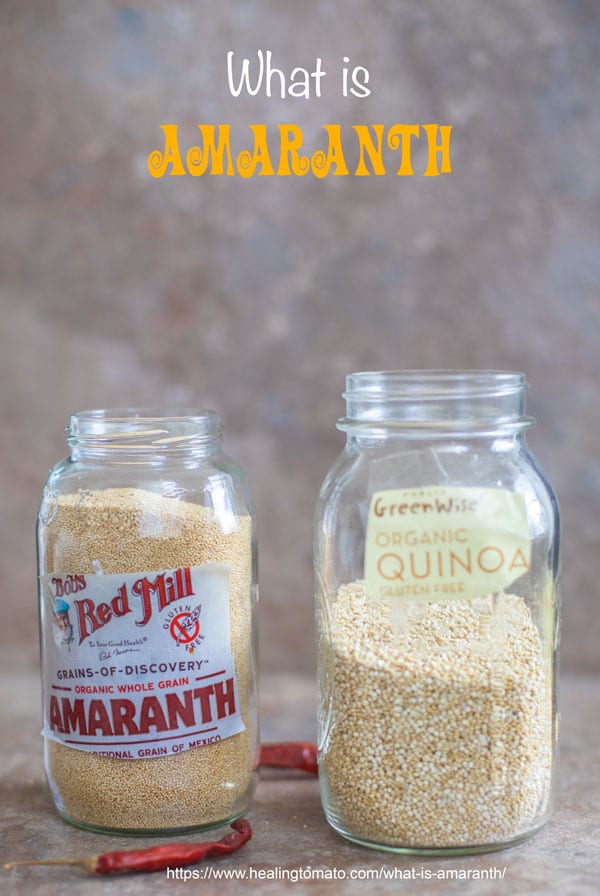 The difference in nutrition of these two grains is much more significant.
Quinoa has slightly less protein
Quinoa has 8g of protein and amaranth has 9g. I will take that extra gram of protein any day.
Amaranth has slightly more calories
Amaranth has 251cal and quinoa has 222cal. That's not a huge difference, unless you are counting calories.
Amaranth has more carbs
Quinoa wins this round because it has only 40g of carbs where as the other grain has 46g.
Source: LiveStrong.com
The biggest difference is when you cook them. At that point, there is no confusion as to which one is quinoa and which one is amaranth.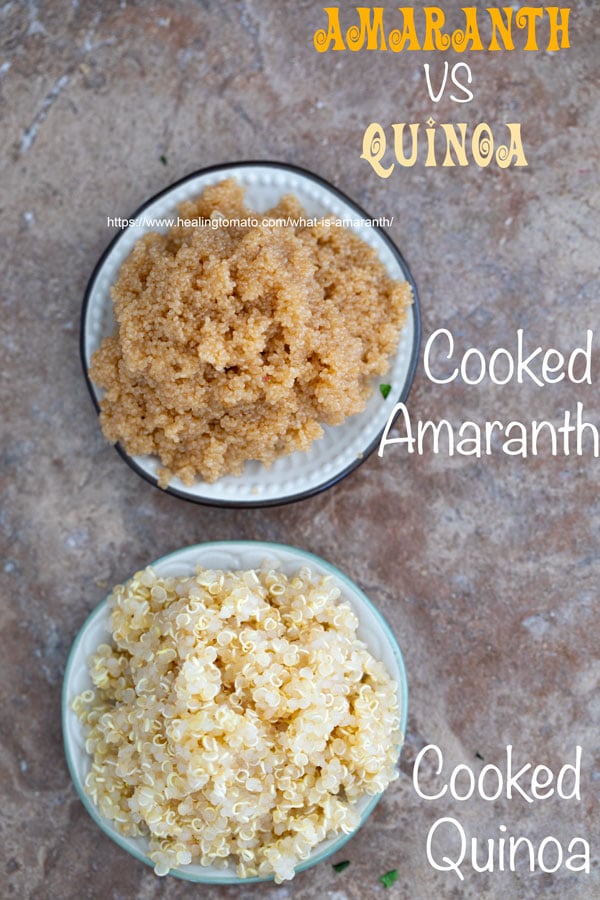 Amaranth recipes
– You HAVE to try my Amaranth Tabouli recipe!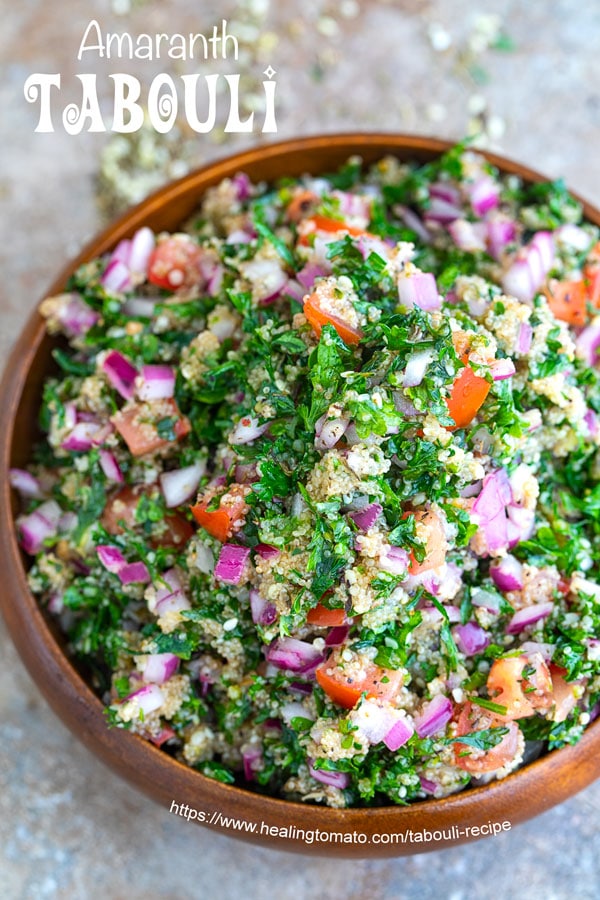 – Amaranth Porridge by The Foodie Affair
– Pancakes by King Arthur's Flour (Not exactly a blogger, but the pancakes look delish!)
– Porridge by Madeline Shaw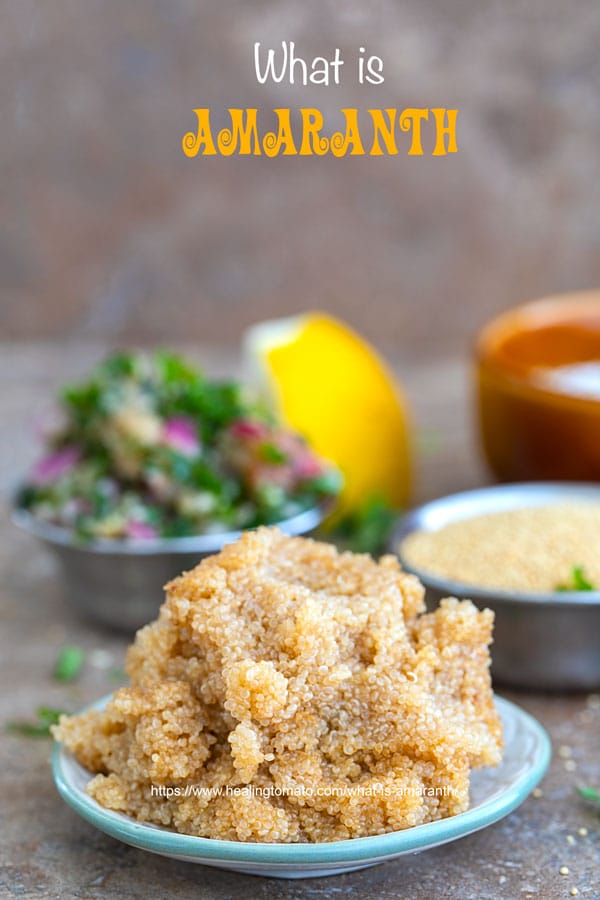 How to cook amaranth
1) Add 3 cups of water to a strong bottom pan
2) Bring it to a boil
3) Add 1 cup of dry amaranth seeds
4) Give it a quick stir
5) Close the lid and let it cook on low heat
6) Simmer until the water has been absorbed (about 20 minutes)
Remove from heat and use in recipe. Its normal for the cooked amaranth to be sticky and clumpy. You can crumble it in the recipe you put it into.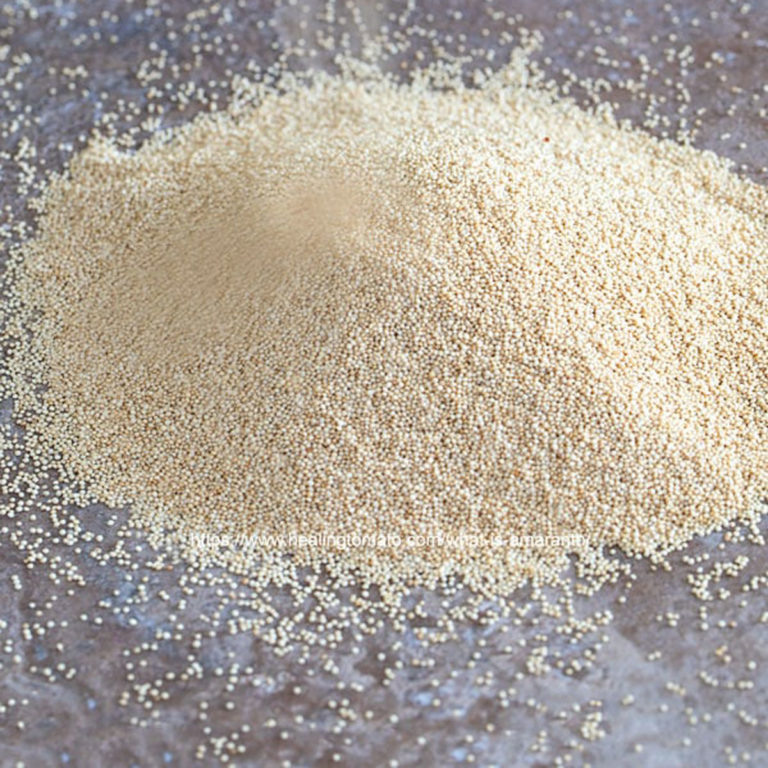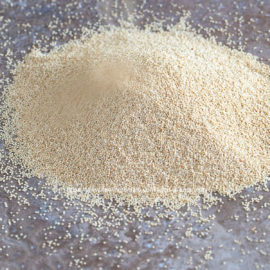 How To Cook Amaranth
It only takes 2 ingredients to cook amaranth

Ingredients
3

cup

water

1

cup

Amaranth
Instructions
Add 3 cups of water to a strong bottom pan

Add 1 cup of dry amaranth seeds

Close the lid and let it cook on low heat

Simmer until the water has been absorbed (about 20 minutes)
Remove from heat and use in recipe
Notes
Its normal for the cooked amaranth to be sticky and slightly clumpy. You can crumble it in the recipe you put it into.