A hearty zucchini Parmesan soup made with fresh zucchini. Its a hearty and warm soup that you can curl up with in front of the fire.
Editors Note: Today's post is a guest post by the wonderful Debra Clark. She writes a great food blog at Bowl-Me-Over.
My name is Debra Clark and I am so excited for the opportunity to guest post on the Healing Tomatoes blog!
I went back and forth about what to make….I wanted to make something that included tomatoes….but I wanted to also make something in a bowl. Since it's nearly fall and I'm already starting to think about soups and stews.
I decided upon the best of both worlds…a Tomato Tart with a delicious bowl of Zucchini Parmesan Soup! Mmmmm!!!!
Are you a soup person? Does it have to be cold outside for you to enjoy soup, or do you eat soup during the warm summer months? I am from the Central Valley of California. There are not many cold winters here!
Our average winter temperatures rarely get below 60. I usually do not even wear long pants the entire winter! And for me, I enjoy a great bowl of soup all year long. Soup is good food!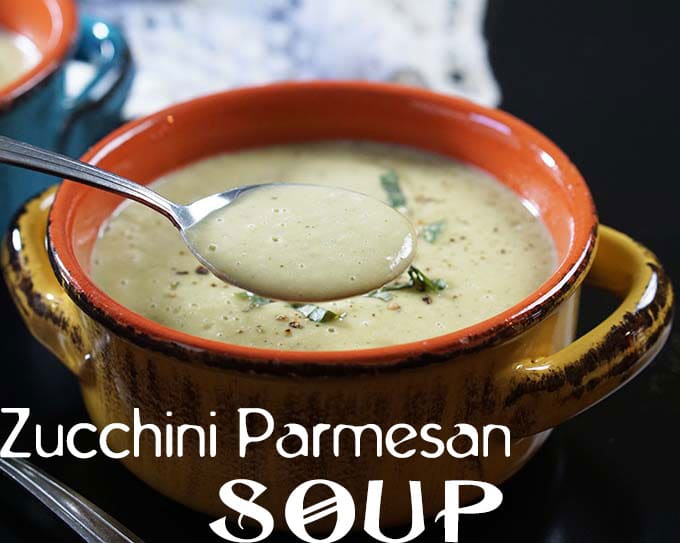 Zucchini Parmesan Soup – for the soup, you'll start with leeks. If you haven't used leeks before, they come with a dark green top, that you remove & then the best thing to do is to slice the leek in half and then rinse well.
Leeks grow in the earth and will collect dirt and grime in-between the layers. No worries! Just rinse them thoroughly. The other veggies you'll need is zucchini, Yukon gold potatoes and mushrooms.

Take all of these ingredients and saute them in a couple pats of butter & olive oil. You want them to be soft and aromatic, not brown, so low and slow – saute for about 10-15 minutes, add some salt, pepper and just a touch of red pepper flakes.
After 20 minutes, add about three cups of Vegetable Broth. You'll want just enough to cover the veggies. Increase the heat to medium high. Cover and boil until the potatoes are tender.
At this point, you'll simply puree the soup until it has a smooth and silky consistency. You may need to add some additional vegetable stock. When you've finished the puree, add in Parmesan cheese and stir until it's melted.
That's it – simple and delicious, this soup is done in 30-35 minutes and is the creamiest, complex soup – minus the cream and calories!
I hope you enjoyed Zucchini Parmesan Soup Recipe! Also check out this Tomato Relish recipe I made. Its a recipe passed down to me by my great grandmother and it is the most delicious appetizer recipe ever! You won't need ketchup again.
Zucchini is not just good in a warm soup. Try my zucchini gazpacho recipe.
What's your favorite comforting soup?
Version 1 of this soup
Occasionally, I will revisit previous recipes and do a makeover on them. You probably came to this page based on the photo to the left? However, I decided to re-vamp the recipe and bring you the new version you see above. I think you will like this version just as much.
Zucchini Parmesan Soup
Quick Zucchini Parmesan Soup for when it gets cold outside

Ingredients
For the Zucchini Parmesan Soup
2

cups

leeks

sliced in half, cleaned & chopped

4

cups

zucchini

chopped

3

cups

Yukon Gold potatoes

chopped

2

cup

button mushrooms

stems removed & quartered

¾

cups

vegetable broth

3

cups

Parmesan cheese

freshly grated

2

Tbsp

butter

2

Tbsp

olive oil

¾

tsp

salt

½

tsp

pepper

¼

tsp

red pepper flakes
Instructions
Chop and Clean Vegetables. See Notes for tips


Slice the zucchini in half and then into one inch pieces.

Peel the potatoes and chop into one inch pieces also.

Remove the stems from the mushrooms and quarter them.

In a large stock pot over medium heat, add the butter & olive oil.

Add in all of the vegetables

Season with salt, pepper & red pepper flakes.


Sauté the veggies, stirring occasionally for about 10 minutes or until they just begin to soften.

Add in about 3 cups of vegetable stock (just enough to cover the vegetables)

Increase the heat to medium high and bring to a boil.

When the potatoes are fork tender, turn off the heat


Blend and puree the mixture either in a blender or use a submersion blender


Add in the Parmesan cheese and stir until it is melted.

Transfer to soup bowls and serve immediately

Notes
Nutrition Info is approximate
* Tip on how to clean leeks – Remove the dark green leaves from the top of the leeks, slice in half and run them under cold water to remove the dirt between the layers