A healthy and quick snack idea. Uses fresh veggies + yogurt to make zucchini rolls. Made with carrots, mini sweet peppers, spinach, radishes & cucumber.
Vegetables are my favorite snack foods. I am always coming up with different ways to present them creatively.
Last week, I made buttered radishes in Asian style and it was absolutely delicious. No one realized that they were eating a healthy snack. I considered that to be a huge compliment.
Today, I took those buttered radishes and put them into a zucchini roll. They gave the zucchini rolls a layer of spice and Asian flavor that was beyond delicious.
You don't have to take my word for it. They are so easy to make that anyone can do it. Include any veggies that you can think to include.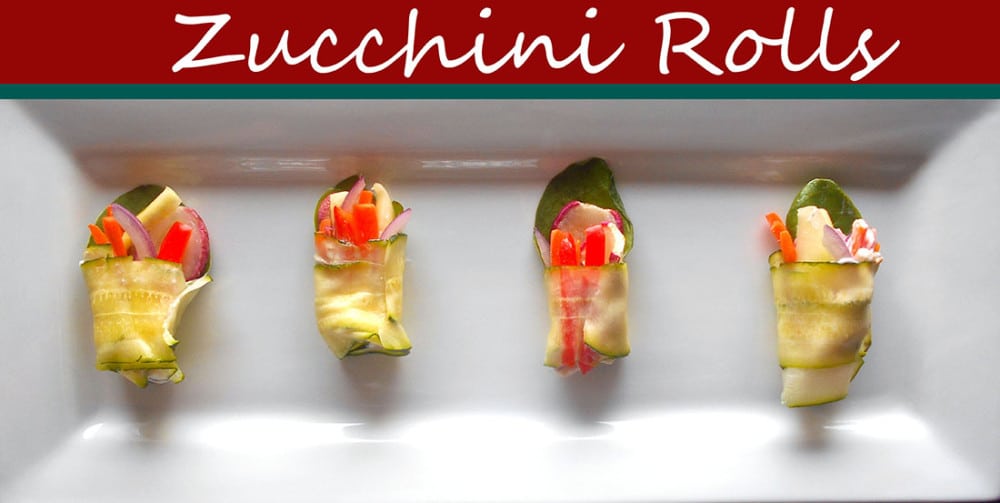 For my recipe, I included baby spinach, carrots, radishes and cucumber. Of course, no veggie recipe of mine is complete without my favorite mini sweet peppers.
As everyone knows, I am super addicted to these peppers by Pero Family Farms. They are not compensating me for singing their praises here. These mini peppers are perfectly sweet and healthy. This makes them great to work into any type of cuisine.
In the past, I have stuffed them with Mexican flavors and made an amazing side dish out of them. I have added them into tomato galettes and tofu wraps.
This is a kid-friendly recipe and works great as a quick snack. Or, you can have these as a post-workout snack.
I like to serve these zucchini rolls as h'orderves.
How to make Zucchini Rolls or Zucchini Sushi
1) Assemble the ingredients. Chop the carrots, onions, mini sweet peppers and cucumber in Julienne style

2) Roughly chop almonds and mix them with yogurt. I like a strawberry flavored yogurt, but, you can choose any flavor. For vegans, I recommend Trader Joe's or So Delicious's flavors.
4) Cut the zucchini into half, lengthwise. Using your peeler, peel a long layer of the zucchini. Peel about 10 long pieces

5) On a flat surface, lay one zucchini peel. Make sure it is flat. Place a second layer above the first zucchini peel. I like to place the second one about a third of the way below the first one
6) Add a small layer of the yogurt + almond mix on the zucchini peels. Don't layer the whole peel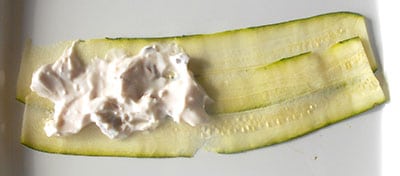 7) Start with one baby spinach. Place it so that most of it is sticking out

8) Add the buttered radish above the spinach (Here is the recipe for Buttered Radish). Place the carrots to the right of the radish
10) Add the onions next to the carrots
11) The mini sweet peppers will go to the left of the radish
12) Add the cucumber on top of the radish
13) Start rolling from the carrots side. Keep your fingers on the on the veggies to make sure that they remain in place. Also keep them tightly wrapped.

14) Stop rolling at the very end. Dab the end with a little yogurt. This will act as a sealant and help keep the zucchini rolls in place.

15) Close it and serve immediately.
If you have radishes leftover, turn it into a dip and you can also add any other leftover veggies to the dip.
Zucchini Rolls with Buttered Radishes
Easy zucchini rolls recipe

Ingredients
For the Veggies
1

Zucchini

cut into ribbons

1/2

cucumber

cut into small stick shape

1/4

red onion

julienne

2

mini sweet peppers

julienne

1/2

cup

buttered radishes

https://www.healingtomato.com/buttered-radishes/

2

baby carrots
Instructions
Mix yogurt with almonds and flax seed meal (if using)

On a flat surface, lay one zucchini ribbon

Place a second layer half way below the first zucchini ribbon

Spread the yogurt paste on one side of the zucchini


Place one baby spinach such that its protruding out of the top

Add the buttered radish above the spinach

Place the carrots to the right of the radish

Add the onions next to the carrots

The mini sweet peppers will go to the left of the radish

Add the cucumber on top of the radish

Start rolling the zucchini roll from one side


Leave about 1″ at the end


Lightly dab the end of the zucchini roll with the yogurt mixture


Close the zucchini roll and chill for about 30 minutes

Notes
– To use at a later time, keep the zucchini rolls on a plate and put it on a plastic wrap. It will stay good for about 24 hours
– Nutrition info is approximate
Nutrition
Calories:
78
kcal
Carbohydrates:
6
g
Protein:
3
g
Fat:
4
g
Cholesterol:
3
mg
Sodium:
23
mg
Potassium:
299
mg
Fiber:
2
g
Sugar:
3
g
Vitamin A:
1025
IU
Vitamin C:
24.4
mg
Calcium:
62
mg
Iron:
0.6
mg