This Simple Hummus Club Sandwich is an Easy to Make Recipe That is Perfect Vegan Lunch Idea. Made with fresh Veggies, Apples and Hummus. The Easiest 30 minute Lunch Idea
These sandwiches are out-of-this world delicious!
The apple and the hummus come together so perfect in this recipe. Plus, you have all the delicious veggies in it to make it THE perfect lunch recipe
Vegan sandwich recipes don't get any easier than this super simple Hummus club sandwich recipe. Not to mention, it is one delicious recipe mainly because of a very secret ingredient.
Don't take my word for it; make it and see for yourself.
"What is the secret ingredient?" you ask.
"Granny smith apples!", I respond.
….and now, it is no longer a secret!
I wanted something tangy in this recipe and green apples was the perfect ingredient to this recipe. It is slightly crispy and has just a little bit of sweetness to it. When paired with the hummus, I felt like I was in flavor heaven!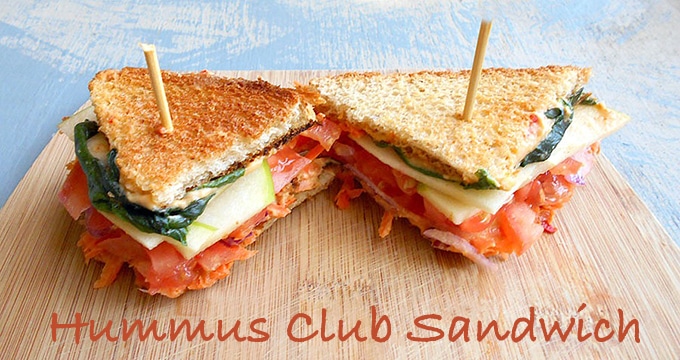 If you have an extra half hour of time, make your very hummus from scratch. Trust me, you won't regret it. If you want a recipe for hummus, I recommend my beet hummus recipe or try my parsley hummus.
In the mood for more meatless sandwiches? You just might like my eggplant parmesan sandwich or my Mozzarella Cheese Sandwich
This club sandwich is the perfect vegan lunch recipe that you can make any time of the week. The key is to use the right hummus recipe.
Its a very healthy lunch recipe and it will have you licking your fingers at the end and kicking yourself for not making more.
What's your favorite vegan sandwich recipe?
Hummus Club Sandwich
Simple Hummus Club Sandwich Made With Hummus, Apples, Carrots, Spinach and Tomatoes

Ingredients
½

Granny Smith Apple

½

heirloom tomato

½

red onion

½

cup

Carrots, shredded

4

slices

whole wheat bread

1

cup

hummus

8

slices

avocado

¼

cup

Baby Spinach

loosely packed
Instructions
Cut half of a green apple into circular pieces

Cut heirloom tomato into circular pieces

Cut half of a red onion into circular shapes

Shred 1 medium sized carrot. It should make about 1/2 cup worth

Toast 4 slices of whole wheat bread

On a plate, place 1 slice of bread and spread hummus on it.


Add about 7-10 leaves of baby spinach

Place four slices of green apples on top of the spinach

Place 3-4 slices of the tomato pieces on top of the green apples

Place the onion rounds on top of the tomatoes

If you are using avocado, top the onions with the avocado slices.


Add carrots and Close the sandwich with the 2nd toast


Using a sharp knife, cut diagonally. Cut the halves diagonally.

Serve immediately to prevent the sandwich from going soggy

Notes
Nutrition info is approximate