Quick, Easy Caprese tart on Phyllo dough with a simple basil pesto as the base and mozzarella cheese. I used cherry tomatoes on the vine for this tart
This is the first time I crowd sourced a recipe! And you all were awesome!
You all didn't disappoint because you gave me the best ideas for cherry tomatoes on the vine. I got very creative recipe ideas and you will see some of them on my blog down the road
For now, the winner, by far, was caprese salad!
Recipe inspiration
I got my hands on a huge batch of tomatoes on the vine from my local grocery store. Look at how pretty they are!!! Its so hard not to show them off!
So, I photographed it and shared it with all of you on my Facebook page. The next thing I see is a whole bunch of responses from everyone.
One thing I took away from it is that you all love your tomatoes just as much as I do!
That makes my heart blossom with pride!!! I love each and everyone of you for your love of tomatoes!
If you like caprese salads, check out my caprese salad bites I made wayyyy back in 2014 to celebrate my first 100 days of blogging.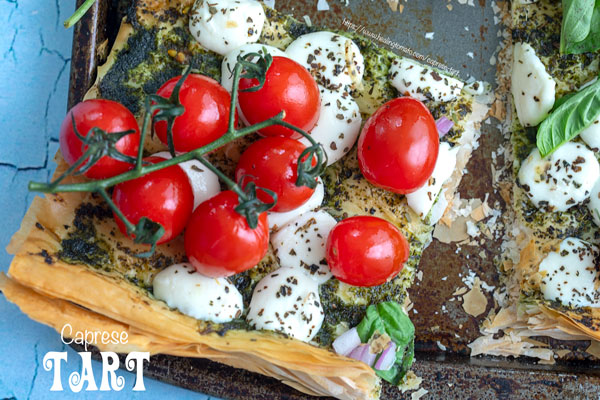 Tips for making this tart
Don't skip on brushing each layer with vegan butter and basil pesto. I tried it with brushing just the top layer and the whole tart was very dry. Brush each of the 10 sheets of phyllo with butter and pesto
You can use just 5-6 sheets of phyllo if you want to make a thinner tart
In the images, you don't see a balsamic drizzle. However, I did drizzle it after I took the photos. So, make sure you drizzle the balsamic glaze on top of the caprese tart because the recipe tastes so much better with it.
If possible, keep the tomatoes on the vine and let your guest separate them when they eat it. The caprese tart presentation is so much better when they are still on the wine
Common questions
While you are making this mozzarella tart, you may have some questions. If you have other questions, please feel free to contact me.
What can I use instead of mozzarella?
If you don't like mozzarella, you can use cheese like feta or goat cheese. I love this list that shows so many other Mozzarella substitutes.
Can I freeze these caprese tart?
No, don't freeze this caprese tart. It doesn't retain any of its texture or flavors. I tried to save it for the next day and was so disappointed by it. Its best when you consume it immediately
Can I make it ahead of time?
No, this caprese tart is best consumed when its fresh. It doesn't freeze well or store well. However, you can make the pesto ahead of time. Try a different kind of pesto like a red bell pepper pesto or a scallion pesto.
What is caprese?
It is named after a town in Italy and its normally a salad made with fresh tomatoes and mozzarella cheese
Can I cook the tomatoes with the vine?
Yes, you can absolutely cook it with the vine still attached. I baked most of the tart by itself and the tomatoes were roasted separately. Then, I bought them together for a final bake before serving
What is balsamic reduction?
Balsamic reduction is when balsamic vinegar is heated until it becomes thick. This thickened balsamic vinegar is then poured over the tart or any recipe.
A warm balsamic reduction is sweeter which really brings out the flavors of all the ingredients in this caprese tart. Also, a thickened balsamic vinegar is easier to control on a caprese tart.
Can I use Puff Pastry instead of Phyllo dough
Yes, you can absolutely us puff pastry. I didn't have any on hand and I also wanted to try it with phyllo dough to see how it tasted. You can event try phyllo cups or shells
And, yes, Puff Pastry is vegan! Check out my complete guide to vegan
What type of tomatoes to use?
Heirloom tomatoes
Campari tomatoes
Cherry tomatoes
Sun-gold yellow cherry tomatoes
Plum tomatoes (sliced)
Beefsteak tomatoes
If you have a few cherry tomatoes on the vine leftover, put them into a Tuscan fettuccine pasta recipe
Caprese Tart
Quick Caprese tart made with Mozzarella cheese, cherry tomatoes on the vine, basil pesto and balsamic reduction
Ingredients
10

Phyllo sheets

1/4

cup

vegan butter

1.5

cup

basil pesto

1/4

cup

mozzarella balls

2

cherry tomatoes on the vine

1

cup

balsamic vinegar

Basil leaves

for garnish

red onions

optional, for garnish
Instructions
Thaw the phyllo dough as per the instructions on the package

Place the tomatoes on an aluminum foil that will be long enough to cover the tomatoes

Gently brush the tomatoes on the vine with olive oil

Wrap the tomatoes in the foil leaving ample room inside for air to rise. Do not crush the tomatoes

Place foil packet in the oven and bake for about 12 minutes

Remove 10 Phyllo sheets and refrigerate the remaining dough sheets

Take a baking tray and light spray it with cooking oil

Take one sheet of phyllo dough and gently place it on the baking tray

Using a basting brush, generously brush the top of the phyllo sheet with the vegan butter, especially the edges of the sheet

Use a spoon to generously spread basil pesto on top of the sheet

Place another sheet on top of the just basted phyllo sheet

Repeat the vegan butter and basil pesto routine

Repeat until all 10 sheets have been basted and layered on top of each other

Place in the oven and bake for about 10 minutes

Remove tart and tomatoes from the oven

Spread any remaining basil pesto on the top layer

Spread out the mozzarella balls on the top of the tart

Gently open the foil and remove the tomatoes while keeping them on the vine

Place the tomatoes on the tart, around the mozzarella cheese balls

Place the tart back in the oven and bake for about 5 minutes or until the mozzarella has melted

While the tart is in the oven for the last time, heat the balsamic vinegar on medium heat

When it becomes syrupy in consistency, turn off heat

Pour the balsamic reduction on the caprese tart

Garnish with basil leaves and red onions before serving
Nutrition