A simple Gluten Free Grilled Cheese Sandwich. This sandwich has a layer of homemade spicy kale hummus with a medley of roasted mushrooms in the middle. Pepper jack cheese makes this the best grilled cheese,
This post is sponsored by Udi's Gluten Free. All comments and opinions are my own.
I found bread in the frozen food aisle at Publix and it was really delicious!
This UDI's Gluten Free Multigrain Bread is my first taste of gluten free bread and I have to say that I was very impressed with it. It tastes just like regular bread and it's the perfect bread for grilled cheese sandwiches.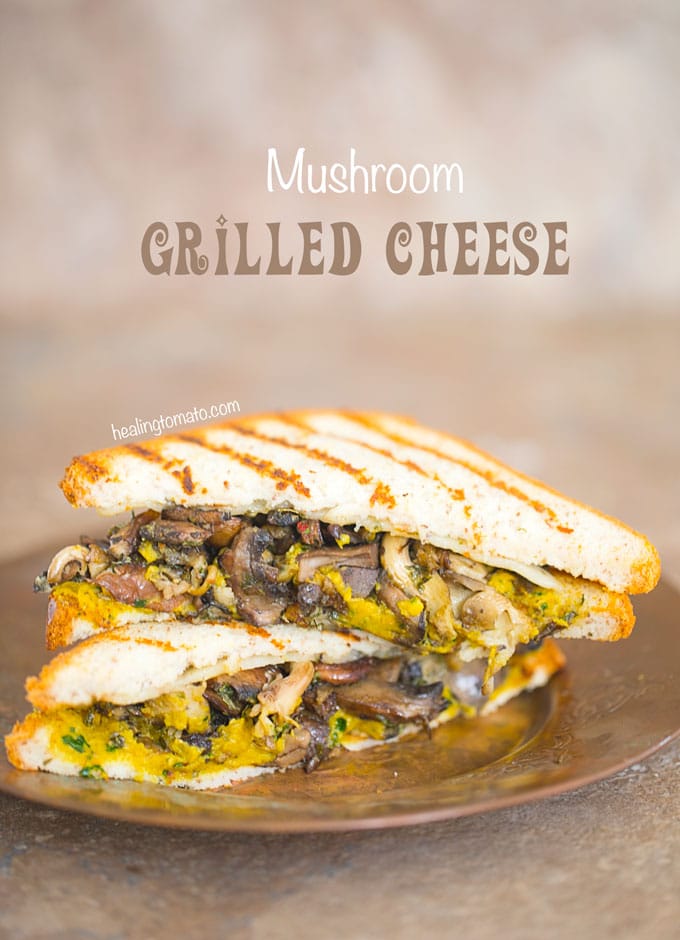 You guys know how much I love my grilled cheese sandwich, right? My all-time favorite is the fresh mozzarella cheese sandwich that is out-of-this-world delicious! The best sandwich recipes are delicious because of the bread used!
My favorite sandwich breads have always been thick, dense and soft. They can hold a lot of ingredients and can also handle melted cheese like a pro!
Even the crust will be irresistible! Like this sandwich! Can we just stop for a second and admire it? Who wouldn't want to eat the crust, am I right?
This is why I love this bread by Udi's. It's a multigrain bread, so, it's really thick and dense. The best breads don't get soggy when a stack of ingredients are heaped on them.
When I first looked at the bread, I could see it holding a lot of veggies! Don't take my word for it, see for yourself! Sit back and admire its beauty! This bread has a 30% larger size slice, mirroring a conventional sandwich bread (24 oz. varieties).
I settled on a medley of mushrooms because they are "meaty" and irresistible to vegans, vegetarians and meat eaters!
To make it quick and easy, I roasted the mushrooms in the oven instead of stir-frying them.
While the mushrooms were roasting, I made a quick and easy spicy hummus using kale. This sandwich has hidden veggies in it. Only you and I will know that!
The spicy hummus is important in this recipe, so, don't omit it. If you have a favorite hummus, add a little kick to it by adding Sriracha or buffalo sauce.
Udi's bread is certified gluten free bread, dairy free and nut free. It also has other vitamins and minerals.
My favorite is the 24 oz. because it is perfect for someone with a large appetite, like mine! Even if I don't use all of it, I can still freeze it and use it 6 months down the road! This way, bread will never be wasted in my home.
For me, this bread is definitely a game changer! The fact that I can freeze it and it's gluten free makes it the best bread ever. There is no other bread on the market that delivers a wholesome, delicious taste with soft texture.
I used my Calphalon grill pan for this sandwich. It was my way of testing this bread to see if I can get beautiful char marks on the bread when grilled.
This is what the char marks look like on the bread! Aren't they the most beautiful char marks you have ever seen?!?! They are perfectly lined without burning the bread!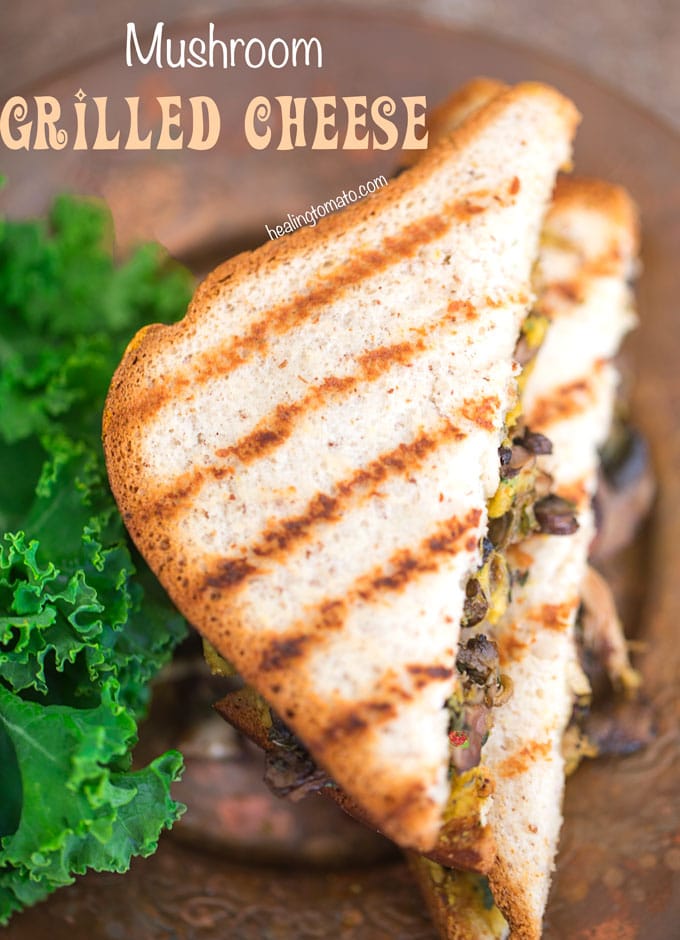 I think you will love this sandwich as much as I do! It's now my favorite way to enjoy a grilled cheese sandwich and tomato soup on a cold winter day.
My one tip about this bread is to remove the number of slices you will need for your sandwich recipe and put the rest back in the fridge. Only thaw out the number of slices you want instead of the whole loaf of bread.
It will be a faster thawing process and also keeps the bread fresh for each time you make it.
For all that love mushrooms, you will love this easy mushroom salad made with simple ingredients.
What's your favorite sandwich ingredient?
Grilled Cheese Sandwich With Mushrooms
A medley of mushrooms oven grilled and put into a gluten free bread to make sandwiches

Ingredients
For the hummus (Or use your favorite hummus)
1

can chickpeas

remove outer skin from each pea

2

Kale Leaves

small sized

¼

cup

+ 1 Tbsp. extra virgin olive oil

1

tsp.

kosher salt

1.5

tsp.

lime juice

2.5

Tbsp.

Aquafaba

liquid from the chickpea can

1.5

tsp.

Nutritional yeast

1

Tbsp.

Red chili powder

or hot sauce

1

Tbsp.

Cumin

½

tsp.

turmeric
For the Sandwich
4

slices

UDI's Gluten Free Bread

2

slices

Pepper jack cheese

8

oz.

Mushroom medley

Shitake, Oyster, Button and Portobello

1.5

tsp.

salt

1

Tbsp.

Parsley

1

Tbsp.

Oregano

1

tsp.

Nutritional yeast

3

Tbsp.

Oil

¼

red onion

optional, julienned

2

tsp

Sun-dried tomatoes

optional, julienned

Cooking spray
Instructions
Preheat oven to 400°

Make sure the mushrooms are in small, bite-sized pieces

In a medium bowl, mix the mushrooms, oil, salt, parsley, oregano, nutritional yeast and red onions

Mix well and transfer to a baking tray

Place baking tray in the oven and roast the mushrooms for about 12 minutes or until browned

Remove and let them cool

While the mushrooms are roasting, make the hummus.

Add all the hummus ingredients in a mini food processor and grind until smooth and creamy

Remove and set aside
Bringing the sandwich together
Heat a grill pan for 30 seconds on medium heat

Spray it lightly with cooking spray

Place 2 slices on it and grill for about 45 seconds

Flip it and spread a thick layer of the hummus on one slice

Top with about half of the grilled mushrooms

Add about 1 tsp of sun-dried tomatoes and top with the cheese

Cover the top with the 2nd slice

Press down and flip it gently

Grill on the other side for about 15 seconds

Remove and set it aside

Repeat the same steps for the remaining 2 slices

Serve Immediately