Easy Babybel strudel recipe that works as a snack or a dessert. Needs only 4 ingredients to make and ready in 30 minutes.
This post is sponsored by Bel Brands USA & Mini Babybel® Cheese, but the content and opinions expressed here are my own.
How do you eat your Babybel cheese?
I like to peel mine then pop the whole thing into my mouth!
As I savor the cheesy goodness, I find myself feeling uplifted by its delicious, slightly salty flavor.
This time, I decided to put these Babybels into a recipe that is both delicious and spooky!
Tips for making strudel
– Thaw the pastry for about 1 hour at room temperature before using it
– Lightly roll out the pastry dough. Don't make it too thin
– Set your oven to 350° or 375°. Don't set it higher than that temperature
– Use almond milk or hazelnut milk to baste the strudel. It will make the outside crispier
– After 16 minutes in the oven, turn of the oven. Do not remove the baking tray for another 8 minutes. This will make sure that strudel continues to bake without the cheese oozing out
What ingredients to use
Babybel Cheese contain 100% real cheese. They use real milk in their cheese making them a good source of calcium and protein.
They also use vegetarian rennet in their cheese making process.
Other ingredients to add
I went with cherry pie filling, but, you can use any fruit filling or just use fresh fruit. I tried it with green apples and agave syrup. It was so delicious!
– Peach pie filling
– Dark chocolate
– Green apples
– You can even go the savory route by using my homemade pizza sauce
What's your favorite filling for this Babybel strudel recipe?
Storing Leftovers
If you have any leftovers (that's a big IF), then you can refrigerate them. I like to wrap them in parchment paper and put them into ziploc bags.
They can also be frozen in the same way and kept in the freeze for up to 6 months. They are very a fuss free strudel recipe.
To reheat, throw them in a silicone baking sheet and into a 250°C preheated oven. Heat for about 10 minutes and then remove from the oven. Cool to touch before serving.
How to serve these strudels
These strudels are great to serve at any Halloween party. They will go great with other Halloween desserts like this cute chocolate strawberry birds and these witch hat cookies.
Or, serve them as a dessert to savory Halloween recipes like these stuffed peppers or these cute mommy poppers.
Sharing is caring
Don't be shy, chime in below in the comments. Let me hear your opinion on this recipe. If you enjoyed this, please give it 5 stars and share it on Facebook, Pinterest, Twitter, Instagram and Youtube.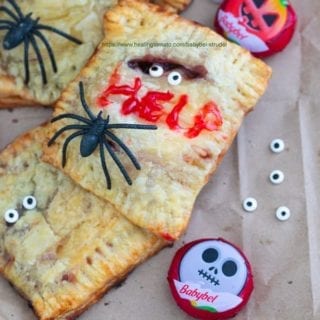 Babybel Strudel
4-ingredient Babybel Strudel with cherry pie filling

Ingredients
1

sheet

Puff Pastry

½

cup

Cherry Pie Filling

4

Babybel Cheese

¼

cup

Almond milk
Instructions
Preheat oven to 375°


Cut the pastry sheet into 9 equal pieces


Place one piece of puff pastry on a flat surface


Add about 2 Tbsp of cherry pie filling to the center


Place one Babybel Cheese on top of the cherry pie filling


Cover with one piece of puff pastry


Seal the edges by pressing a fork on it


Make 3 diagonal shallow cuts on top of the strudel


Baste generously with almond milk


Repeat with the remaining Puff Pastry pieces


Place the strudel on a lightly oiled tray


Place the strudel in the oven and bake it for about 12 minutes (until browned)


Turn off the heat, but, do not remove the strudel from the oven


Let it sit in the oven for about 8 minutes


Remove it and serve

Notes
** Nutrition Value is approximate