Easy Vegan Pad Thai Recipe made with quick ingredients. This healthy vegan pad Thai recipe takes less than 45 min to make. I like to make this on busy weeknights!

I discovered Pad Thai at a tiny hole in the wall restaurant in lower Manhattan!
This place was tiny, but, they made a MEAN vegan pad Thai. I made special trips to that place which was completely out of my way (I lived on the Jersey shores), just to get this Pad Thai
That's how good their Pad Thai recipe!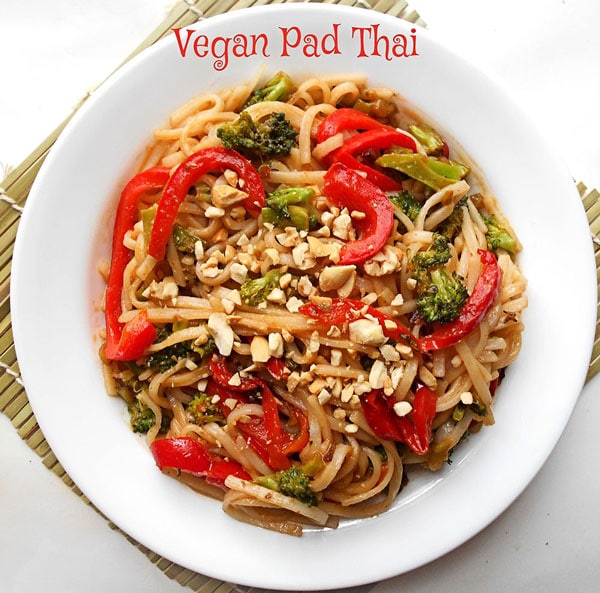 Now, I live in Florida and going to visit this restaurant is impossible!
So, I make it at home! Its not nearly as good as the restaurant's recipe, but, it hits the spot. I love the broccoli in this recipe which I normally don't see anywhere else
The fresh broccoli is the best part of this recipe, so, don't skimp out on it.
P/S: if you like quick Asian dinner recipes, you must try my easy Lo Mein recipe
Incidentally, I have heard this recipe being referred to as Padthay. How do you refer to it?
Tips for making vegan pad Thai
– I chose to go with only 2 veggies because I wanted to keep it a quick and simple dinner recipe. If you have more time, add more veggies like snap peas, shredded carrots, cabbage and any other veggies you have in your fridge. Cook those veggies along with the broccoli and bell pepper
– For the pad Thai noodles, I kept it simple too. I went with the traditional (affiliate link) stir fry rice noodles because they are so very easy to make. All you do is put them in hot water and you have instant noodles.
– Since it is a very peanut centric recipe, I thought I would add some sriracha to accentuate the flavors of the pad Thai. Boy, was that a good decision! This meal has a nutty and spicy flavor. If you don't like the spice, just add some apple cider vinegar
– Cut veggies as small as you can. The bell peppers should have been even thinner than what I made, It really gives the Pad Thai an even texture.
– If possible, make the pad Thai sauce first and set it aside
Making The Vegan Pad Thai Sauce
1) In a small pan, add 3 Tbsp of soy sauce and heat at very low heat
2) Add 1 Tbsp of sriracha sauce and mix well
3) Add a 1/4 tsp of finely chopped ginger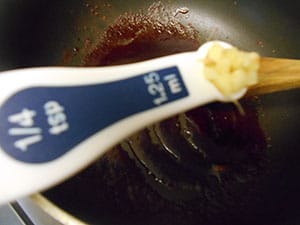 4) Add 1/2 tsp of peanut butter (not pictured) and 2 tsp of brown sugar.
5) Add 3/4 cup of water (not pictured) and mix well. Remove from heat and set aside
Making The Vegan Pad Thai Recipe
1) Chop 1 broccoli crown to make about 2 cups of finely chopped broccoli. Chop half of a red pepper finely
2) Bring 3 cups of water to a boil
3) While the water is boiling, add 3 Tbsp of peanut oil or sesame oil to a pan. Heat for 30 seconds
4) Add the broccoli and red peppers to the pan and stir
5) Add 1/4 tsp of salt to the pan and stir gently
6) Add 1 Tbsp of soy sauce to the pan and stir gently. Cook until the broccoli is tender and then turn of the heat. Set aside
7) The water should be boiling now, so, remove from the heat and add the stir fry noodles to it. Don't leave them in the water for more than 8 minutes.
8) Drain the noodles and put them in the same pan that you drained them.
9) Add the broccoli and red peppers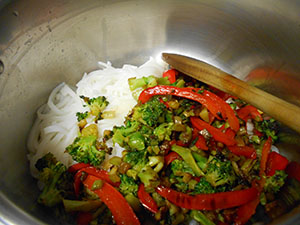 10) Add the sauce and mix well. Top with 1/4 cup of roughly chopped peanuts (unsalted)


Printable Vegan Pad Thai Recipe
Pad Thai Recipe (Vegan)
A healthy, quick vegan Pad Thai recipe

Ingredients
For the vegan pad Thai sauce
3

Tbsp

soy sauce

1

Tbsp

sriracha sauce

1/4

tsp

ginger

finely chopped

1/2

tsp

peanut butter

or sesame oil

2

tsp

brown sugar

Or 3 tsp Maple Syrup / Agave

3/4

cup

water
For the Pad Thai
3

cups

water

for soaking the noodles

8

Oz

rice noodles

2

cups

broccoli

finely chopped

1/2

bell pepper

julienne

3

Tbsp

peanut oil

1/4

tsp

salt

1

Tbsp

soy sauce

1/4

cup

peanuts

unsalted
Instructions
To Make the Pad Thai Sauce
In a small pan, add 3 Tbsp of soy sauce and heat at very low heat

Add 1 Tbsp of sriracha sauce and mix well

Add a 1/4 tsp of finely chopped ginger

Add 1/2 tsp of peanut butter (not pictured) and 2 tsp of brown sugar.

Add 3/4 cup of water (not pictured) and mix well. Remove from heat and set aside
To cook the rice noodles
Bring 3 cups of water to a boil

Remove water from the heat and add the stir fry noodles to it


Keep the noodles in the water for no more than 8 minutes


Drain the noodles and put them in the same pan that you drained them. Set aside

To cook the veggies
While the water is boiling, add peanut oil to a pan and heat for 30 seconds

Add the broccoli and red peppers to the pan and stir

Add salt and soy sauce to the pan and stir gently

Cook until the broccoli is tender and then turn of the heat. Set aside

Add the cooked broccoli and red peppers to the cooked rice noodles


Add the sauce and mix well

Garnish with 1/4 cup of roughly chopped peanuts and serve