Want a fun Vegetarian Meal for kids? This healthy Red Cabbage Pizza recipe will please picky eaters. This can be made on a thin crust pizza or deep-dish
I have been having a hankering for pizza for weeks now. Specifically, I am having daily dreams of NY style pizza.
Unfortunately, I live in Florida and even the best "NY Style Pizza" eateries can't replicate the NY slice.
It is not their fault. The secret to a great NYC pizza is in its water and the tomatoes.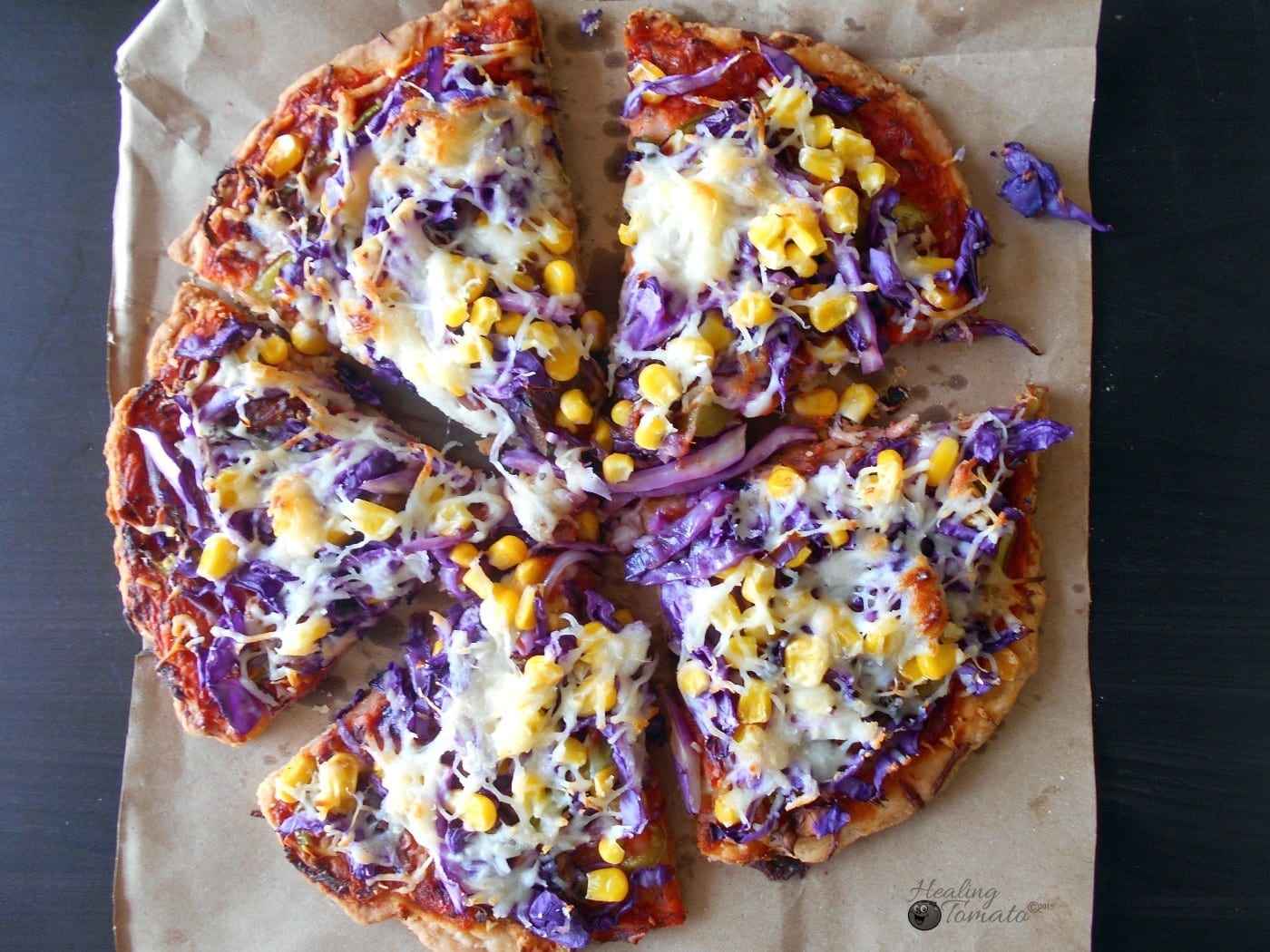 NY/NJ tomatoes have a very specific sweetness that cannot be duplicated anywhere. Their cherry tomatoes are sweet and very tiny.
My theory is that I can never duplicate my favorite slice of NYC pizza, so, why bother trying? Instead, I went with a completely different style of pizza.
I feel like cabbage has been pigeon-holed for far too long! It seems that cabbage can only be "Team Coleslaw" or "Team Kimchi".
It would be nice to see red cabbage in a variety of recipes. For starters, I think it would make a great falafal topping.
The main thing about this recipe is that the pizza should be baked in 2 rounds, since the red cabbage takes a while to cook. If you put all the red cabbage at once, the bottom layer remains uncooked.
I split the toppings into 2 equal portions. The first batch took about 20 minutes to complete and the second batch completed in 15 minutes.
I really wanted to go nuts with different kings of toppings. Here are some toppings that I really should have added to this recipe:
– Sun dried tomatoes
– Any Olive variety
– Jalapeno
– Pineapple
– Walnuts
Also, the real star of this pizza has to be my homemade pizza sauce recipe. It is loaded with garlic and has all fresh vegetables that were roasted into it.
Do you agree that NY style pizza cannot be duplicated anywhere in the world?
Red Cabbage Pizza
Red Cabbage pizza made with peppers, corn and cheese. Use homemade pizza sauce for best results
Ingredients
1

pizza dough

2

cup

pizza sauce

⅛

tsp

black pepper

2.5

cup

red cabbage

finely shred, split into 2 equal portions

1

green bell pepper

split into 2 equal portions

¼

red onion

cut into long strips

½

cup

corn

froze or fresh

2

tsp

red pepper flakes

2

cup

Mozzarella cheese

shredded , split into 2 portions
Instructions
Preheat the oven to 400 degrees


Roll out your dough into a large circular shape or choose the shape you want

Start with a generous layer of pizza sauce

Take the first portion of the bell peppers and evenly layer them on the pizza

Do the same for the Onions, Red Cabbage, Corn, red pepper flakes and cheese

Place the pizza in the oven and let it bake for 20 minutes

Layer the remaining portions on the pizza and cook again for about 15-20 minutes


When the cheese has completely melted, your pizza is ready to be devoured
Notes
The ingredients listed are for one medium sized pizza.