It is always hard to find gluten-free creamy enchilada sauce. It is very easy to make a creamy enchilada sauce that is vegan and gluten-free
It is the season for the color orange.
That is why I love Halloween. The brightness of the color is a perfect fit for the day of the dead.
Until a week ago, I didn't realize that Enchilada sauce is not gluten-free. The things I learn on a daily basis because of my food blog are astonishing. Someday, I might write a book.
What a boring book that would be!
Now that I am not writing the book, let us talk about the making of this sauce.
The challenge with vegan is the creamy part. How do I make it creamy without using cream?
Instead of the usual red sauce, I decided to go the creamy enchilada sauce route. Gluten-free was not enough of a challenge, so, I decided to make it vegan also.
Coconut milk is the best substitute for cream in any vegan meals. That is one of the things I have learned as a food blogger.
Coconut milk is so delicious and versatile. I have used it in pasta sauces, dumpling soup, cobbler, pancakes, coconut rice and even creamy penne pasta.
It also doesn't add the heaviness and bad fats of cream, so, I don't feel guilty if I get a third helping of it.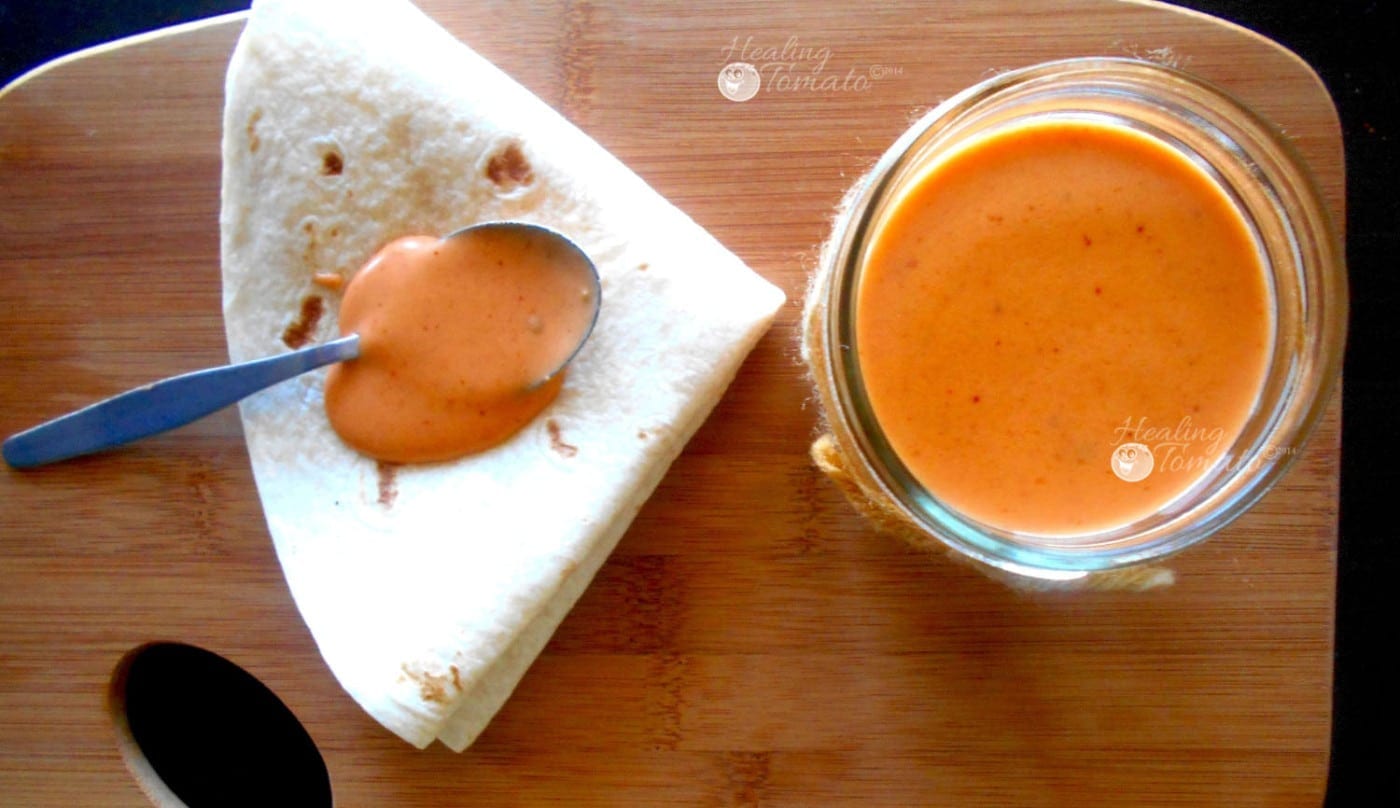 This creamy enchilada sauce is perfect for vegetarian enchiladas. I have tried it with a mini sweet pepper recipe and the results were delicious.
That recipe will be on my blog next week and I hope you will like it as much as I did.
For the flour, I used gluten-free flour which is fairly inexpensive. Ever since I discovered this gluten-free flour, I have put it in so many foods just to test it and it has passed every one of the tests. I even made some naan with it and it turned out great.
What is your favorite way to use coconut milk?
Creamy Enchilada Sauce, Vegan GlutenFree
Creamy Enchilada Sauce - Vegan, Vegetarian and Gluten Free. Mexican Recipes can now have this gluten-free enchilada sauce. I made it creamy to add more density to the sauce
Ingredients
1

cup

coconut milk

divided into 2 equal parts

2

Tbsp

gluten-free flour

1

tsp

cumin powder

1

tsp

dried oregano

1

tsp

red chili powder

(optional)

2

Tbsp

tomato paste

1

tsp

salt

1

tsp

extra virgin olive oil

2

tsp

lemon juice
Instructions
In a medium sauce pan, add the oil and heat for 30 seconds

Add the gluten-free flour slowly while stirring constantly until blended


Add the cumin powder, oregano, salt and red chili powder

Stir until all the dried spices have blended

Add the lemon juice and stir.

Add one part of the coconut milk and continue stirring

When the coconut milk has blended, add the remainder of the coconut milk

Keep stirring well. It is natural to see some lumps, so, keep stirring

Stir until all blended and has a creamy consistency

For better results, put it in a food processor and use the pulse setting until all lumps have dissolved

Remove from the blender and serve over enchilada