How to make saffron rice perfectly each time using basmati rice or any rice. Flavored with Indian spices, but, it can be paired with any cuisine. It's an easy way to bring color to the meal.
"Smiles, Rainbows and Rice! I could survive on that!" – Anthony T. Hicks
Oh my gosh! I have gone a whole three months without posting a rice recipes!
My last rice recipe was spinach rice back in march, so, it feels like eternity now. You all deserve a delicious new rice recipe, so, here is a super fast saffron rice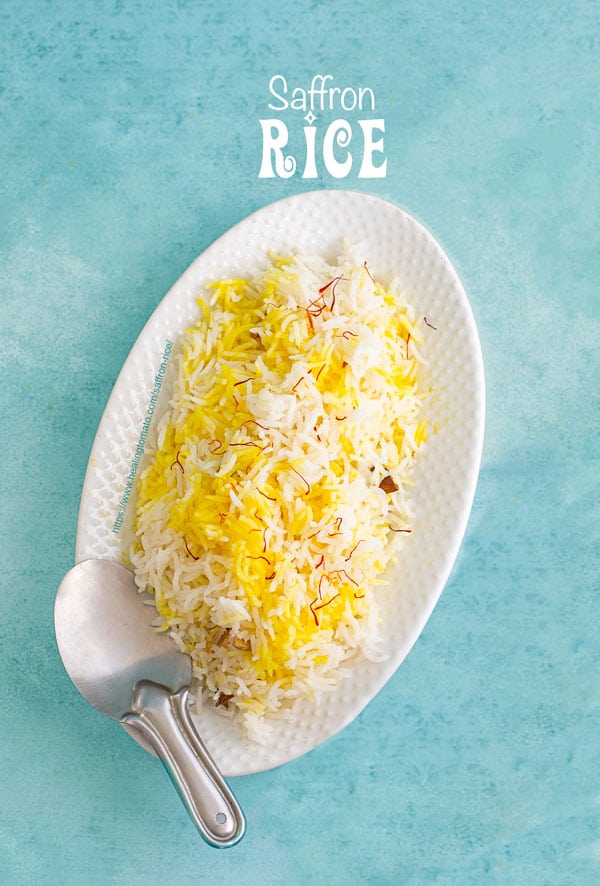 Tips for making this rice
Be sure to rinse the basmati rice before you cook it.
My rice recipe is made using basmati rice, but, you can also use long grain white rice too.
The cloves, cinnamon and cardamom are optional, but, I highly recommend adding them to the rice because they provide a wonderful aroma
Use the saffron you can afford. The (Affiliate Link) Afghan grade of saffron is the best saffron in the world, but, you will have to sell your limbs to buy it. (Affiliate Link) Spanish saffron is the most common variety and easily available anywhere. That's what I used in this recipe.
Make sure your cooked rice is still hot when you add the saffron to it. It will easily "stain" the rice and not ruin the flavor
To get a deeper orange color, use extra saffron threads and less hot water
Even better way would be add saffron threads to warm ghee and mix it with rice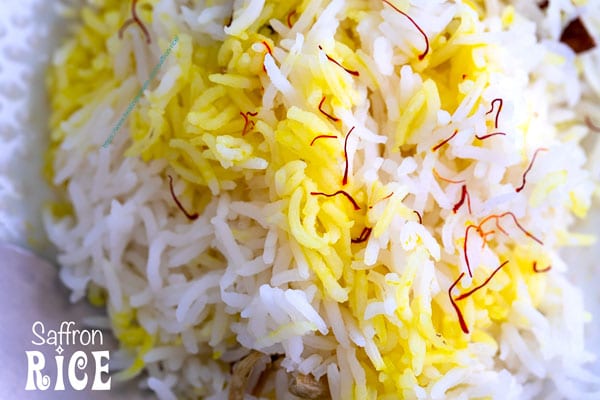 Types of saffron (saffron grades)
Saffron is identified by its grade. Each country has a distinctive color and shape of the saffron. The deeper the red color, the more aromatic it is and the consequently, its more expensive.
Saffron coming from Persian countries (Afghanistan, Iran, Turkey) is considered to be the best saffron in the world.
The Persian saffron is classified by 4 distinct classes
Sargol
Super Negin
Negin
Pushal
Kooshe
Source: Golden Saffron, ZaranSaffron, and my own experiences.
What goes with this rice?
The beauty of saffron rice is that it will be great with almost any recipe you make. Its a great side dish or even a main course meal.
I serve it with my favorite potato recipe because potatoes and rice is my idea of comfort food! Add naan to it and you will have the most amazing dinner recipe
Some of my favorite curries also go great with This rice. I love serving it with cabbage curry, palak makhani, sweet potato curry and watermelon curry
Or, going the Mexican route would work too. I really want to try it with my Mexican rice recipe or stuff it into enchiladas.
How do you plan to use this saffron rice?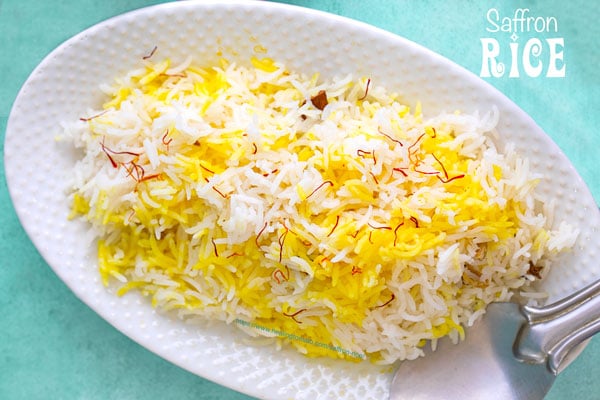 Answering common questions
Can I freeze this rice?
Yes, you can freeze saffron rice. Place it in a freezer friendly container and freeze it for no more than 30 days.
Make sure you keep the rice as flat as you can which means that you shouldn't have clumps. This will make it easier to defrost it and it won't loose its flavor
Is saffron rice vegan?
Yes, saffron rice by itself is vegan. Its normally cooked in water, so, no broth is required. But, some chefs have been known to use chicken broth. My recipe is fully vegan. However, if you use ghee instead of the water to soak the saffron, it becomes vegetarian.
Check out my complete guide to what vegans eat and don't eat
Is this rice spicy?
No, saffron rice is not spicy. I didn't put any chilies or chili powders in it. To make it spicy, go with whole chili as opposed to powdered chili.
What else can I add to it?
– Peas
– Vegetables
– Raisins
– Coconut milk
– Caramelized onions
– Pomegranate seeds
– Brussels Sprouts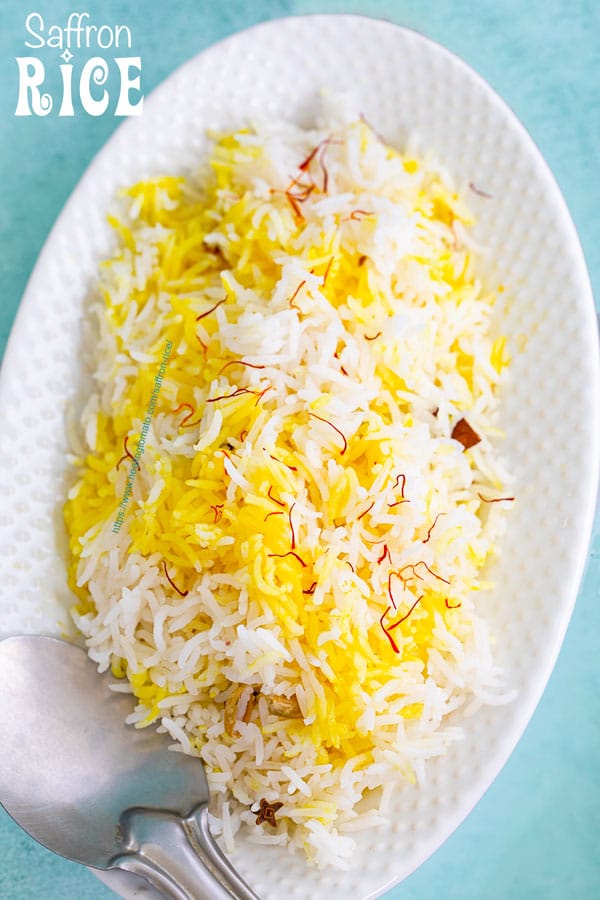 How to store saffron?
I always store my saffron in a clear, glass bottle with a tight lid. Also, I always put it far away from direct sunlight or light in general.
I put it in the back of my pantry which never gets any light. Sunlight will degrade the quality of the saffron and it might even stain the container
You will find more interesting rice recipes on my blog like spinach rice and peanut rice.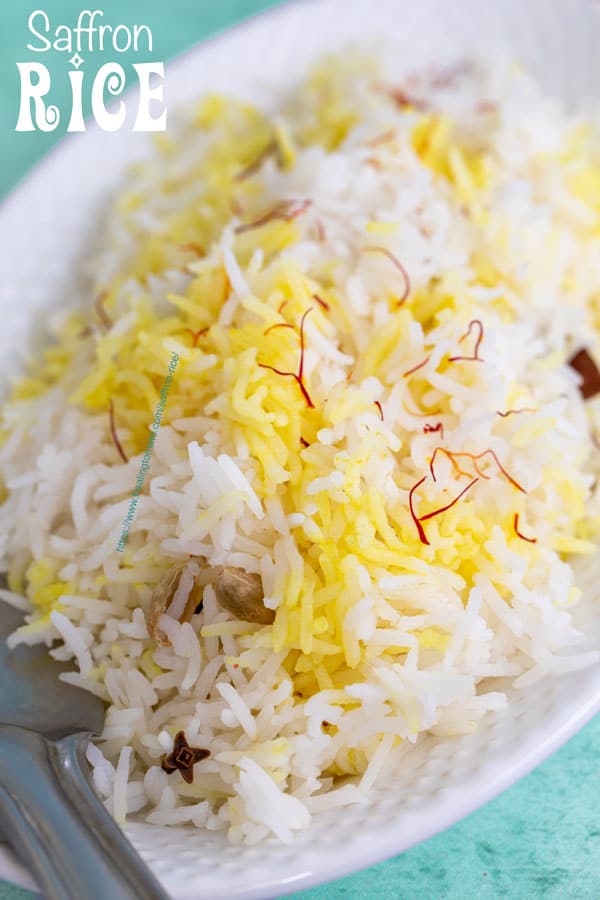 How to reheat saffron rice?
To microwave it, sprinkle a little on the frozen rice (Do NOT thaw it). It should be no more than 1 Tbsp. Make sure your rice is in a microwave safe container.
About 1 cup of saffron rice takes about 6 minutes to heat in the microwave. Stir at the 3 minute mark to make sure it heats occasionally
My favorite way to reheat this rice has to be the pressure cooker. I highly recommend you use the pressure cooker to heat it.
Thaw the frozen rice just enough so that it will be transferable to a pressure cooker safe container. Place the container in the instant pot or pressure cooker
Cook on high for about 5 minutes. The time will depend on how much rice you have to reheat. Experiment and let me know how long it took you to thaw the rice.
Recipes that use saffron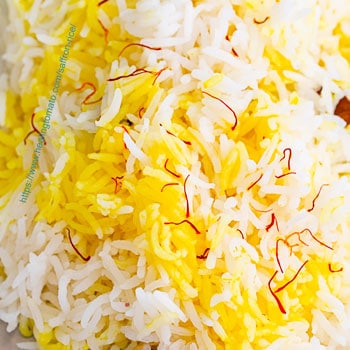 How To Make Saffron Rice
How to make a fluffy saffron rice. This recipe is so easy to make and it's very aromatic
Ingredients
For Cooking the Rice
1.5

cup

basmati rice

7

cup

water

1/2

tsp

Pink Salt

Optional
For the dry spices
3

pieces

cloves

2

pods

cardamom

opened slightly, but, seeds kept inside the pod

1/4

cinnamon stick

cut into smaller pieces
For the saffron
3

Tbsp

hot water

you can also use melted ghee instead

8

strands

saffron

This doesn't have to be preciese
Instructions
Rinse the rice
Add rice to a strong bottom pan

Add about 3 cups of rice to the pan and give it a quick stir

Drain as much of the water as possible. Doesn't have to be all of it it

Repeat the above steps 2 more times
Cook the Rice
Add the 7 cups of water to the rice

Add the dry spices to the rice + water

Place rice on medium heat

Cook for about 15-20 minutes, until the rice has doubled in size

Test the rice by mushing it. See notes

Using a sieve, drain the water from the rice
Soak the saffron
While the rice is cooking, heat the 3 Tbsp water

Add saffron strands to a glass bowl

Give it a quick stir and set aside
Assemble the recipe
Place the cooked rice in a pan

Add the infused saffron water

Stir well and serve immediately
Notes
– Stir it occasionally to make sure it is not sticking at the bottom
– Skim the starch that floats to the top. This is optional, but, I like doing it because it makes the rice taste better
– To test if the rice is cooked, gently mush one grain of cooked rice. If it is cooked, it will mush easily and will be soft. If it is uncooked, the rice grain will feel firm on one side and cooked on the other.
– Water from the rice is full of nutrition. It can be used in soups or curry as a stock. Or, use it in hair and skin care regiment.