Quick and easy homemade Strawberry Focaccia which is really easy to make in the oven. Use fresh Florida Strawberries for the best taste
This post is sponsored by Florida Strawberry in conjunction with a social media campaign through Sunday Supper LLC. All opinions are my own.
There is nothing quite like Florida Strawberries! They have a the perfect juicy flavor and a smooth texture that no other strawberry can match.
I can always tell a Florida strawberry with just one bite because it is taste perfection! For this strawberry focaccia recipe, I just find that Florida Strawberries are the perfect match!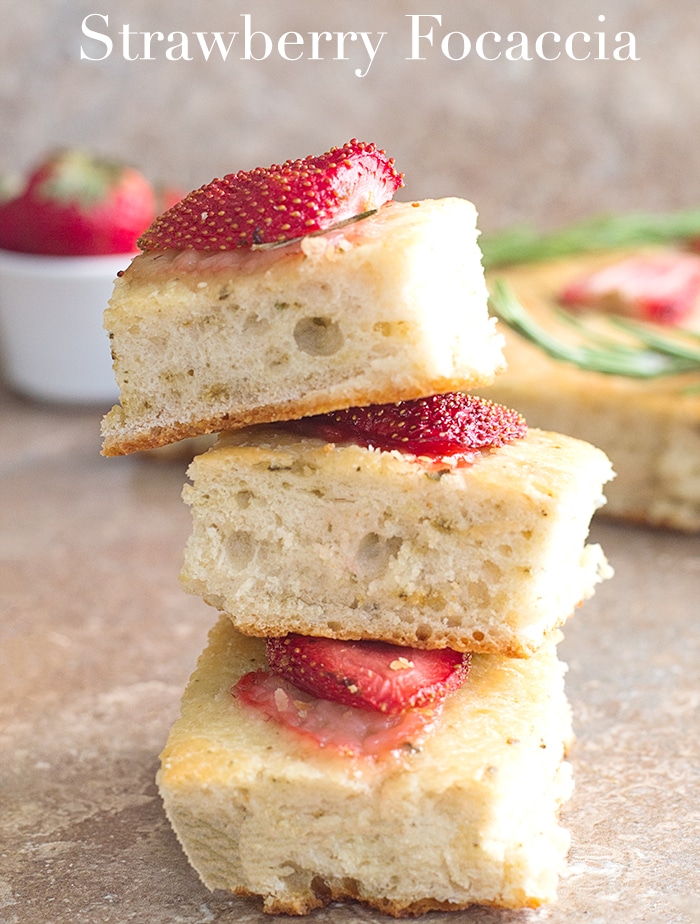 I am willing to bet that the Florida sun is a huge contributor our delicious strawberry flavor. Sun-ripened strawberries make for the juiciest strawberries ever!
The nutrition value of Florida strawberries legendary! Just 8 strawberries have more vitamin C than one orange. They don't have cholesterol and they are fat free.
I can eat one whole bowl of it and not feel an ounce of guilt! That bowl of strawberries is going to help me fight cancer and heart disease, too. I like having strawberries in my corner.
I love what Florida strawberry is doing for its readers. You can get this rad cap from them for free and enter to win a free Florida trip! Seriously! How awesome is it to win a free trip to the sunshine state??
You can read all about how to win this trip by going to their site.
Did you know that Florida strawberries are available fresh from the months of November through April every year! 3 of my local stores always have it in stock during those months.
In fact, demand is so high for these strawberries, that I have seen them restocking it many times during the day. Their popularity is known far and wide.
If your local grocer doesn't carry them, talk to the store manager. They are always happy to carry delicious Florida strawberries.
You know I just have to follow them on all their social media accounts. My favorite is their Facebook page because they always have fun posts on it. I love pinning their recipes from their pinterest page, read interesting facts in 140 characters on their twitter account, watch their videos on youtube, interact with them on Instagram Account and view their collection on Google+
Go to their youtube channel and watch all their videos. What is your favorite strawberry recipe?
So, what to do with this strawberry focaccia bread?
1) Use it as a dipping bread in my Greek Dipping Oil recipe! Trust me, the strawberry and all the spices makes for a great flavor party in your mouth.
2) Make a bell pepper sandwich that is perfect for a quick lunch!
3) Make a cheese sandwich like my mozzarella cheese sandwich using this strawberry focaccia bread. I haven't tried it personally, but, I think it will taste amazing. Mozzarella and strawberries always make a great combination.
Strawberry Focaccia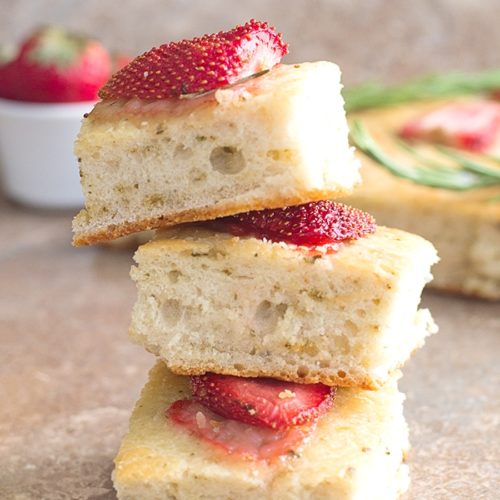 Strawberry Focaccia Recipe
Strawberry Focaccia bread is very quick and easy topped with maple glazed Florida Strawberries
Print
Pin
Rate
Cook Time:
1
hour
10
minutes
Total Time:
1
hour
35
minutes
Ingredients
To Marinate The Strawberries
Instructions
Preheat oven to 325 degrees

In a small bowl, add active dry yeast (fast acting), sugar and warm water.

Mix with a plastic spoon and set it aside for 15 minutes until starts bubbling


While waiting for the yeast, sieve the flour in a bowl


Add salt and half of the dried spices. Mix well

Make a well in the flour and add the yeast water a little at a time


Mix the dough completely and then knead it for 10 minutes, until smooth.


The dough should be a little sticky. Rub oil around the dough ball and place it in glass or ceramic bowl

Cover the bowl with plastic wrap and set it aside

As the dough rises, punch it down. I punched it down about 2 times in a span of an hour


After both punch times, knead the dough again and form a ball and cover again


In a separate bowl, add the remaining oil and spices. Mix well

Lightly oil a baking tray and place the dough


Using your finger tips, stretch the dough into the shape of the tray

Baste the top of the dough with the oil mixture

Place the baking tray in the oven

After you put the tray in the oven, prepare the strawberries


In a bowl, add strawberries and pure maple syrup, set aside


After the focaccia has been in the oven for 25 minutes, baste the focaccia one more time

Line the top of the bread with strawberries


Bake for about 20 more minutes or until the focaccia passes the knife test

Remove from the oven and let it cool before serving

Nutrition
Serving:
3
g
|
Calories:
691
kcal