Quick and easy homemade Strawberry Focaccia which is really easy to make in the oven. Use fresh Florida Strawberries for the best taste
This post is sponsored by Florida Strawberry in conjunction with a social media campaign through Sunday Supper LLC. All opinions are my own.
There is nothing quite like Florida Strawberries! They have a the perfect juicy flavor and a smooth texture that no other strawberry can match.
I can always tell a Florida strawberry with just one bite because it is taste perfection! For this strawberry focaccia recipe, I just find that Florida Strawberries are the perfect match!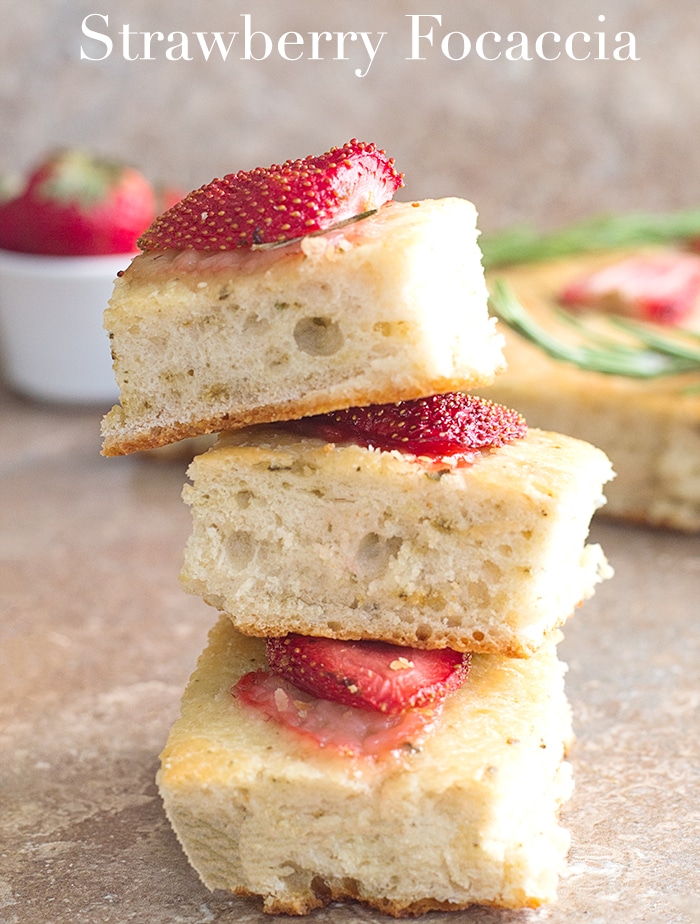 I am willing to bet that the Florida sun is a huge contributor our delicious strawberry flavor. Sun-ripened strawberries make for the juiciest strawberries ever!
I made strawberry vinaigrette using fresh strawberries and it was DELICIOUS!
So, what to do with this strawberry focaccia bread?
1) Use it as a dipping bread in my Greek Dipping Oil recipe! Trust me, the strawberry and all the spices makes for a great flavor party in your mouth.
Greek Dipping Oil
Quick and easy Greek Dipping Oil made with homemade Greek seasoning

Check out this recipe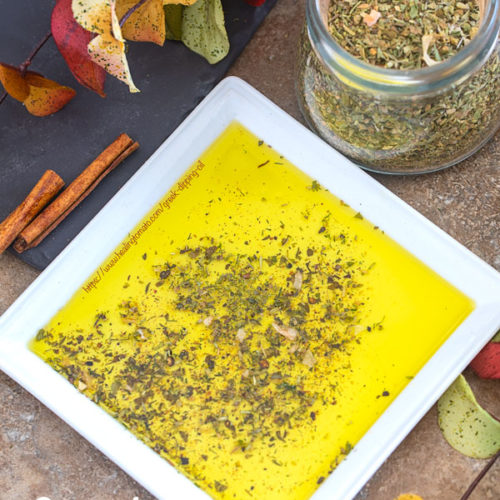 2) Make a bell pepper sandwich that is perfect for a quick lunch!
Bell Pepper Sandwich Bites Using Strawberry Focaccia
What do you do with bell peppers? Make this bell pepper sandwich bite! It is perfect vegan brunch recipe using focaccia bread and strawberry chives pesto
Check out this recipe
3) Make a cheese sandwich like my mozzarella cheese sandwich using this strawberry focaccia bread. I haven't tried it personally, but, I think it will taste amazing. Mozzarella and strawberries always make a great combination.
Mozzarella Cheese Sandwich With Roasted Red Pepper
Mozzarella Cheese Sandwich made with fresh cheese, roasted red peppers and homemade arugula pesto spread.

Check out this recipe
Strawberry Focaccia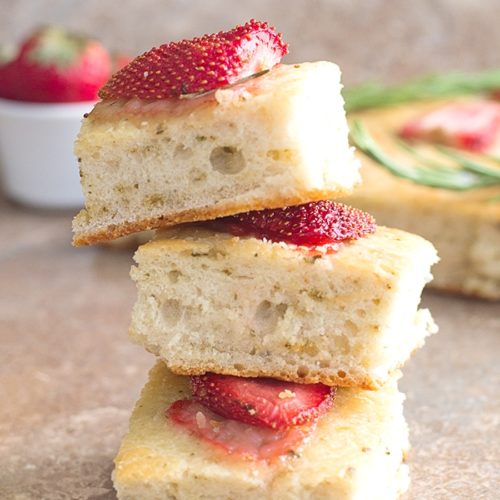 Strawberry Focaccia Recipe
Strawberry Focaccia bread is very quick and easy topped with maple glazed Florida Strawberries
Ingredients
To Marinate The Strawberries
5

pieces

Strawberries

thinly sliced lengthwise

1

Tbsp

Pure Maple Syrup
To Make The Focaccia
1

packet

Active Dry Yeast

Fast Acting

2

Tbsp

Sugar

1.5

cups

warm water

3

tsp

salt

3

Tbsp

Rosemary

dried or fresh

2

Tbsp

Oregano

dried

1

tsp

Thyme

dried

1

Tbsp

Parsley

dried

1/4

cup

Extra Virgin Olive Oil

3

cups

All Purpose Flour
Instructions
Preheat oven to 325 degrees

In a small bowl, add active dry yeast (fast acting), sugar and warm water.

Mix with a plastic spoon and set it aside for 15 minutes until starts bubbling


While waiting for the yeast, sieve the flour in a bowl


Add salt and half of the dried spices. Mix well

Make a well in the flour and add the yeast water a little at a time


Mix the dough completely and then knead it for 10 minutes, until smooth.


The dough should be a little sticky. Rub oil around the dough ball and place it in glass or ceramic bowl

Cover the bowl with plastic wrap and set it aside

As the dough rises, punch it down. I punched it down about 2 times in a span of an hour


After both punch times, knead the dough again and form a ball and cover again


In a separate bowl, add the remaining oil and spices. Mix well

Lightly oil a baking tray and place the dough


Using your finger tips, stretch the dough into the shape of the tray

Baste the top of the dough with the oil mixture

Place the baking tray in the oven

After you put the tray in the oven, prepare the strawberries


In a bowl, add strawberries and pure maple syrup, set aside


After the focaccia has been in the oven for 25 minutes, baste the focaccia one more time

Line the top of the bread with strawberries


Bake for about 20 more minutes or until the focaccia passes the knife test

Remove from the oven and let it cool before serving