Easy Greek Dipping Oil with a Homemade Greek Seasoning Mix – This is a quick and easy dip recipe that is better than the restaurant version. Its an effortless appetizer that is ready in 5 minutes.
I love homemade spices! There is something so special about using spices that you made in your own kitchen, right?
Last year, I made homemade Cuban seasoning and it was the best seasoning recipe! It went into every Cuban recipe I made, like my Vegan Ropa Vieja and my vegan Cuban Picadillo.
The best part of homemade seasoning is that I get to add any ingredient I want. There is no restrictions and no limit as to what I can put in it!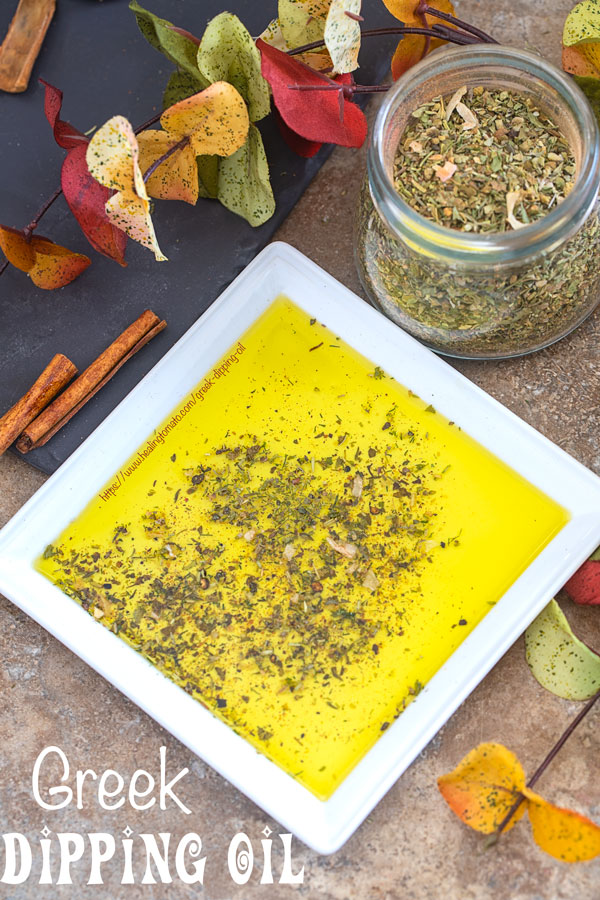 Tips about storing it
Its inevitable that you will make a whole batch of this dipping oil and not use it all. The good news is that you it stores really well and can be used in the future
Store it in a cool, dry place and use it within two days of making it
Alternatively, you can refrigerate it for no more than 2 weeks. Thaw it to room temperature before serving it. Do not heat it!
You can use it in recipes like homemade olive oil bread. It will give the bread a wonderful aroma and a delicious flavor.
Add Balsamic vinegar to the dipping oil and make it a salad dressing. You can also add any type of citrus juice to the salad dressing.
Tell me about your favorite seasoning recipe. Which blend do you make all the time?
Recipe inspiration
Once, every season, bloggers get together and make a delicious meal from other bloggers' page. We like to refer to it as "Freaky Friday". Each of the bloggers participating are super talented and very smart business people. I am always in awe of their talents.
Today's recipe is very special in so many ways. First, it comes from one of my fellow foodie and food blogger. Her name is Jennifer Stewart and she blogs at Take Two Tapas.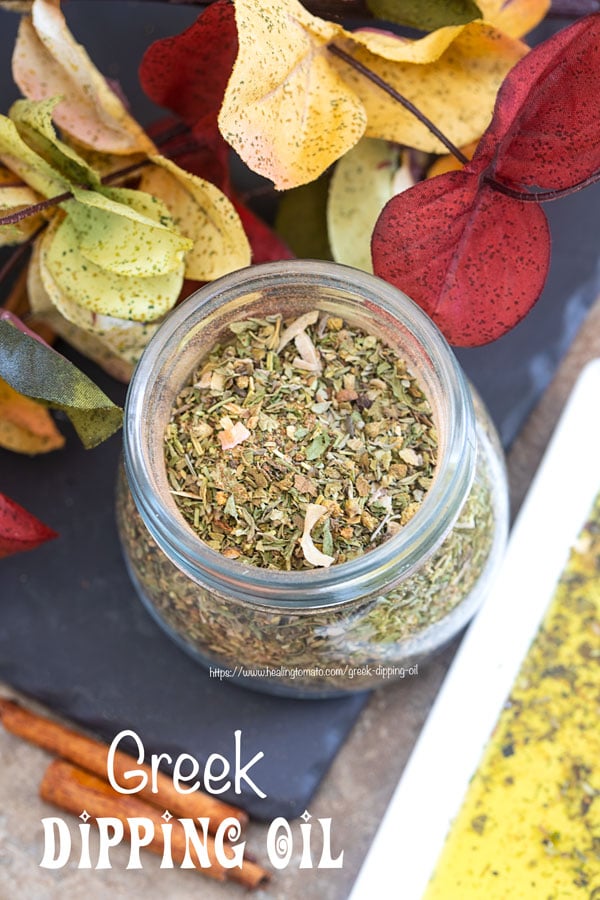 Greek seasoning mix ingredients
Garlic Powder, Onion Flakes and Lemon pepper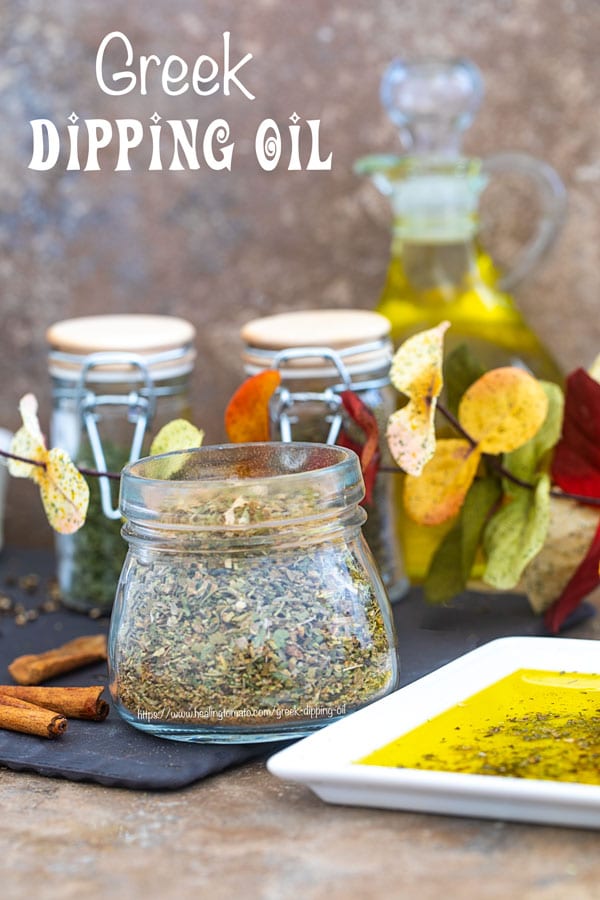 What is the difference between Greek olive oil and Italian olive oil
Greek olive oil has a slightly fruitier taste than Italian olive oil
Greek Olive oils are greener than Italian olive oils
Greek Olive oils have more polyphenols which are filled with Antioxidants and reduce risk of coronary disease (Source: Healthline.com)
For the most part, there is no major difference between Greek and Italian Olive oil, in my opinion. There is a light difference in taste between the two.
Italian Olive oils have more cycloartenol. (source: Live Strong)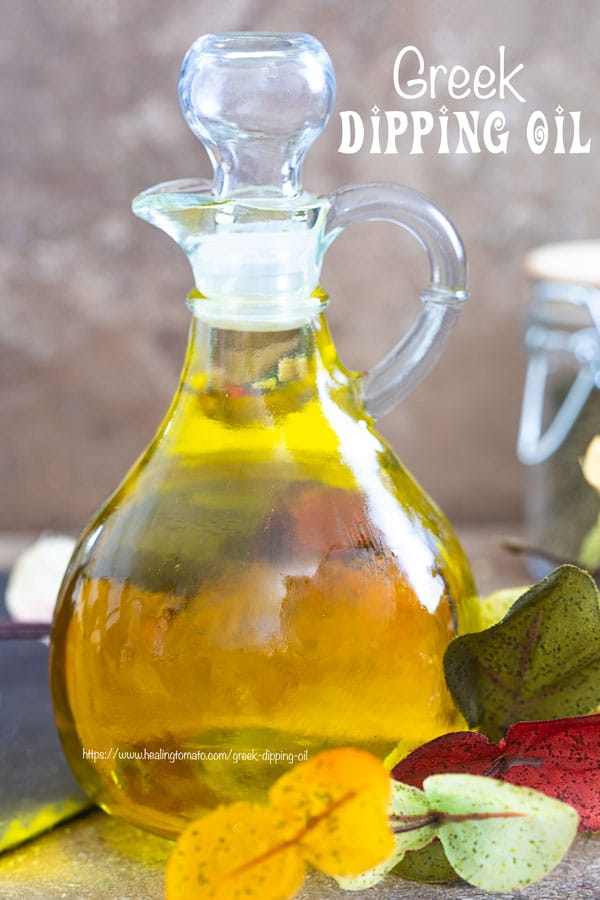 P/S: If you want an Antioxidant packed smoothie recipe, check out my Ultimate Antioxidant Blast made with collard greens
Can I use a different oil in this recipe?
Yes, you can use any type of extra virgin olive oil in this recipe. Italian extra virgin olive oil will work great in this recipe. If you can, use the high end variety of Italian extra virgin olive oil.
It really brings out the flavors of the seasoning.
If you can find a good Spanish extra virgin olive oil, it will be perfect for this recipe. Spanish olive oil or even California olive oil have an amazing aroma that mixes so well with the Greek seasoning mix
I made an olive oil cake recipe using Goya's Spanish oil blends and it was soooo good!
IT. WAS. HEAVENLY!
You can also try using blended oil (made from a mix of Greek, Italian and Spanish olives). Let me know how that tasted. I am always curious to see how my readers adapt my recipes.
Where to buy Greek olive oil?
I got mine from (affiliate link) Amazon, but, you can purchase it from many places. P/S: These five links below are NOT affiliate links
– Publix
– Walmart
What to make with the seasoning
Add the seasoning to my Vegan Tzatziki recipe which includes vegan yogurt and matcha. I suggest omitting matcha if you are using Greek seasoning mix
I made this salad using bread that was about to go stale. It turned out to be the best bread salad recipe ever! I am sure the Greek Seasoning mix will make it even better.
Seriously, how delicious would breadcrumbs taste with cinnamon and nutmeg in them? I really like this idea and can't wait to try it.
I think this Greek couscous salad deserves a homemade seasoning, don't you? Its a really easy salad to make and it can be the perfect dinner recipe.
Have you tried my homemade dressing like Strawberry Balsamic and Orange dressing?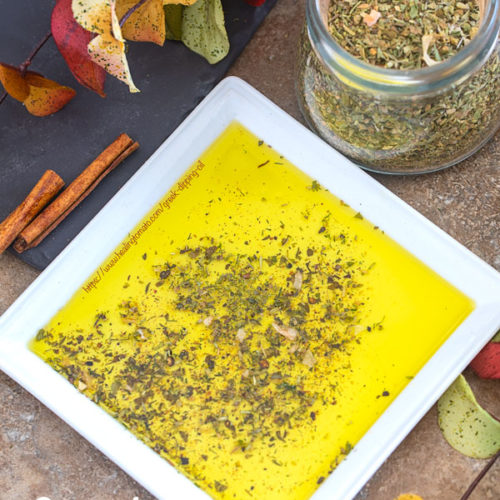 Greek Dipping Oil
Quick and easy Greek Dipping Oil made with homemade Greek seasoning

Ingredients
For the Greek Seasoning Mix (See Notes)
1

Tbsp

Basil

dried

1

Tbsp

Dill

dried

2

Tbsp

Garlic Powder

1

Tbsp

Onion Flakes

2

Tbsp

Oregano

dried

1

Tbsp

Parsley

dried

½

Tbsp

Celery Seeds

optional

1

Tbsp

Rosemary

dried

½

Tbsp

Thyme

dried

1

Tbsp

Lemon Pepper Seasoning

½

Tbsp

Marjoram

1

Tbsp

Salt

½

Tbsp

Cracked Black Pepper

½

Tbsp

Cinnamon Powder

½

Tbsp

Ground Nutmeg
For The Greek Dipping Oil
¼

Cup

Greek Extra Virgin Olive Oil
Instructions
To Make The Greek Seasoning Mix
In a small bowl, add all the ingredients for the seasoning


Using a spoon, mix well


Transfer the seasoning mix to a glass bottle with an airtight seal


Store it in a cool dry place

To Make The Dipping Oil
In a dipping bowl, add the Extra Virgin Greek Olive Oil


Add 2 Tbsp of the Greek Seasoning Mix to the oil


Mix well. Using a whisk for best results

Serve with crusty bread or pita bread
Notes
– The Seasoning comes out to about 1 cup. I used only 2 Tbsp and store the rest in a glass bottle to be used in different recipes
This recipe is by Take Two Tapas