This is a quick and delicious vegetarian Fettuccine pasta recipe is made with peppers. Topped with Bertolli Pasta sauce for an easy vegetarian pasta dinner
This Fettuccine Pasta With Peppers is sponsored by Bertolli. All opinions are mine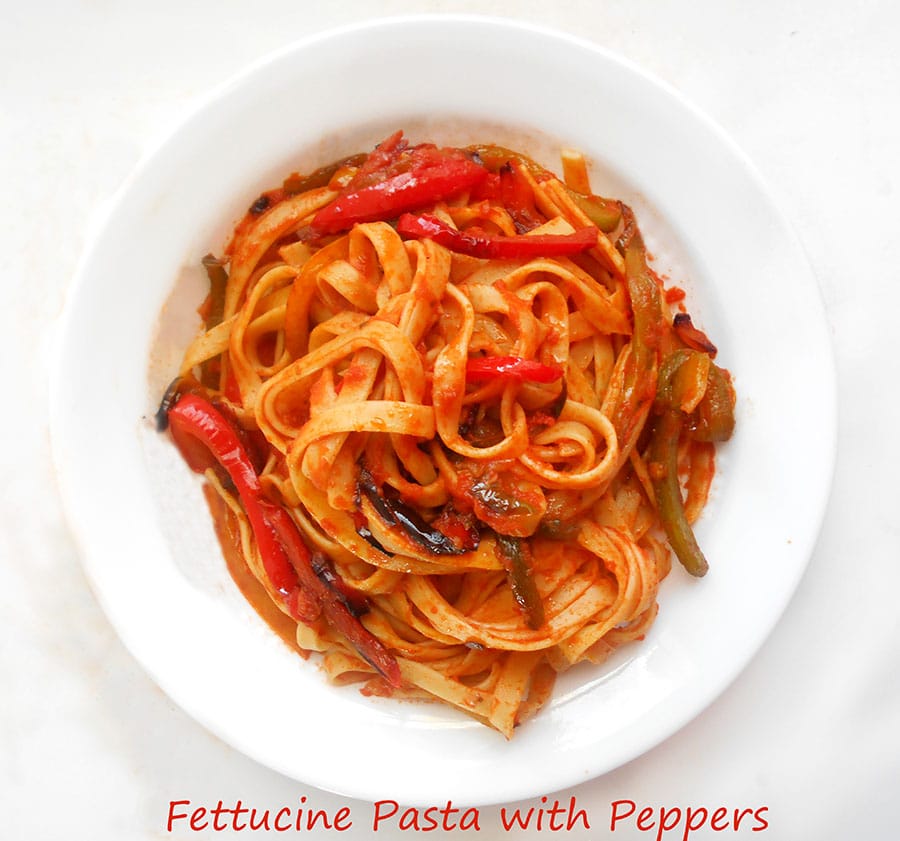 Fettuccine pasta is my favorite type of "long" pasta. When I was younger, I used to call it long pasta because I couldn't say fettuccine. It is so funny because my friend's daughter does the same thing. She calls it "long tail" pasta and won't eat it because she thinks that the "long tails" was stolen from a horse.
I absolutely love that about her, so, I try not to make it in her presence.
Her dad and I belong to a brunch group and we are huge fans of pasta in general. Once a month, we meet for a dinner and try pasta recipes. It is a wonderful taste tour for us, but, it is more about a bonding experience.
We will have pasta potluck dinners and all of us bring a pasta recipe. Last month, I was delighted to taste a vegan fettuccine bolognese recipe. It is the first time I had a chance to taste bolognese sauce and now, I have my own recipe for vegan bolognese sauce.
I wanted to keep this recipe as simple as possible. That is why I added fresh peppers and nothing else. Bertolli's Riserva sauce does all the heavy lifting while you relax. It adds delicious Tuscan flavors to the pasta like oregano and other spices, tang and even some cheese.
The next time you are looking for healthy dinner ideas, try my fettuccine pasta recipe and let me know what you think.
If you like pasta recipes, try my casarecce pasta with broccolini rabe
Fettuccine Pasta Recipe With Peppers

1) In a saucepan, add about 7 cups of water and bring it to a boil. I didn't add any salt or oil
2) Add 1/4 pound of dry fettuccine pasta to the boiling water
3) While the pasta is being cooked, cut the 1/2 of the green peppers, red peppers and yellow peppers. Cut them into long strips
4) In a wok, add 1 tsp of extra virgin olive oil. Heat on medium heat. Cut 3 cloves of garlic into halves and add to the oil
5) Add the cut peppers and them saute for about five minutes or until they start to brown from the edges
6) Drain the fettuccine pasta
7) Add it to the peppers
8) Add 1/2 cup of Bertolli Riserva Marinara to the wok
9) Mix well and serve immediately
Try this Bertolli sauce in a stuffed shells recipe or even a lasagna recipe
Fettuccine Pasta with Peppers
This is a quick and delicious Fettuccine pasta recipe with vegetables. Topped with Bertolli Pasta sauce. For quick & healthy dinner ideas, try this pasta
Instructions
Cook the fettuccine pasta and set it aside


Heat a wok for 30 seconds and then, add extra virgin olive oil

Add the garlic and cook for about 1 minute. Don't let them brown


Add bell peppers and saute for about 8 min or until they start to crinkle


Mix in the cooked fettuccine to the peppers

Add the pasta sauce and mix well


Serve immediately

Nutrition
Serving:
2
g
Calories:
71
kcal