Homemade Vegan Calzone Stuffed with Meatballs – If you are looking for quick weeknight dinner recipe, these vegan calzones are going to be a huge hit. They take very little effort and taste amazing
Disclosure: Gardein sent me a few of their wonderful products via Meatless Monday movement to create vegan-friendly recipes. No monetary compensation was provided and all opinions are my own
Have you seen calzones being made at Italian restaurants?
The whole process is so mesmerizing, isn't it?
Years ago, when I worked at an Italian restaurant, my favorite thing was to watch the pizza chef make calzones. He was so talented and his fingers would just fly when he was making them.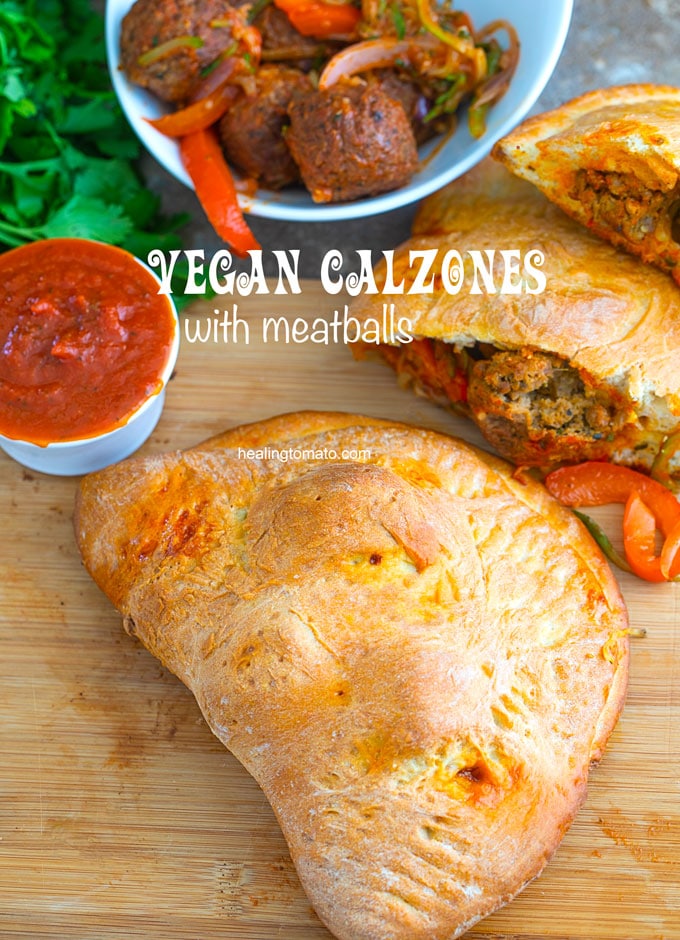 Tips for making it
Use store bought dough to make the calzone because it will save you a lot of time
Make the marinara sauce from scratch if you have the time. Otherwise, use a store bought marinara that is vegan friendly
You can add mushrooms and other veggies if you have them. Any in-season veggies will be perfect in this vegan calzone
Do not thaw the meatballs. Put them in the baking tray directly from the freezer and then into the pre-heated oven they go.
They are best when served right out of the oven.
The peppers add so much flavor to this recipe, so don't skip them. You can even add these grilled peppers and onions in it and it will taste so good.
P/S: Have you tried my paneer pizza or my potato pizza?
Why is it called a calzone?
I have been reading on the history of calzones and there are so many theories out there. The most common explanation I have heard is that Calzone translates to "stockings" or "pant legs".
I take it to mean that it pizza that you can eat while on the go or even put it in your handbag to take to work.
Ok, maybe not the second one. But, the idea behind it is that its folded over pizza so that it can be mobile.
Calzone is affectionately known as the folded pizza around my house!
Source: Spizzico's History of Calzones
Can I freeze calzones?
I have tried freezing calzones before and learned a few tips and tricks.
– If possible, freeze it before cooking it. Make the dough, roll it and place the meatballs in the middle. Seal it and wrap in aluminum foil and then put it into a ziploc before freezing them. Be sure to wrap them individually and use them up in a month
– You can also make them and freeze them in the same way. The only difference is that you should use it within a week or 2 weeks at the most
– When ready to use them, DO NOT thaw. Place them in a 400° oven and let them thaw out that way. I don't like the idea of microwaving the cooked one, so, I highly recommend using the oven to cook them
What is the difference between a stromboli and a calzone
Calzone is a half-moon shaped and stromboli are long, log shaped meal. The calzone can be stuffed with almost anything (like meatballs) where as the stromboli has limitations (no meatballs).
Stromboli is rolled in which is about 2 layers and it kind of makes it hard to stuff some ingredients. It tastes just as delicious as calzones but harder to stuff.
I like them both, but, I am biased towards calzones.
Gardein's Meatless Meatballs
My favorite way to cook them is in the oven. In there, they cook evenly and all through. They can be cooked in the microwave, but, I wasn't fan of the texture after microwaving them.
If you are not sure about an ingredient, consult my "What vegans don't eat" guide or feel free to contact me directly. I am always happy to hear from my readers.
After cooking them in a pan with peppers, zoodles and tomato sauce, they were ready to eat just like that. If you don't feel like stuffing them in a calzone, just eat them right out of the pan like I did.
They can be perfect with pasta or even rice. For the pizza sauce, you can use my homemade pizza sauce recipe made from scratch, if you have time (takes about 30 minutes to make my pizza sauce recipe)
What's your favorite way to stuff calzones?
How to make vegan calzones stuffed with meatballs
Stuff calzones with vegan meatballs and pizza sauce

Ingredients
For the stuffing
1

Tbsp

Oil

1

Tbsp

Garlic

crushed

1/4

Red Onion

Julienned

1/2

Red Bell Pepper

Julienned

2

Zucchini

medium sized and zoodled

1/2

tsp

Salt

1/4

cup

Pizza Sauce

for cooking

1

packet

Gardein Glassic Meatless Meatballs

Pizza Sauce

for dipping
Instructions
Preheat oven to 450


Place the meatballs on a oiled baking tray and put it in the oven


Bake for 15 minutes or until they are browned


Cut the dough into 4 pieces and cover with a damp cloth. Set aside


Heat a stainless steel pan on medium heat for 30 seconds


Add the oil and garlic


Add the onions and bell peppers


Cook until they are soft (about 4-5 minutes)


Add the zucchini zoodles and cook for about 3 minutes


Mix well and set aside


Set the oven heater to 400°


Roll the dough in a long shape (like a flatbread)


Place the meatballs stuffings on one side, keeping the edges clean (about 3 meatballs per dough)


Fold over the bottom part of the dough


Using a fork, seal the top and bottom of the calzone


Place the calzone on an oiled baking tray


Generously brush the top of the calzone with almond milk


Repeat the process for the remaining 3 dough pieces


Place the tray in the oven and bake for about 30-35 minutes until the top is browned


Remove from the oven and let it cool to touch before serving


Serve with pizza sauce

Notes
– My local grocery store sells 16oz pizza dough which is about 1Lb per bag. So, I used 2 bags. Each bag makes 2 calzones, so, you will have 4 calzones in total
– I put about 3 meatballs per calzone. If you don't want to make all 4 at once, refrigerate the remaining meatballs stuffing and use it in the future.
Nutrition