This quick and easy vegan Mexican fried rice is so much fun to make and eat! Its my take on the traditional Mexican rice. I used peas instead of corn because I love how delicious it tastes with rice. Eat it for lunch, as a side dish and part of a meal prep recipe.
I made this recipe for a guest post on Jenny Melrose Family's Blog. Reprinted on Healing Tomato with permission
I am a rice aficionado and I have made no apologies for it. Being Indian, rice is in my blood!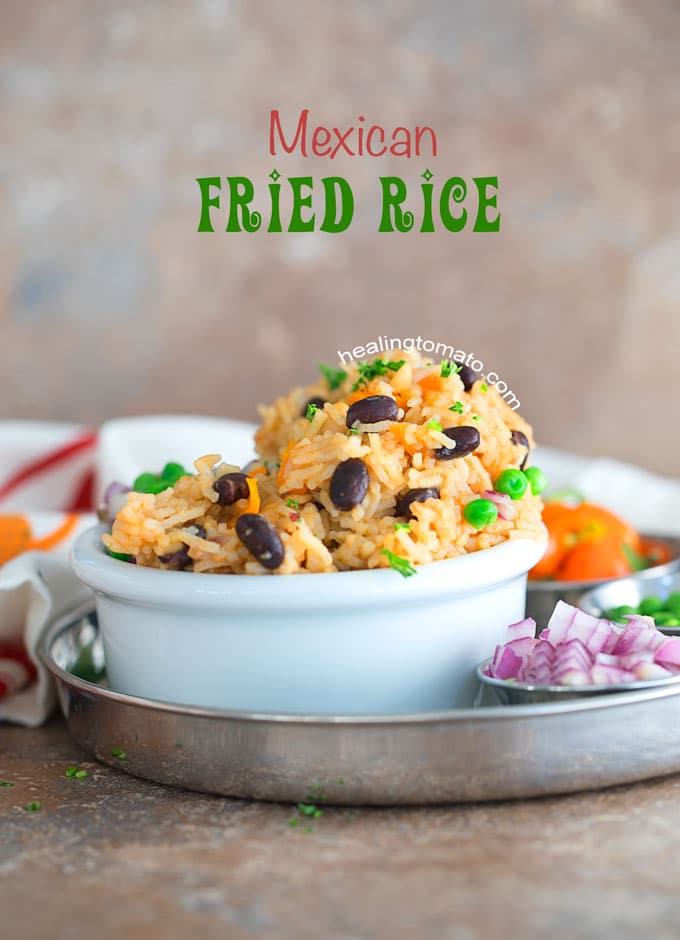 This time, I am making a twist on the traditional Chinese fried rice and making a Mexican version of this popular rice dish. Doesn't it look so colorful?
Side note: I have a pineapple fried recipe and a peanut rice that you will absolutely love. Its sweet and spicy which is an irresistible combination.
This is one of those delicious Mexican recipes that makes everyone in my home drool just looking at it. They made sad faces when I told them they couldn't eat it until after I the photo shoot!
Its funny because it happens so often in my home and in the homes of almost all food bloggers! The camera always gets to "eat" it first with its lens eye!
This rice is always popular when I make it at home. We like to put it in enchiladas and even quesadillas. This rice is so versatile and easy to make that you just might end up making it everyday and never get bored with it.
Why is it called Fried Rice?
So, why is it called fried rice? Well, its because of how the rice is cooked initially. When I add the rice, I stir-fry it for a few minutes before I add the water. This makes them slightly crispy and also less soggy.
The Mexican flavors in this recipe include taco seasoning. I have also used fajita seasoning and even Cuban seasoning. The possibilities are limitless!
For the rice, I went with basmati rice. Its my favorite rice and I rarely use any other types of rice. If you don't have basmati, any long grain rice will work in this recipe. If you are health conscious, go with long grain brown rice. The only thing to keep in mind is that the rice might require a little less water than my recipe below.
If you are looking for Cinco de Mayo recipes, this Mexican fried rice will work with almost any meal on your menu. It's the right side dish for any meat recipe or wrap it in a tortilla and enjoy it as a vegan burrito.
Do you notice that I put peas in it? This seems completely against the grain, I know. But, it really adds to the flavor of the rice and I wanted to try something other than corn in this recipe. This is the second time I have used peas in rice. My coconut rice recipe is tastier because of the peas.
Corn is the safe choice, so, if you are not a fan of peas, then, definitely substitute it for peas. But, I ask you to try it once and see how good they taste. Use baby sweet peas for best results.
So, how will you eat this Mexican fried rice?
Mexican Fried Rice
Simple Mexican fried rice made with colorful peppers and Mexican seasoning
Ingredients
For the Rice
2½

Tbsp

Corn Oil

1½

Tbsp

Garlic

Shredded

1

tsp

Cumin Seeds

Optional

¼

cup

Red Onions

Finely diced

6

pieces

Mini Sweet Peppers

Use a variety of colors

⅔

cup

Black Beans

From can, drained

⅔

cup

White Beans

From can, drained

2

cups

Basmati Rice

Uncooked

2½

tsp

Salt

Adjust to taste

1

Jalapeno

Finely chopped, Optional

3

Tbsp

Taco Seasoning

Or Fajita Seasoning

5

cups

Water

Set about ½ cup aside

1

cup

Baby sweet peas

Do not thaw, if using frozen

½

cup

Green Enchilada Sauce

Optional

1

Tbsp

Lime Juice
For The Garinish
¼

cup

Baby Sweet Peas

Thawed and drained

3

Tbsp

Red Onions

Finely diced

Cilantro

Finely chopped
Instructions
Heat a heavy bottom pan for 30 seconds on medium heat and then add the oil

Add the cumin seeds and garlic

After 30 seconds, add the onions and mini sweet peppers

Saute for about 4 minutes on medium heat making sure it doesn't burn

Add the black beans and white beans

Saute for 2 minutes then add the rice

Stir fry the rice for about 2 minutes, stirring constantly

Add the jalapeno, taco seasoning and salt

Add the water, but, save about ½ cup

Cover it and let it cook on medium heat for 10 minutes

Uncover, add the peas and green enchilada sauce

Cover again and cook for another 10-12 minutes, stirring frequently

If it feels too dry, add the ½ cup of water

When done, mix in the lime juice

Mix the garnish ingredients and top it on the rice

Serve immediately
Notes
The amount of water will depend on the type of rice you use. This recipe uses basmati rice.