A simple escargot recipe that vegetarians & vegans can appreciate. Made with mushrooms, avocado, soft tofu and parsley. Vegan stuffed mushrooms recipe is the perfect party food
Escargot Recipe – This post is sponsored by REVOL. All opinions expressed here are my own.
Ok, so, I know that there is no such thing as "vegan escargot" or "vegetarian escargot".
But, that didn't stop me from trying my best to make a recipe that will be close to the real escargot recipe as I can get. This recipe is made with Mushrooms which, I am told, is close to the real thing in texture and "meatiness".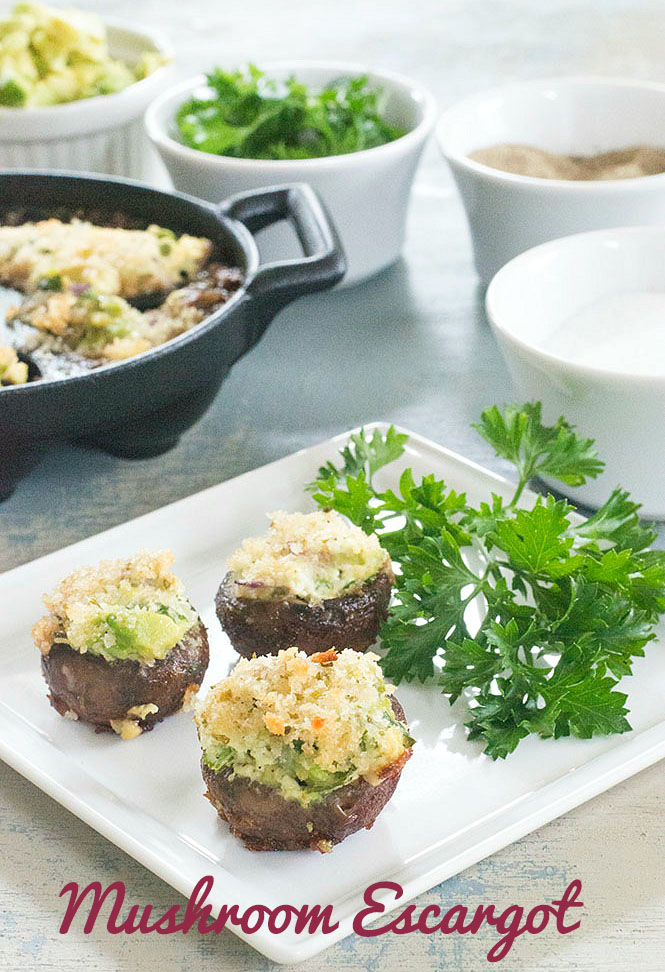 Escargot is seafood and that means vegans can't eat it (Check out my handy guide to what vegans don't eat). However, I can definitely try to bring the recipe as close to escargot as I can get it.
So, when REVOL had Escargot Dish listed on their website, I rose to the challenge of making a vegan escargot.
"How difficult can it really be?", I thought to myself.
As it turned out, the research involved was the hardest part of this recipe. The rest of the process was incredibly fun and delicious.
Having never tasted escargot, I had to completely rely on the description provided to me by my "helpful" friends. Talk about contradicting opinions!!!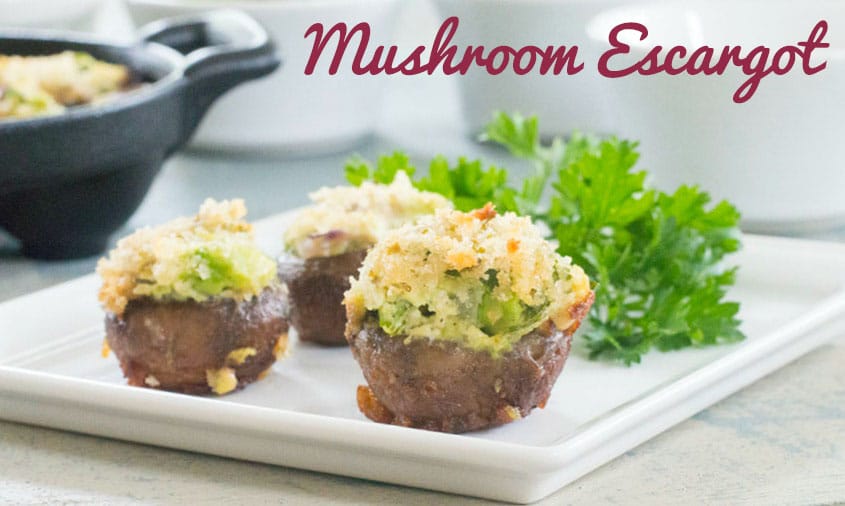 The one thing they all agreed on was that mushrooms would be a great base for the escargot recipe. For the other ingredients, I decided to "wing" it. I tried various ingredients such as red peppers, green peppers, rutabaga, squash, broccoli and other common veggies.
In the end, soft tofu, avocado and onions won the competition. The soft tofu acts as a binding agent, avocado adds texture and onions add flavor to the recipe. Fresh curly parsley added such a wonderful spice and flavor to this recipe. It was the star of the recipe.
What makes this recipe delicately delicious is the escargot dish. I got the smaller sized one because the recipe works with baby bell mushrooms. The escargot dish is finished with a cast iron style glaze allowing it to withstand heat and distribute it evenly throughout the mushrooms. It also makes cleaning it a breeze!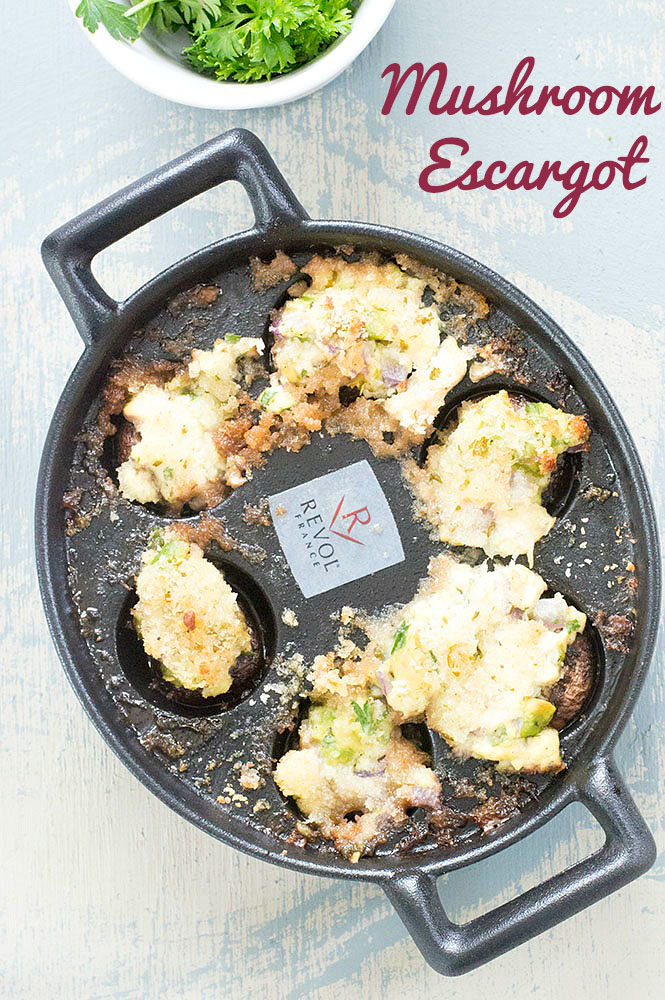 On a side note, here is a video I made of the process. It should come as no surprise to you that, in all my excitement to make a video, I forgot one important ingredient. Please add 1 tsp of freshly squeezed lime juice after adding the black pepper. What do you think of my take on an escargot recipe?
You can see how much I am obsessed with REVOL's Ramekins. They are my new kitchenware obsession.
So, how do you best serve these escargot? Having a small plate that is easy to hold and is also lightweight is important. I found that these small square dinner plates are perfect for the occasion. I think, from this point forth, I am going to be serving appetizers on them.
There are vegetarian ingredients in this recipe. To make the vegan version, I recommend vegan butter sticks and panko bread crumbs. To keep your recipe vegan, you can use the vegan variety of each.
So, how would you describe the taste of the real escargot?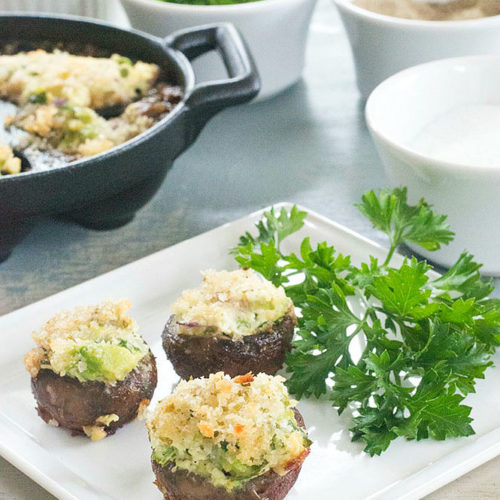 Escargot Recipe For Vegetarians And Vegans
Roasted mushrooms filled with tofu and veggies

Ingredients
1

avocado

chopped

1/4

red onion

finely diced

3

cloves

garlic

finely diced

1/2

cup

curly parsley

chopped

15

button mushrooms

stemed removed

3/4

cup

silken tofu

1

tsp

sea salt

1

tsp

black pepper

1

tsp

lime juice

reshly squeezed

1/8

stick

vegan butter

1/2

cup

Panko crumbs
Instructions
Preheat oven to 450 degrees

Take the Revol Escargot Dish and place the mushrooms in the escargot holes.

Place the mushrooms in the oven and bake them for about 15 minutes


In a small bowl, add the silken tofu

Add the chopped avocado, onions, garlic and parsley into the bowl.

Mix sea salt, black pepper and lime juice to the bowl and set aside

Fill each mushroom with the tofu mixture (about 1 Tbsp per mushroom)

Cut the butter into small pieces and place it on top of the mushrooms


Sprinkle Panko crumbs on each mushroom

Place the escargot dish in the oven

After about 15 minutes, remove them from the oven and allow them to cool

Using a big spoon, gently scoop out each mushroom escargot


Serve immediately