How to make panko bread crumbs from stale bread? Its very quick and easy to make homemade bread crumbs using day old bread that might be going stale.
I love homemade anything!
Its the challenge of making something myself that always inspires me to try.
There is nothing wrong with the store bought version of panko bread crumbs. In fact, I buy them all the time.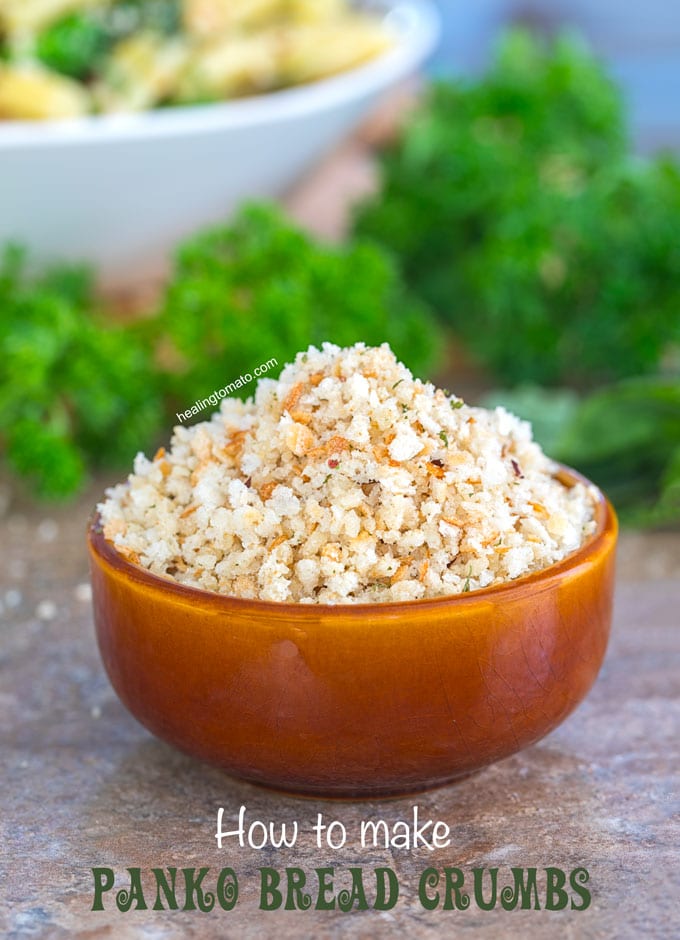 Recipe inspiration
I just had to learn to make it at home because I wanted to know if I could.
I bought Ciabatta rolls for the purposes of making my favorite eggplant Parmesan sandwich. Its one of my favorite sandwich recipes and I wanted to see if I could make a vegan version of the sandwich.
My good intentions of making this sandwich were no match for the craziness happening in my life. Things were so hectic after I bought the bread that I had to put the sandwich experiment on the back burner!
This time, I had bread that was going stale and I decided to turn it into bread crumbs
Looks like the stuff you buy from the store, doesn't it?
A few days later, the ciabatta was looking at me sadly because it was going stale!
Parts of the bread were hard and the other parts were on their way to being hard as a rock.
Goodbye eggplant sandwich, hello panko breadcrumbs!
Common questions
What's the difference between Panko bread crumbs and breadcrumbs?
Regular breadcrumbs are finely ground whereas Panko is roughly ground. The panko crumbs are flakier and is almost always made with white bread. Regular breadcrumbs can be made from any type of bread.
Panko bread crumbs have been used in mostly Asian cooking. However, many western chefs have started using it in their daily cooking because it adds so much texture to a recipe.
Can the crumbs go bad?
The store bought versions can last a very long time, as long as you don't expose them to air. I keep them in their container which is tightly sealed. For the bread crumbs I make at home, I try to use them up in a week or two. Since they are fresh and have no preservatives, they tend to have a shorter shelf life.
Can you refrigerate them?
Yes! When I make them at home, I always transfer them in air tight containers and refrigerate. This way, they remain fresh and last up to 6 months. You can do the same with regular bread crumbs.
What's the best bread to use to make bread crumbs?
White bread is always used to make panko bread crumbs. I used ciabatta bread to make it, but, you can also use Italian or french bread. The key is to make sure the bread is stale so that it grinds up easily. Sadly, fresh bread doesn't grind into powder texture.
For regular breadcrumbs, you can use any bread you have lying around. I find that whole wheat bread makes for really finely textured bread crumbs.
Are the crumbs vegan?
Well, it comes down to the type of bread you use. Most white breads are vegan, so, you should be ok. I have seen some vegan ciabatta bread where eggs are not used, so, you can make it that way. I saw a quick vegan ciabatta recipe by holycowvegan.com that looks delicious!
How to store panko breadcrumbs?
Refrigerating them is the best way to store them. This will make sure that they last a very long time. If you store them in the pantry, they will be good for about a month. After that, you might get a stale aroma from them.
Making it without a food processor
Can you make bread crumbs without a food processor?
Yes!! Isn't that good news? I find that I have become to reliant on the food processor, so, I try to find other ways to grind stuff.
Take stale bread and place it in a ziplock bag. Then, using a rolling pin or even a tenderizer, grind it to panko texture. You might not get a fine texture like with a food processor, but, you will come really close to it.
If the bread is tough enough, you can also use a mortar and pestle, just like I made my pumpkin spice seasoning
What kind of seasoning can I add to it
Dried spices like Italian, oregano, lemon pepper, basil and dill
How to make bread stale quickly?
Preheat oven to 350°F
Place regular bread in the oven for about 5 minutes or until its hard. Make sure its not browned
Remove from the oven and let it cool to touch before using it.
If you don't have bread on hand and want to make panko, you can use melba toast or saltines or even biscotti.
What can you make with it?
So, Make your own breadcrumbs today and put your own seasoning in it. Then, make a delicious recipe using these panko breadcrumbs and send me the pics!
What do you plan to make with these breadcrumbs?
These bread recipes will make all you bread lovers very happy – Ribollita, cheesy garlic bread, simple bread salad and Easy tomato sandwich.
Homemade Panko Bread Crumbs
Stale Bread turned into Panko bread crumbs

Ingredients
1

roll

Ciabatta

Stale or about 2 days old

1

tsp

Crushed Red Pepper

1

tsp

Parsley

Dried

1

Tbsp

Oregano

Dried

1

tsp

Basil

Dried

½

tsp

Salt

Optional
Instructions
Place the ciabatta roll in a processor


Add dried parsley, oregano, basil and salt


Grind everything to Panko texture


Use it immediately or store in the refrigerator

Notes
If your bread is not stale or stale enough, preheat oven to 360°. Place the bread in it and roast until its hard but not browned. Remove and cool it before grinding.
If you have time to "stale" your bread, leave the bread outside for about 2 days. Make sure its not moldy when you turn it into bread crumbs