How to make panko bread crumbs from stale bread? It's very quick and easy to make homemade bread crumbs using old bread or any kind of bread that might be going stale.
I love homemade anything!
It's the challenge of making something myself that always inspires me to try.
There is nothing wrong with the store-bought version of panko bread crumbs. But, there is something so special about making it home.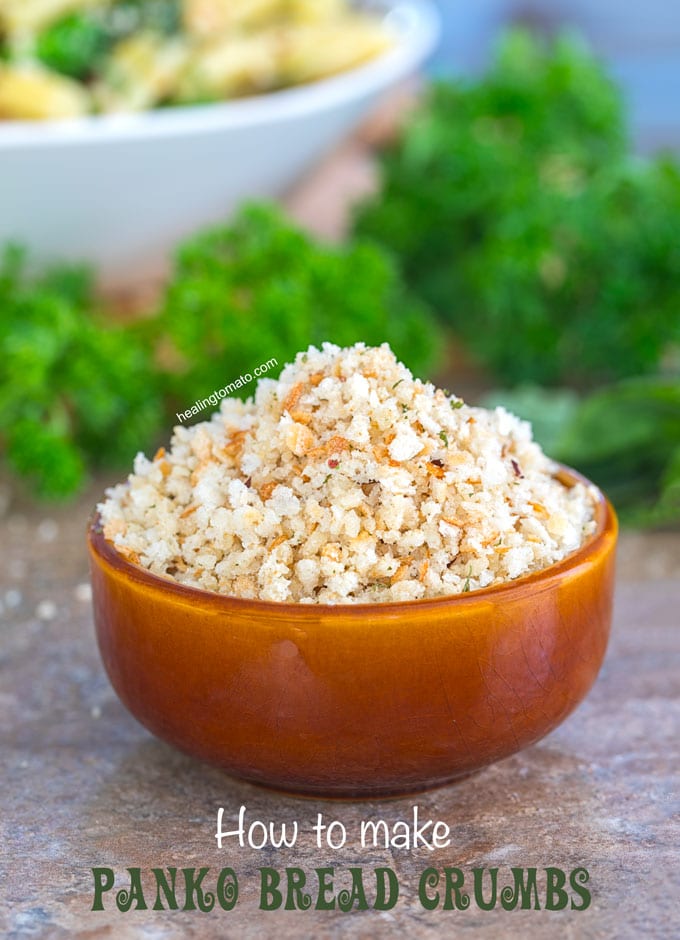 Ingredient List
Ciabatta Stale or any vegan stale bread.
Crushed Red Pepper or black pepper.
Dried herbs like parsley, oregano, and basil.
Nutritional yeast.
Optional -> Onion powder, garlic powder, salt, and dried lemon balm would be a great addition to it.
As you can see, it's made with pantry staple ingredients.
Common questions
What's the difference between Panko bread crumbs and normal breadcrumbs?
Regular breadcrumbs are finely ground whereas Panko are roughly ground. The panko crumbs are flakier and are almost always made with crustless white bread. Regular breadcrumbs can be made from any type of bread.
Can the crumbs go bad?
The grocery store breadcrumbs can last a very long time, as long as you don't expose them to air. I keep them in their container which is tightly sealed. For the bread crumbs I make at home, I try to use them up in a week or two. Since they are fresh and have no preservatives, they tend to have a shorter shelf life.
Can breadcrumbs be eaten on a vegan diet?
Well, it comes down to the type of bread you use. Most white breads are vegan because they are free of animal products. They are made with just 3 ingredients: wheat flour, water, and yeast. I have seen some vegan ciabatta bread where dairy products are used, but it will always say it on the label.
What's the difference between Japanese-style breadcrumbs and standard breadcrumbs?
Japanese-style panko has larger pieces, compared to regular breadcrumbs. Panko is a Japanese word that means "Bread" and "Flour" or "Powder". It's used extensively in Japanese cuisine, especially for coating fish. Authentic Japanese panko is normally made with non-gmo products.
What kind of bread can be turned into vegan breadcrumb?
Crustless white bread like ciabatta is always used to make panko bread crumbs. I used ciabatta bread to make my breadcrumbs.
Italian bread is also a good bread to use in it. I like to add Italian seasoning to it.
French bread or sourdough bread.
To make Gluten-free panko breadcrumbs, use a gluten-free bread preferably one that has xanthan gum.
If you want to understand more about vegan products and vegan alternatives, I have a huge guide on what vegans eat and not eat.
Storing panko breadcrumbs
Make them and then transfer the breadcrumbs into an airtight container.
Refrigerate it immediately. This way, they remain fresh and last up to 6 months.
If you keep vegan bread crumbs outside, store them in a cool, dark place and use them up within a month.
What kind of seasoning can I add to it
Dried spices like Italian, oregano, lemon pepper, basil and dill
If you don't have a (Affiliate Link) food processor, you can use a (Affiliate Link) mortar and pestle or a even meat tenderizer!
How to make fresh bread stale quickly?
Preheat oven to 350°F.
Place the bread on a baking sheet and place it in the oven for about 5 minutes or until it's hard. When the top is golden brown, it's ready.
Remove from the oven and let it cool to the touch before using it.
If you don't have bread on hand and want to make panko, you can use melba toast, saltines, or even biscotti.
How to use vegan panko bread crumbs?
So, Make your own breadcrumbs today and put your own seasoning in it. Then, make a delicious recipe using these panko breadcrumbs and send me the pics!
What do you plan to make with these breadcrumbs?
Sharing is caring
Don't be shy, chime in below in the comments (under the recipe card). Let me hear your opinion on this vegan panko bread crumbs recipe. If you enjoyed this, please give it a star rating and share it on Facebook, Pinterest, Twitter, and Instagram.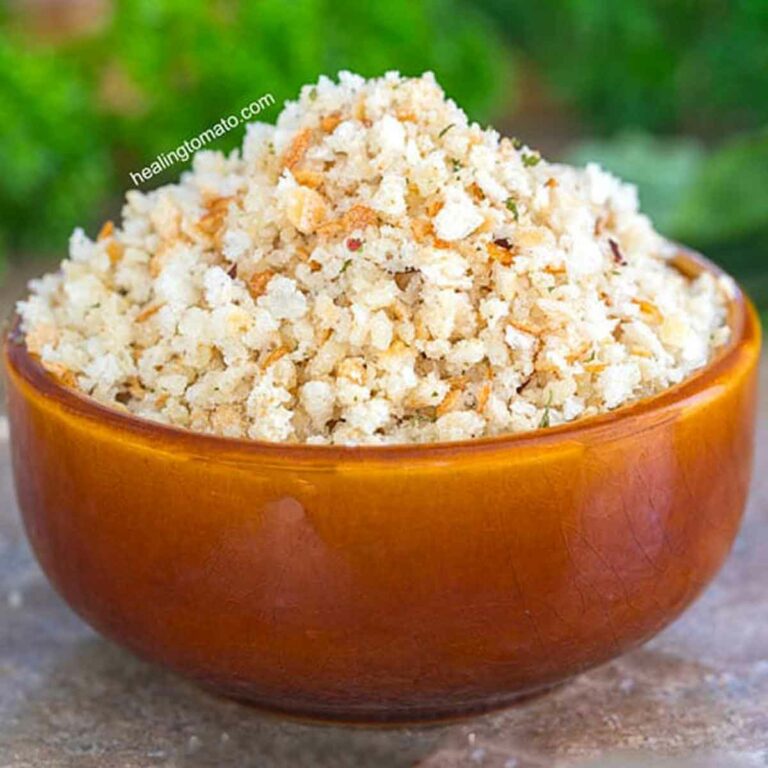 Homemade Panko Bread Crumbs
Stale Bread turned into Panko bread crumbs

Instructions
Place the ciabatta roll in a processor.

Add dried parsley, oregano, basil, nutritional yeast, and pink salt.

1 tsp crushed red pepper flakes,

1 tsp parsley,

1 Tbsp oregano,

1 tsp basil,

½ tsp pink salt,

½ tsp nutritional yeast

Grind everything to Panko texture.

Use it immediately or store in the refrigerator.
Notes
** Nutritional Info is Approximate.
If your bread is not stale or stale enough, preheat the oven to 360°. Place the bread in it and roast until it's hard but not browned. Remove and cool it before grinding.
If you have time to "stale" your bread, leave the bread outside for about 2 days. Make sure it's not moldy when you turn it into bread crumbs
Nutrition
These bread recipes will make all you bread lovers very happy – Ribollita, cheesy garlic bread, simple bread salad and Easy tomato sandwich.