Summer Farro Salad made with baby kale and chick peas. This vegan farro salad is a light, healthy salad with a simple dijon mustard dressing. Fall in love again with kale and farro!
Disclosure: This post was originally made for the SoFabFood Site (January 8, 2017). All opinions are mine
I have eaten a donut for a lunch! And regretted it later!
So, when the guilt gets too big, I will focus on eating a healthy lunch. I like lunch that is really easy to prepare and tastes delicious.
If it tastes gross, no one wants to eat a salad, right?
So, I decided to try a hearty salad recipe that includes farro.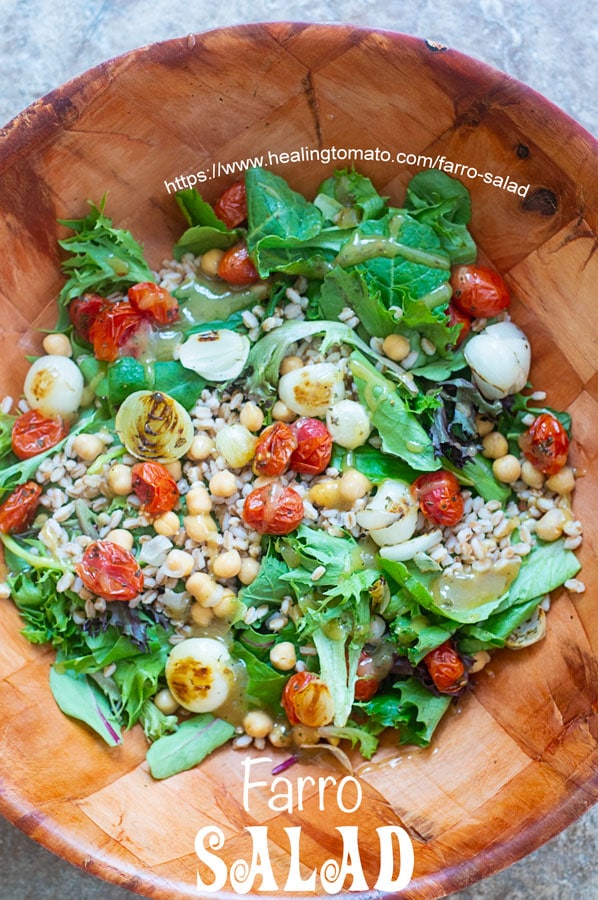 Tips for making this salad
– If possible, make the dressing the night before and let it marinate overnight
– If you can, grill the onions with the cut side down so that you get those beautiful char marks
– Strain the farro in a nylon strainer and then keep it in the nylon strainer until you are ready to put it into the salad. It will make sure that all the water has been drained
– You can roast the cherry tomatoes separately, if you want. Refrigerate what you don't use because they will be great in any recipe. They also work great as a snack. Check out my oven-roasted cherry tomatoes recipe.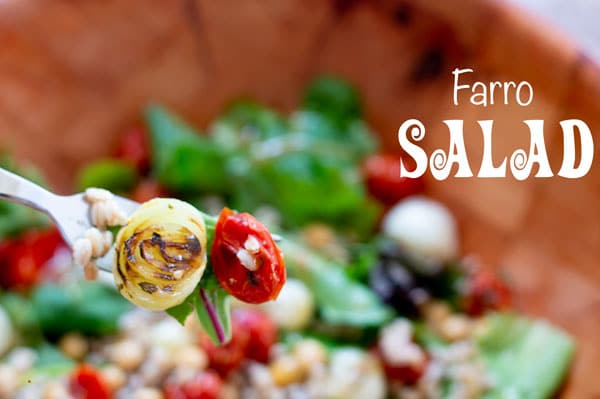 What is farro?
Farro is part of the whole wheat family and an ancient grain. Its grown in fields, just like rice and barley. They are harvested and husked before they turn into edible grain.
The name Farro is derived from Italian latin and is a collective name of 3 types of grains:
1) Spelt
2) Emmer
3) Einkorn
Spelt is the most common type and that's what is most used in cooking.
How to cook farro
Farro is one of the easiest grains to cook. Just like amaranth, add it into hot water and let it cook. It will cook really quickly, so, you can add it to salads, soups, or even desserts.
1. On a stove, use a stainless steel pan. Add 4 cups of water
2. Bring it to a boil
3. Add one cup of (affiliate link) dry farro.
4. Stir it and let it cook for about 15-20 minutes
5. Strain all the excess liquid
6. Its ready to put into salads, soups or main course meals
Farro Salad
This is a light lunch salad made with baby kale, baby lettuce, farro, and chickpeas. The dressing is a simple maple syrup vinaigrette that takes only 5 min.
Ingredients
For the salad:
5

oz

mixed baby kale

baby lettuce, and baby spinach

5

pearl onions

1/4

cup

cherry tomatoes

1/2

cup

Farro

1/2

cup

chickpeas

From a can, drained and washed

1

tsp

olive oil

1/2

tsp

dried oregano

1/4

tsp

salt

for the onions

1/4

tsp

salt

for cooking the farro
Instructions
Preheat oven to 350ºF.

On the stove top, boil about 2 cups of water.

Add the farro and salt to the boiling water


Cook until the farro are tender (about 7 minutes)

Remove from heat and drain the excess water. Set aside


While the farro is cooling, peel and half the pearl onions

In a bowl, mix pearl onions, tomatoes, olive oil, dried oregano, and salt.

Spread out the onions and tomatoes mixture on a baking tray

Roast them in the oven for 10 minutes or until the tomatoes begin to wrinkle.

Remove from the oven and set aside to cool.

In a salad bowl, add the greens, farro, and chickpeas.

Add the roasted tomatoes and onions to the salad.

Whisk the ingredients of the dressing and pour over the salad.

Serve immediately.
Notes
Dressing tip: Add the dressing right before serving. If taking to work, keep the dressing in a separate container until ready to eat.
Nutrition
Calories:
1035
kcal
Carbohydrates:
157
g
Protein:
26
g
Fat:
38
g
Saturated Fat:
3
g
Sodium:
2053
mg
Potassium:
1604
mg
Fiber:
25
g
Sugar:
36
g
Vitamin A:
14340
IU
Vitamin C:
192.2
mg
Calcium:
360
mg
Iron:
7.9
mg