Pizza Dough Recipe that is Gluten Free and Vegan – Pizza dough recipe that is both vegan and gluten free. Made with simple ingredients and includes Kashi GOLEAN protein powder. Vegan and Gluten Free pizza
This post was originally sponsored by Kashi and collective bias All opinions are mine alone.
A priest, a rabbi and an Italian hippie enter a juice bar. The bartender asks each how they like their protein powder.
"In a milkshake", said the priest
"In a smoothie", the rabbi responded
"I like mine in a pizza dough that is Gluten Free and Vegan!" said the Italian hippie.
As the Italian hippie requested, the pizza dough has protein powder mixed in with other amazing ingredients. It is both gluten free and vegan, plus it only takes a few quick ingredients to make.
This joke inspired me to make a pizza dough recipe using protein powder. It makes me wonder if I should be hanging out with more Italian hippies, because they have given my creative side quite a workout. What else would they inspire me to make? A vegan tiramisu, perhaps? Protein powder is consumed by the buckets in my home because of a vegetarian / vegan diet. It is always fun to come up with different ways to eat it and there is never a dull recipe.
This recipe uses Kashi® GOLEAN™ Plant Powered Shakes. It is part of their new line of protein powder that uses clean ingredients and adds from many different protein sources like beets and legumes. I went with a product from their Kashi GOLEAN line, but, they also have a Kashi Organic line. Frankly, I cannot wait to try them all.
Don't worry, the priest and the rabbi will also be happy with their orders. The beauty of this GOLEAN powder is that it is so versatile. It feels right at home in any recipe you can think to put it into. If I were the bartender, I would make a delicious peanut butter chocolate milkshake for the priest and a strawberry kiwi smoothie for the the rabbi.
I just love how the back side of this pizza looks so much like other pizza. This recipe just makes me very happy. It is so simple to make and requires minimum effort.
How do you like your protein powder?
Gluten Free, Vegan Pizza Dough Recipe
1) In a small bowl, add 1 Tbsp of Flax seed meal and 3 Tbsp of water. Mix well and set side
2) In a big bowl, add 2 Tbsp of Kashi GOLEAN protein power shake
3) Add 2 cups of gluten free flour (Use Gluten-free flour that has Xantham gum mixed in)
4) Add 2 tsp of salt, 1 tsp of freshly ground black pepper, 2 tsp of garlic powder and 2 tsp of dried oregano. Oregano is optional, but, I loved it.
5) In a small bowl, add 2 ¾ cup of almond milk and 3 tsp of agave. Heat in the microwave for 45 seconds
6) Make a well in the bowl of dry ingredients and add the flax meal + water combination in the middle. Don't mix it just yet
7) Remove the milk from the microwave and make sure that it is not too hot. It should be warm to the touch (about 110° F)
8) Add 2 ¼ tsp of active dry yeast to the mix. Add 1/4 tsp of sugar (sugar activates the yeast) and mix. Set aside for 1 minute and you will see it start to froth
9) Add yeast mixture to flour mixture slowly with one hand while mixing with the other hand. I prefer mixing with my hands, but, you can use a blender if you prefer
10) Mix until all the ingredients are come together into a dough. If it feels dry, do not add more than 2 tsp of almond milk
11) Make a smooth big ball out of it and coat evenly with about 2 tsp of olive oil. Place back into the bowl and cover with plastic wrap
12) Set aside for 30 minutes. When you see the dough rising, gently punch it and make a ball out of it again
13) After about 15 minutes of setting the dough aside, set the oven to 450 degrees
14) Spray a baking tray lightly with cooking oil and set aside
15) Remove the pizza dough from the bowl and place it on the baking tray. Using your fingers, gently roll the dough into a pizza crust. For me, a rectangular shaped pizza is better, but, you can shape them into pie shapes.
16) Spread it out evenly and make sure that there are no air bubbles. I made both a thin crust and thick crust with this pizza. For me, the thick crust was better.
17) Baste the top with a light layer of oil and place in the oven for about 8 minutes or until it starts to brown slightly
18) Remove from the oven and spread with pizza sauce. Use toppings like sun-dried tomatoes, onions, red peppers and even pineapple!
19) Put it back into the oven and bake for about 5-7 minutes
Serve immediately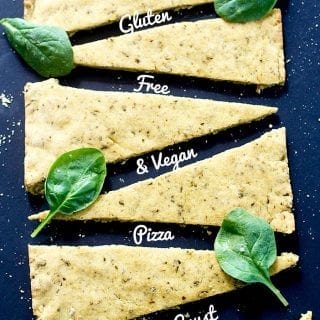 Pizza Dough Recipe (GF, Vegan)
Vegan, Gluten Free Pizza Dough recipe

Ingredients
1

Tbsp

Flax seed meal

3

Tbsp

water

2

Tbsp

Kashi GOLEAN protein power shake

2

cups

gluten free flour

(Use Gluten-free flour that has Xantham gum mixed in)

2

tsp

salt

1

tsp

black pepper

2

tsp

garlic powder

2

tsp

dried oregano

2 ¾

cup

almond milk

3

tsp

agave

2 ¼

tsp

active dry yeast

1

tsp

sugar

2

tsp

olive oil

Cooking spray

1

tsp

extra virgin olive oil

for basting
Instructions
In a small bowl, mix Flax seed meal and water. Set aside


In a big bowl, add the Kashi GOLEAN protein power shake

Add gluten free flour


Add salt, black pepper, garlic powder and oregano. Set asiade


Heat almond milk and agave in the microwave for 30 seconds


Make a well in the bowl of dry ingredients and add flax meal + water combination (Do not mix)


Remove the milk from the microwave and add active dry yeast and sugar


Set aside for 2 minutes or until you start to see it froth


Add yeast mixture to the flour mixture slowly with one hand while mixing with the other


Mix until all the ingredients are come together into a dough

If it feels dry, add about 1 Tbsp of almond milk


Make a smooth big ball out of it and coat evenly with about 2 tsp of olive oil.


Place back into the bowl and cover with plastic wrap


Let it rise for 30 minutes and then punch it.


Preheat oven to 450°


Set aside for 15 minutes


Spray a baking tray lightly with cooking oil and set aside

Remove the dough from the bowl and roll it out on a baking tray


Baste the top with a light layer of oil


Place in the oven for about 8 minutes or until it starts to brown slightly

Remove from the oven and spread with pizza sauce and toppings


Put it back into the oven and bake for about 5-7 minutes

Serve immediately
Notes
Nutrition value is approximate