This savory stuffed persimmon recipe is the perfect side dish or quick lunch recipe. The persimmons are stuffed with lentils and cranberries. I love Roasted persimmons because they have a delicate and smoky flavor.
This is only the second time in my life that I have tried Persimmons!
Its embarrassing to admit, but, I never saw them as a recipe making ingredient! The first time I tried was circa 2006 and didn't have a chance to try it again
Until now, when I figured I should give them a second chance
Difference between Fuyu persimmon and Hachiya persimmons
Fuyu Persimmons are sweet and soft
Hachiya Persimmons are longer and slightly bitter in taste
Fuyu is used for dessert types of recipes
Most chefs like using Hachiya in jam recipes or even bread recipes. I have tasted a hachiya foccacia before and it was so goooood! I haven't be able to recplicate it. However, I have perfected the strawberry foccacia.
In the US, only these two types of persimmons are sold. Other varieties include chocolate persimmon, Sharon fruit and Tanenashi.
In this recipe, I use the Fuyu Persimmon which are sweet and soft. They are sturdy enough especially for a savory recipe.
Their slight sweetness makes them the perfect companion to lentils and ginger. Both these ingredients are used heavily in this recipe.
How to pick a Fuyu Persimmon
So, how do I pick Fuyu persimmons? I have found that their skin color is the best way to tell the juicy from the un-ripe.
– The darker orange hue means that they are the peak sweetness level and ready to eat.
– They also are soft to the touch.
– A lighter orange color just means that they need time to ripen.
If you have a bunch of light orange persimmons, the fastest way to ripen them is to put them into a brown bag and place them in the dry, dark corner. They should ripen in a day or two.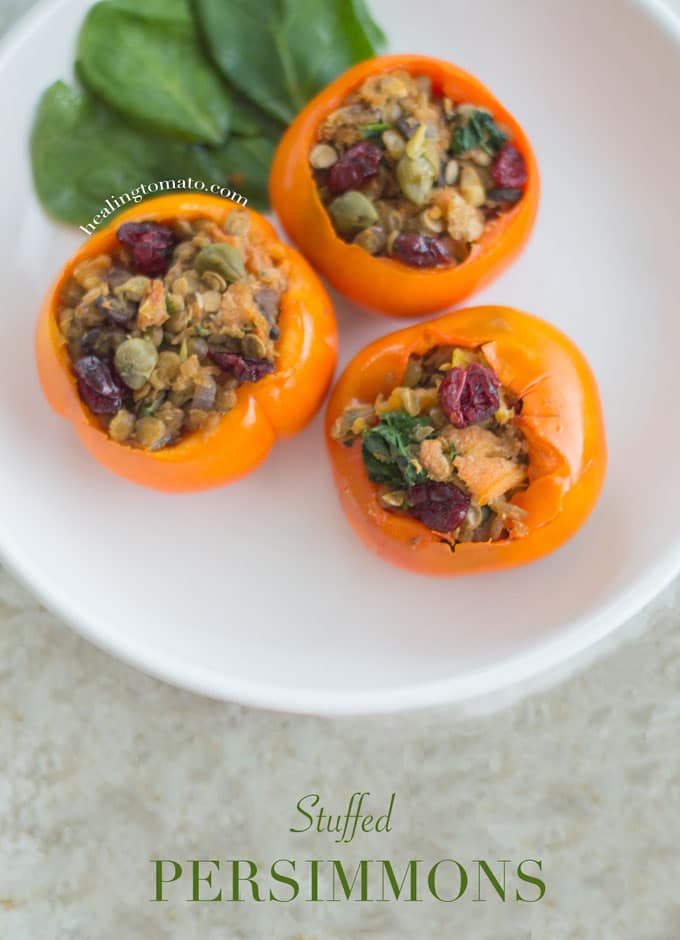 Can you eat the persimmon's skin?
Yes, Persimmon skin is edible and contains important nutrients
Their skin is edible, but, I see most people peel it. Personally, I loved keeping the skin on, especially when roasting them. They cook more evening and they hold their shape when stuffed.
If you want to peel the skin, potato peeler does an amazing job. You can put the skin into your rose garden or compost them.
The skin also makes for a good vegetarian broth. The broth will end up being slightly sweet making it perfect for creamy soups
Also known as Japan persimmons
I had no idea that Fuyu persimmons were known as Japan Persimmons, even though they originated in China. They are becoming really popular now because of all the creative recipes popping up online.
Martha Stewart has a collection of recipes that use it.
I want to try it in a salad recipe next time. They have little fat and have a huge amount of Vitamin A and C. I also stuffed persimmons with a mix of red lentils and regular lentils, mostly because I didn't have enough regular lentils to stuff 4 persimmons.
You can choose only the lentils or both in this stuffed persimmons.
The ginger is a nice offset to the sweetness of the persimmons. It added a nice spice level to the whole recipe.
Sweet potatoes are a huge part of this recipe. You can use regular sweet potatoes or even Stokes purple sweet potatoes
What's your favorite way to eat persimmons?
If you like stuffed recipes, try my stuffed shells recipe. Its beyond delicious.
P/S: You can also stuff lentils into poblanos or make a quick lunch by cooking them in the Instant Pot
Related: Have you tried my broccoli veggie dippers with lentils?
Savory Stuffed Persimmons
Roasted Fuyu Persimmons stuffed with Lentils, Walnuts, Spinach, Cranberries and Ginger

Ingredients
5

Fuyu Persimmons

1

Tbsp

Extra Virgin Olive Oil

or Coconut Oil

1

Tbsp

Ginger

Shredded

1

tsp

Garlic

Shredded

¼

cup

Red onions

Finely chopped

¼

cup

Baby Mushrooms

Thinly sliced

1.5

cup

Lentils

Cooked

¼

cup

Baby Spinach

Chopped

¼

cup

Coconut Water

Optional

2

Tbsp

Peperoncini

Finely Chopped

1

Tbsp

Nutritional Yeast

Optional

¼

cup

Walnuts

Roughly Chopped

2

Tbsp

Cranberries

Dried

¼

tsp

Salt

Optional

1

tsp

Red Pepper Flakes

2

tsp

Capers

½

tsp

Lime Juice

Freshly Squeezed

Cooking Spray
Instructions
Preheat oven to 400° F.


Cut the tops of the Persimmons and scoop out the inside using a melon baller. Save the insides.


Take a baking dish and oil it using cooking spray. Spray the persimmon inside and outside and place them in the oven


Roast them for 7 minutes and then remove the baking dish. Set them aside to cool


Heat a medium pan on medium for 30 seconds before adding the oil


Add the onions and cook for 30 Seconds


Add the garlic and ginger


Add the mushrooms and cook for 7 minutes or until they soften


Add the persimmon pulp and coconut water. Cook for 5 minutes on low heat


Add the Spinach and let them shrink to half their size


Add all the remaining ingredients and mix well


Fill up the roasted persimmons with the lentil mixture. You will have some mixture left over


Transfer the Persimmons into the oven again and roast for about 7-10 minutes


Remove and let them cool to touch


Serve immediately

Notes
Nutrition info is approximate