Jackfruit Chowder with Corn vegan take on seafood corn chowder. Its hearty, warming and delicious. There is a nice spice kick to it.
I, FINALLY, have a jackfruit recipe on my blog!
Yay!
I am so excited for it, mainly because it turned out so much better than I imagined. I have been slow to warm up to jackfruit, but, I truly embrace it in this recipe.
What is jackfruit?
– Jackfruit is a fruit grown in hot climates and its perfect for cooking in vegan + vegetarian cooking!
– The jackfruit is a HUGE, green, slightly prickly fruit that weighs about 5-6 pounds on average
– The first time I tasted a fresh jackfruit, it tasted a little like mango but on the bitter side. I have to admit that I didn't like it at all. Its one of those fruits that I filed under "acquired taste"
– Jackfruit is popular among vegans (and vegetarians) because it has a meaty texture. Many vegan recipe use it as a vegan substitute because it imitates the texture of crab meat, tuna and even chicken.
– Its time consuming to cut the jackfruit and extract the edible fleshy parts of it. That's why, most vegans prefer buying the canned or frozen version
– Jackfruit is very sticky when you cut into it. The tip is to wet your knife to make sure that you can cut into it with relative ease
– It takes a jackfruit tree about 3-4 years after being planted to yield the fruit. Jackfruit trees themselves can be around for a century. (Source: Gardening Know How – Jackfruit Tree Info: Tips For Growing Jackfruit Trees)
– The Indian state of Kerala is the world's largest producer of jackfruit. Its set to be the Kerala's State fruit because its the best selling product of that country. (Source: Economic Times of India)
– Jackfruit tree is also valued for its timber. Many Hindu priests' seats are made from its timber. (Source: Wikipedia)
How to cook jackfruit from a can
– I used the Arroyo Brand of canned jackfruit that is cut into triangle shapes
– Open the jackfruit can and dump the ingredients into a colander
– Place under a tap and cold pour water on the jackfruit using low pressure
– Set aside for a few minutes to drain out any excess water
– Take one piece of the triangle shape and locate the cone.
– The cone part is the toughest part of the fruit, making it inedible
– Cut the cone off and discard it
– Using your fingers, gently apply pressure on the bottom part of the cone and it should fall apart. You will get
– Do the same for the remaining pieces of the jackfruit from a can. You should get a little more than a cup worth of pulled apart jackfruit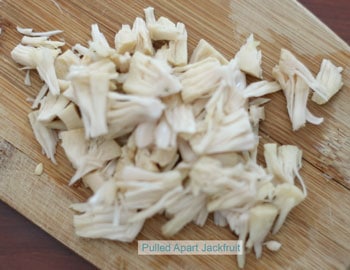 – Using a paper towel, dab the pulled apart jackfruit to remain any excess moisture
– Its now ready to be put into the jackfruit chowder recipe or be frozen. To freeze, wrap this pulled apart jackfruit in paper towel and place the paper towel in a ziplock bag. Write the date and freeze.
Where to buy it?
1) Walmart – You can order it from their site and have it shipped to your local location. They don't carry it in their stores, but, its easily available to order online. You can also have it shipped to your home with a S&H charge
2) Your Local Asian Grocery Store – Many of the Asian grocery stores carry both the canned version and the fresh version. They are usually cheaper than any online cans you purchase. If you find yourself in the Orlando / Kissimmee area, go to (NOT an affiliate link) Jason's Best Asian Market. They carry so many wonderful Asian items, including jackfruit
3) Patel Brothers or Other Indian Grocery stores – If you have a (NOT an affiliate link) Patel Brothers near you, they are huge carriers of jackfruit cans and fresh jackfruit too. They will always have one or the other in their stores. Its my favorite and most convenient place to get jackfruit. Almost all Indian grocery stores I have been to have carried the canned version, so, you should be able to find it there.
4) Amazon – Amazon is the (affiliate link) easiest place to get jackfruit in a can. Please note that its the more expensive than the other locations mentioned in this list.
All these places sell jackfruit in brine, which is the perfect option for cooking. Do not get the one in syrup or in water because they are sweeter, making them harder to flavor.
You can also find frozen jackfruit in many grocery stores. Frozen jackfruit can be used in smoothies and other drink recipes.
P/S: Here are even more recipes for you to use your jackfruit in: vegan barbacoa recipe and jackfruit tacos.
Can you freeze jackfruit?
Yes, you can freeze jackfruit. Its perfect for freezing because its flavorless. This means that it freezes and thaws really quickly.
– Make sure you pull apart the jackfruit before you freeze it. Follow the steps I outlined above and then wrap it in a paper towel.
– Place the paper towel inside a ziplock bag and write the date on it
– Put in the freezer and it should freeze in about an hour. Use this frozen jackfruit within 6 months of freezing
Can you freeze corn chowder?
Yes, you can freeze this jackfruit chowder. However, I prefer you just refrigerate it and place it in the coldest part of your fridge.
Under no circumstances, do I recommend microwaving frozen jackfruit chowder! It will completely ruin the flavors and loose all its flavors
If you have corn left over, try my Mexican Street Corn Recipe made in a Taco Bowl or my Mexican Fried Rice. Corn will never taste boring.
What's your favorite jackfruit recipe?
Jackfruit Chowder
A quick and easy vegan corn chowder made with jackfruit

Ingredients
1

Tbsp

extra virgin olive oil

¼

tsp

cumin

¼

cup

celery

finely diced

½

yellow onion

or white onion

2

cloves

garlic

grated

2

tsp

ginger

grated

1½

cup

Jackfruit

see notes

2

tsp

salt

split into 2 equal parts

1

tsp

oregano

1

tsp

parsley

4

Thai chili

adjust to your liking

1

cup

sweet corn kernel

Frozen, bird's eye brand

1

cup

water

2

Tbsp

coconut milk

1

tsp

cracked black pepper

1

Tbsp

nutritional yeast

3½

cup

vanilla almond milk

see notes

1½

tsp

lemon juice

cilantro for garnish
For The Roux
4

Tbsp

butter

Use grass-fed Butter

4

Tbsp

all purpose flour
Instructions
Heat a stainless steel pan on medium heat for 30 seconds before adding the oil


Add the oil and cumin seeds


After 30 seconds, add the celery and onions


Cook for about 7 minutes or until the onions are translucent. Don't brown


Add the garlic and ginger. Cook for 30 seconds


Add the jackfruit and cook for about 5 minutes on low heat


Add the frozen corn without thawing first


Cook for about 3 more minutes

Add Thai Chili, Oregano and Parsley


Mix well and cook for about 5 minutes on low heat

To make the Roux
Melt the vegan butter on low heat


Add 1 Tbsp of All Purpose Flour and mix well in the butter


Add 1 more Tbsp and mix well again


Add the remaining flour and mix


Make sure its "blond" color roux


Add the Jackfruit mixture to the roux


Mix well and make sure its not sticking at the bottom


Add the water and mix


Add the cracked pepper, coconut milk and nutritional yeast


Add the almond milk slowly into the pan while mixing


Adjust for taste (I added more peppers, oregano and parsley)


Let the chowder heat for about 6 more minutes on medium heat


Mix in Lime juice


Remove from heat and serve in bread bowl or regular bowl


Garnish with cilantro

Notes
** Nutrition Info is approximate
** This post was modified on December 26, 2022. Removed vegan butter in the recipe card and added grass-fed butter