Casarecce Pasta made with Broccolini Rabe made with a rich herb butter sauce and garlic. Instead of using parmesan cheese, I opted for homemade panko breadcrumbs because its so much more fun to it! Best weeknight recipe ever!
"How do you pronounce casarecce?"
A person shopping in the grocery aisle asked me this question about seven years ago. That was the first time I heard of this pasta and it was love at first sight for me!
"Ca-saa-reh-chi" is how you pronounce it. Its really fun to say it, so, try saying it a few times and see how much you will love saying it.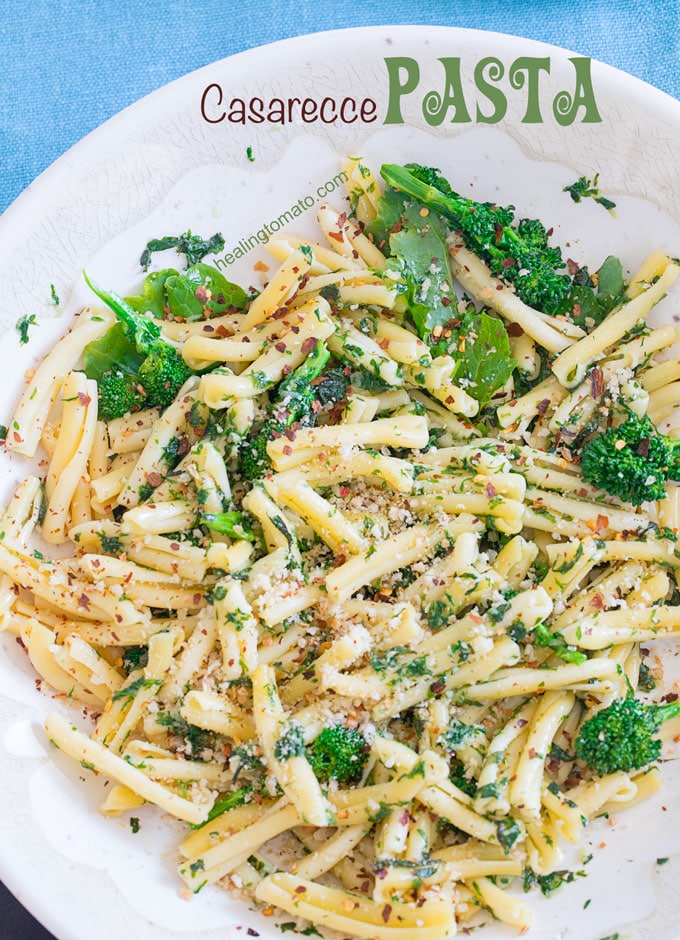 What is casarecce?
Casarecce translates into homemade. I think the word Casa is giveaway, right? Basically, its a loosely folded pasta which makes them very light and fluffly. I found that its better to put them in simple recipes rather than dousing them in heavy sauces like Alfredo sauce or marinara sauce.
This pasta is easily found in the pasta aisle and is often on sale in my local grocery store. But, you can also buy authentic Italian casarecee pasta from (affiliate link) Amazon!
Broccoli vs Broccolini vs Broccolini Rabe (Rapini)
Broccolini rabe is not at all related to any member of the broccoli family.
Shocking, isn't it?
In fact, its part of the turnip and radish family. It has the same strong, spicy taste like a radish. Even the leaves are edible. I have a post coming soon that will show you how to use up these leaves
Broccolini is a hybrid of regular broccoli and Chinese broccoli which is why it is so delicious! This is also why it can be put into so many recipe.
Broccolini, on the other hand, is a slightly sweeter vegetable. There is a pepperminty and sweeter taste to it.
If you like broccoli in your pasta, check out this pasta with broccoli recipe by The Bella Vita.
How to cook broccolini rabe
Unlike the other veggies that share its name, rabe doesn't taste good when eaten raw! Trust me, I tried.
I have found that roasted broccolini rabe is the best way to go. Also, I didn't roast them for more than 5 minutes because I wanted to keep its green color. Quick cooking it also retains its strong flavor and crunchy texture..
You can also blanch broccolini rabe. Add it to boiling water and cook for about 10 minutes. Drain them and blanch them immediately. The ice water during the blanching process will keep its color and flavor last longer
For this recipe, I suggest the quick roasting method because it adds just a hint of smokey flavor to the recipe. Plus, its faster than the blanching process.
The buttery sauce you just can't resist
Have a bunch of herbs that you want to use up before they go bad?
Do what I did in this recipe. I chopped up some of my fresh herbs and added them into this butter sauce. Then, I happily drizzled the herb butter sauce on the casarecce pasta recipe.
It was a very zen experience!!
You can also make combination butter like my garlic basil butter using leftover herbs or this navy beans salad for leftover curly parsley.
Want a tomato pasta without sauce? Then you will love angel hair pomodoro and this spicy spaghetti recipe.
Subbing breadcrumbs with Parmesan cheese
I had also bought ciabatta rolls for my eggplant Parmesan sandwich, but, I didn't get around to making it. As you may have figured out, it was going stale! I had seen somewhere that breadcrumbs are a better substitute for (Affiliate Link) vegan Parmesan.
I figured that it was a great time to test that theory! I toasted the bread quickly and then ground it into panko breadcrumbs.
Let me tell you that its the best substitute for Parmesan! It added a little crunch to recipe while adding some flavoring to the pasta!
What to serve with it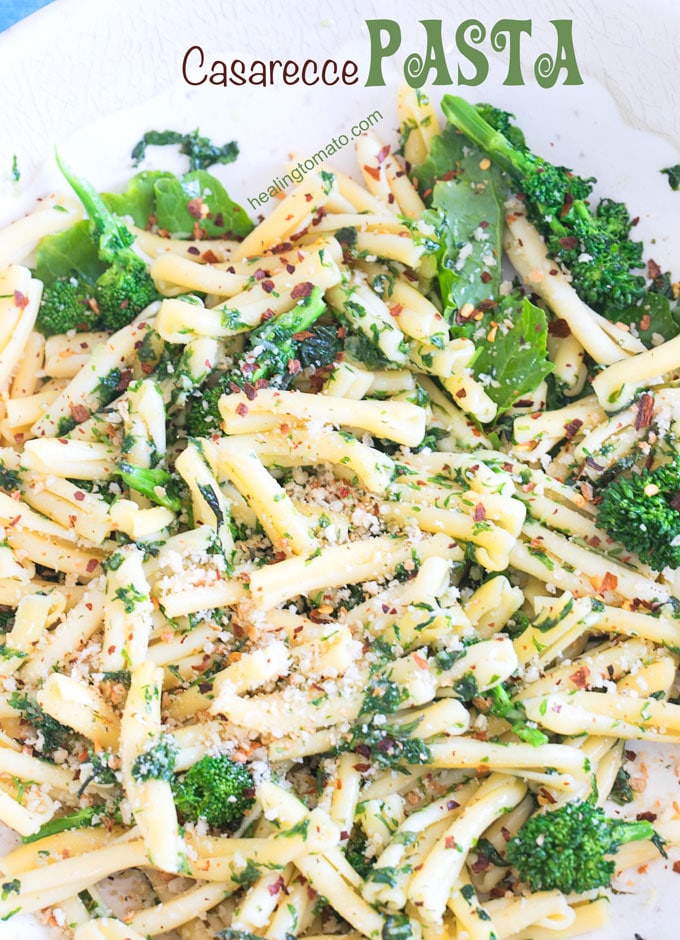 Just like my Pizza sauce recipe and my roasted broccoli, this casarecce pasta has tons of garlic!
If you are looking for more peculiar pasta shape recipes, try my orecchiette pasta or my winter pasta salad.
Sharing is caring
Don't be shy, chime in below in the comments. Let me hear your opinion on this recipe. If you enjoyed this, please give it 5 stars and share it on Facebook, Pinterest, Twitter, Instagram and Youtube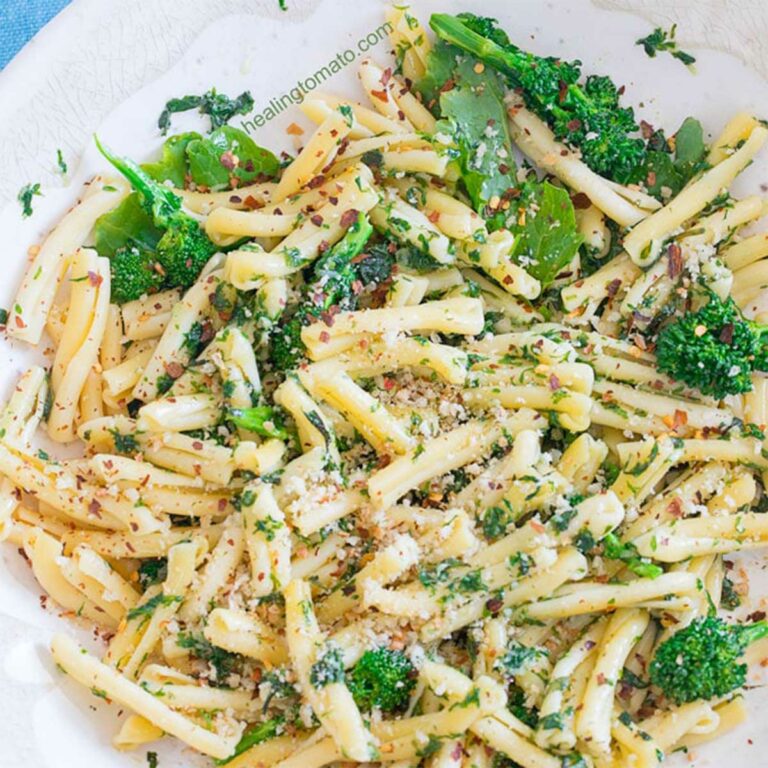 Casarecce Pasta With Broccolini Rabe
Simple casarecce pasta with broccolini rabe in a rich herb butter sauce
Ingredients
2

cups

casarecce

uncooked
For roasting the broccolini rabe
1

cup

broccolini rabe

Save about 3 leaves but remove the rest

1½

tsp

extra virgin olive oil

¼

tsp

salt

optional
For the vegan butter sauce
7

leaves

basil

fresh is better

½

cup

curly parsley

loosely packed, fresh is better

8

leaves

mint

fresh is better

1½

tsp

salt

½

tsp

black pepper

optional

1

tsp

water

2

Tbsp

butter

I prefer grass fed butter.

1½

Tbsp

garlic

finely shredded

¼

cup

extra virgin olive oil

1½

tsp

lemon juice
For Garnish
3

Tbsp

panko bread crumbs

Homemade

¼

tsp

red pepper flakes

optional
Instructions
Cook the pasta according to instructions and make sure its tender

To roast the broccolini rabe
Preheat oven to 350°


Mix oil, salt and broccolini rabe in a bowl


Spread it out on a baking tray and bake for no more than 5 minutes

To make the butter sauce
In a food processor, blend the fresh herbs, water, salt and pepper


On the stove top, heat a heavy bottom pan for 30 seconds


Add the butter and oil


When it melts, add the garlic and roast for about 30 seconds on low heat


Add the blended herbs


Mix well and add the lemon juice

Assembling the pasta
In a large bowl, add the pasta and the roasted broccolini rabe


Pour the herb butter sauce but keep very little of it in the pan

Place the pan back on the stove and add the 3 rabe leaves you saved


Cook for about 30 seconds on low. Don't burn them


Transfer the leaves to the pasta bowl and mix well


Add the panko bread crumbs and red pepper flakes