Easy, Warm Vegan Roasted Cauliflower Salad with Orzo and Roasted Red Peppers in a basil pesto tahini sauce. This salad recipe makes me fall in love with cauliflower all over again. Version 2
Cauliflower is my favorite vegetable to eat!
But, I also realize that I use it mostly in Indian cooking
Its one of those veggies that can work in all kinds of cuisines, so, I put it in this orzo salad recipe….
… and I can't believe how delicious it turned out!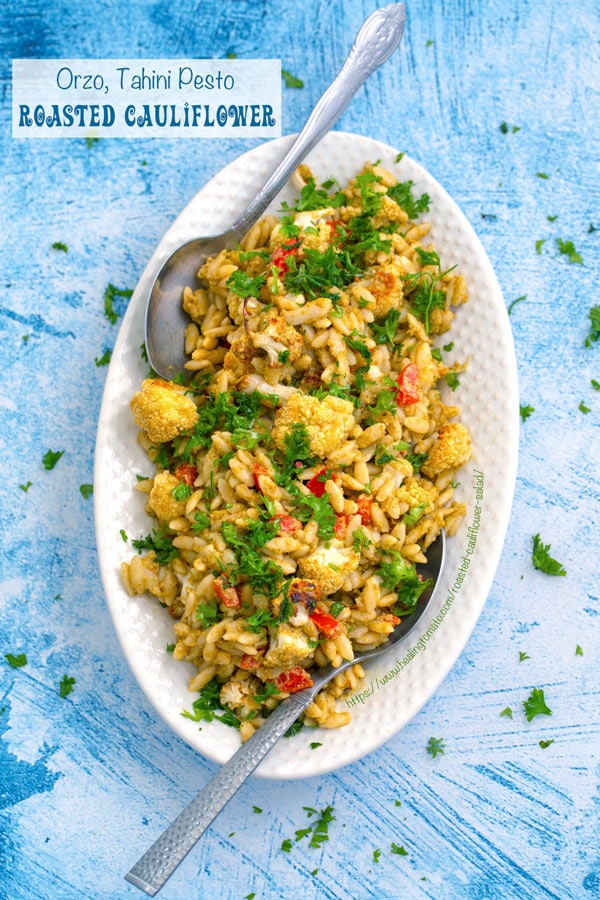 Tips for making these roasted cauliflower salad
– If you have the time, make the basil pesto at home. Use my basil pesto recipe (you can skip the scallions just for this time 🙂 ).
– If you don't have time, the store bought (affiliate link) vegan basil pesto in a bottle will work so well in this recipe. I recommend staying away from the tube version
– The tahini can also be homemade or get the store bought recipe. If you use the store bought recipe, adjust the water depending on the thickness of the tahini
– Cut the cauliflower florets as small as possible. They will roast faster and its easier to eat with a spoon. I recommend using a (affiliate link) cauliflower cutting knife for a very easy experience.
– You can make the roasted cauliflower salad ahead of time, and add the basil pesto tahini when ready to serve
– This recipe includes a big batch of basil pesto tahini. You won't use all of it, so, the rest can be refrigerated for up to 2 weeks and used in any pasta recipe
– I only used a half of red bell pepper, but, it would be ok to use the whole red pepper. Roast the whole bell pepper, cut it open, de-seed it and then dice. Any leftover veggies can be put into a homemade pickles recipe.
Why I love this Roasted Cauliflower Salad
I have never tried putting pesto and cauliflower together before. So, when I was experimenting with this roasted cauliflower salad recipe, I fell in love with the combination. I think that explains why I had a string of new and old pesto recipes on my blog.
The part I love about being a food blogger is that I get to experiment with all kinds of ingredients that, instinctively, may not go well together. However, after experimenting with them, they turn into a delicious fusion recipe.
So, trust me, basil pesto and tahini make for a very creamy good fusion recipe. This sauce was perfect way to coat the roasted cauliflower and orzo.
It also made me appreciate cauliflower in a whole new way. I think this is a great way to change up the same old cauliflower. You can also make a cheesy roasted cauliflower which makes kids eat this veggie.
Related: Have you tried my Paneer Pizza recipe.
More ingredients to add to this salad
– Roasted or steamed broccoli
– Capers (as garnish)
– Red onions (diced)
– Butternut Squash
– Arugula, spinach, kale or any other greens (cooked)
Easy cauliflower recipes
After you have tried this roasted cauliflower salad, I recommend you try some of my other favorites. Which one is your favorite?
Orzo is a fan favorite ingredient
Roasted Cauliflower Salad With Orzo in a Basil Pesto Tahini Sauce
A quick, easy roasted cauliflower salad recipe with orzo and roasted red pepper. Served with a basil pesto tahini sauce

Ingredients
For the Basil Pesto Tahini (See Notes)
For the Roasted Cauliflower Salad
Instructions
Preheat oven to 450°


In a bowl, cut the cauliflower into small florets


Add the oil and oregano to the bowl, mix well


Spread the cauliflower florets on a baking tray


Wrap the bell pepper in aluminum foil and place it on the same baking tray


Place baking tray in oven


Roast cauliflower and bell pepper for 20-25 minutes until the cauliflower has browned


Remove from the oven and let them cool


While the veggies are roasting, cook the orzo pasta


In a blender, add all the ingredients for the basil pesto tahini


Blend on low until all the ingredients are blended


Set aside a half cup of the basil pesto tahini and refrigerate the remaining sauce


Open the roasted bell pepper foil and remove the skin from the pepper


Dice the bell pepper finely


In a pan, add the cooked orzo, roasted cauliflower, bell pepper and the basil pesto tahini sauce


Set the heat to medium and gentle mix all the ingredients


Cook for no more than 4 minutes


Turn off heat and serve immediately

Notes
– Nutrition info is approximate
– This recipe makes about 1.5cups of the basil pesto tahini. However, I only used about 1/2 cup of it. Refrigerated the rest and will use it up in 2 weeks
Nutrition
Version 1 of this recipe
Occasionally, I will go back into older recipes and update them for SEO purposes and just to refresh them, especially the images.
Today's roasted cauliflower salad recipe got a complete overhaul of the old recipe. I added a few more ingredients to the recipe and removed the turmeric. The updated version is more wholesome and hearty.
This recipe was originally published on August 31st, 2015 at 12:03am. You can see the full old recipe by clicking here to go to the Wayback Machine.
This recipe is so versatile. It works as a quick lunch recipe, main course meal or a side dish. How do you plan to use this roasted cauliflower salad?
P/S: if you try the new roasted cauliflower salad recipe, be sure to rate it below in the comments. I always love hearing about your experiences with my recipes.