Mini Crunch Wraps are a twist on the classic crunch wraps. These are made with all organic ingredients and they are a healthier option.
This shop has been compensated by Collective Bias, Inc. and its advertiser. All opinions are mine alone.
Who doesn't love crunch wraps, right?
They are always a fun vegetarian recipe to order, but, I wanted to try a homemade version of this classic comfort food.
My challenge was to make them unique and also make it organic!
I am so proud that I succeeded on both fronts!
I had a lot of help from Organic Valley products in order to make these crunch wraps all organic. Their cheeses and sour cream made a very comfortable home in these mini crunch wraps.
But, don't take my word for it! Make it yourself and you will see just how delicious they taste.
The tortilla is the same organic tortilla I used in my Vegetable Enchilada Casserole. I prefer the whole wheat tortilla, but, white tortilla will work just as well.
I really wanted to include broccoli in this recipe, but, I know how kids despise that veggie. So, I decided to hide it in the guacamole and it turned out great!
No one will know that there is broccoli in these mini crunch wraps, except you. How awesome is that??
Traditionally, the mini crunch wraps use tostadas to supply the crunch. That's where I took some crazy (but good) artistic liberties!
I went with organic vegetable chips and shredded carrots to provide the crunch.
Oh, how I loved taking that first bite into the wrap! The crunch echoed delightfully in my head and my tastebuds awakened in delight.
For the base of these mini crunch wraps, I went with their Organic American Singles which are produced without any additives. They are simply made from a block of milk, high-moisture, organic Colby-style cheese, sliced and packaged. That's exactly how I like my cheese!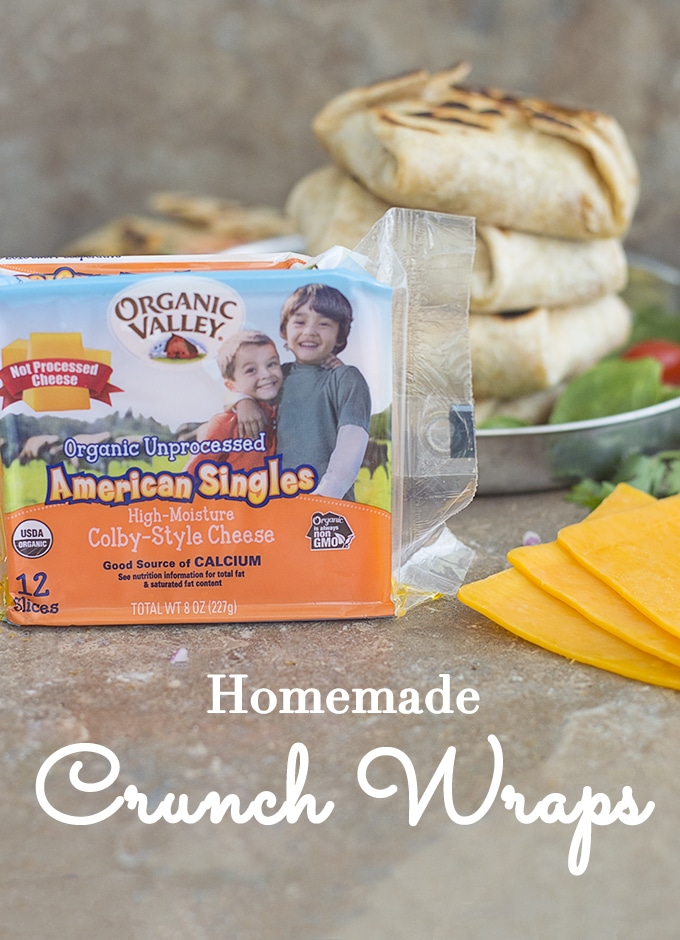 I consider myself lucky because I live next to Publix! It's only 5 minutes from my home, so I make multiple trips to it daily. The morning trip is usually to get their fresh veggies.
It's the evening trips that are my favorite because they are a tiny adventure!
I walk through their aisles looking for useful deals and new products. I can't tell you how many unbelievable products I have discovered during this adventure.
Discovering cheeses are the best part of the adventure. You know how much I love cheese! Luckily, Organic Valley makes all varieties of cheeses which include strings, shreds, blocks, slices and cream cheeses.
As you can see, I am a huge fan of all Organic Valley products. They have 20 years of awards under their belt. Each cheese is crafted one-by-one using very specific guidelines. That kind of quality control is exactly what I would expect from Wisconsinites!
For these mini crunch wraps, I went with their American Singles and sharp cheddar cheese. They make these mini crunch wraps taste so good.
They make many vegetarian-friendly cheeses which don't include animal rennet. You won't find any synthetic hormones, toxic pesticides, GMOs or antibiotics. I am always delighted to see the certified organic sticker on their cheeses. If you want to learn a little more about the difference between vegan and vegetarian food, check out my handy guide.
You can take these mini crunch wraps to work or pack it for the little ones. I brown-bagged them along with their Organic Valley Cheddar Stringles and a granny smith apple.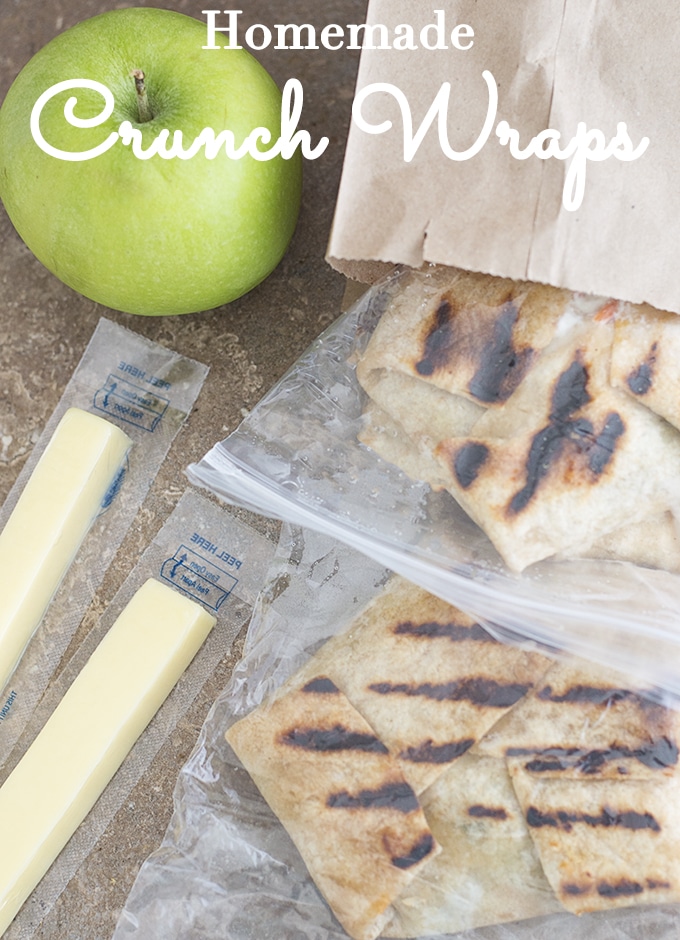 These mini crunch wraps are my favorite recipe in a long time. It's perfect for Mexican recipe for Cinco De Mayo or for any day of the week.
If you are a fan of Mexican recipes, I have over 35 delicious Mexican recipes for you. Let me know which one is your favorite
Ok, it's your turn now. What is your favorite recipe to make using all organic products?
Mini Crunch Wraps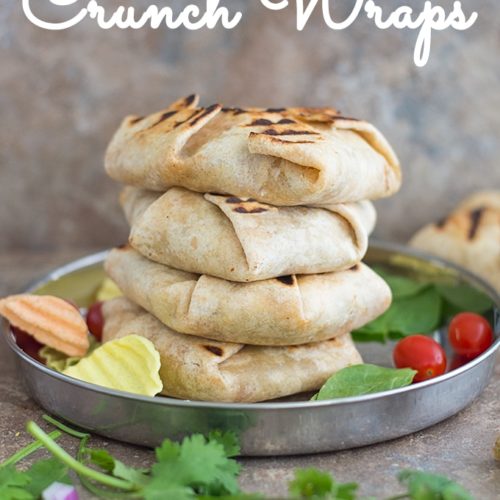 Homemade Crunch Wraps With Hidden Veggies (Organic)
Made with all organic ingredients like broccoli, cheese, black beans and mushrooms.
Ingredients
8

slices

Organic Valley American Singles

1

cup

Organic Valley Sharp Cheddar Cheese

shredded

1

cup

Organic Valley sour cream

8

whole wheat tortillas

organic

1

stalk

broccoli

organic

2

cups

brown mushrooms

organic

4

Tbsp

Extra Virgin Olive Oil

(Split in Half, Organic)

½

tsp

kosher salt

1

cup

black beans

organic and low sodium

1

cup

southwestern guacamole

2

cups

shredded carrots

organic

1

cup

organic baby spinach

loosely packed

1

cup

veggie chips

organic

¼

cup

red onions

chopped (organic)

¼

cup

cherry tomatoes

halved (organic)
Instructions
Preheat oven to 400 degrees

Chop the broccoli into florets and the mushrooms into thin slices

In a bowl, add the chopped broccoli and mushrooms

Add 2 Tbsp of olive oil and salt

Transfer to baking tray and roast veggies for 15 minutes or until slightly browned

Let them cool for a few minutes before blending them

While the veggies are cooking, Mix the sour cream and carrots, set aside

Blend the veggies until they are well blended

Add the guacamole and black beans

Blend until it's in paste form. Set aside

Warm up one tortilla and place it on a flat surface

Place one American Single first

Add 2Tbsp of broccoli mixture

Top with about 4 veggie chips. Not surprisingly, I am biased towards the tomato ones

Add a layer of baby spinach (about 5 leaves)

Top with 1 tsp of onions and a couple tomatoes

Finally, top with the cheese

Heat a grill on high and spray it with organic olive oil spray

While the grill is heating, fold the tortillas.

Start by folding the edges upwards and bringing them to the center. Hold down the center while you fold

Place the crunch wrap on the grill with the folded side down

Grill each side for about 2 minutes or until charred

Repeat steps 11 to 22 for the remaining 7 tortillas
Notes
Serve with salsa
*Nutrition information is approximate
Nutrition
Calories:
684
kcal
Carbohydrates:
60
g
Protein:
21
g
Fat:
41
g
Saturated Fat:
15
g
Cholesterol:
47
mg
Sodium:
1399
mg
Potassium:
698
mg
Fiber:
11
g
Sugar:
9
g
Vitamin A:
7055
IU
Vitamin C:
31
mg
Calcium:
585
mg
Iron:
3.5
mg