Vegetable Enchilada Casserole is made with fresh cauliflower, mushrooms, grilled corn, spinach and red peppers.  Topped wih organic cheese, this is the perfect hearty meal for any night of the week.
This is a sponsored post written by me on behalf of Mission®. All opinions are entirely my own.
Have you had cauliflower in enchiladas?
If you haven't, you are in for an unbelievable treat!
This casserole is filled with roasted veggie goodness because I wanted to try a very different kind of enchilada recipe.  My challenge was to use mostly fresh ingredients that would complement the main ingredient!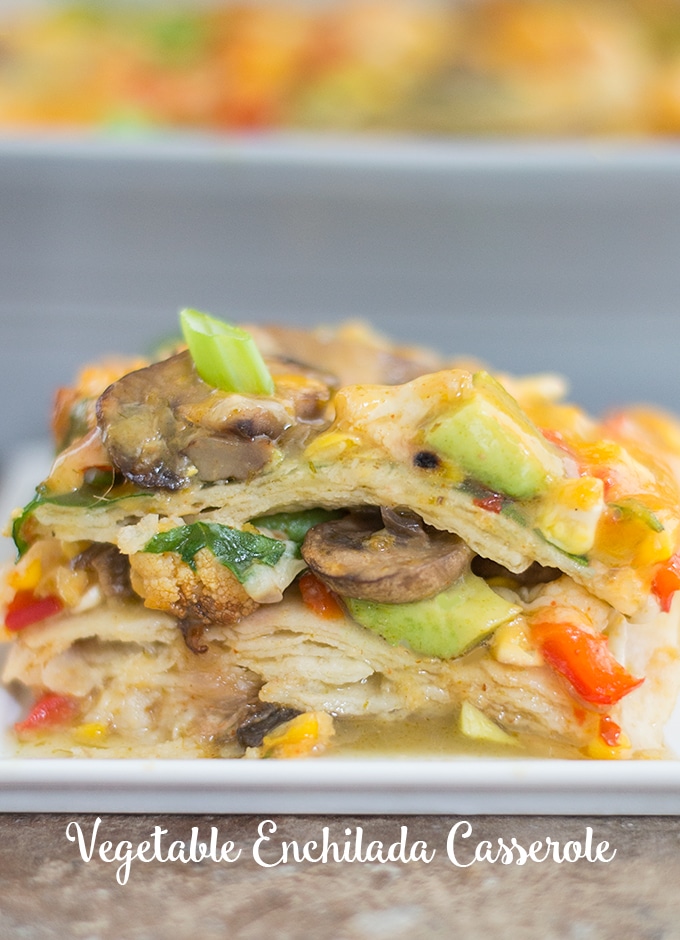 I am happy to report that I succeeded at this challenge.
So, what is the main ingredient in this recipe? The hero of this casserole is Mission Organics® Tortillas!
I discovered that these tortillas are a USDA organic certified product and non-GMO project verified. Plus, you know how much I love green packaging….
That made my taste buds go into overdrive and I absolutely had to try them.  My immediate thought was an enchilada casserole recipe.
Mission Organics Tortilas are new on the market and easily found in the tortilla aisle nationwide.  If you want to find out which store near you carries them, they have a very useful store locator feature on their site, as well as additional recipes.
For this recipe, I experimented with their flour tortillas and white corn tortillas.  If you like whole wheat tortillas, then you will completely fall in love with their organic whole wheat tortillas.
I warmed up the tortillas first before putting them in the casserole because that really brings out the flavors.  It also makes them softer and easy to put in a casserole.
So, I experimented with all organic ingredients until I found the right vegetables.  I never thought I would use cauliflower in an enchilada recipe!
But, I did and it worked so well with the mushrooms and red pepper.
Instead of using frozen corn, I went with whole corn that I freshly grilled.  There is something so comforting about eating grilled corn, right?
No enchilada casserole is complete without some cheese! The melted cheese brings comfort food quality to this recipe. You know that I just can't resist making food that is comforting for the soul!
I found organic pepper jack and organic sharp cheddar to top the casserole.  It was shredded right before being topped, so, it melted like a drrrreaaam!
Have you made a recipe where you think of an ingredient at the last second?  It happens to me all the time!!
This time, it was avocados!! Just as I was about to put down the first layer of the roasted veggies, it occurred to me that avocado would add a nice texture to this recipe.
These last minute additions didn't disappoint…..
The veggies were roasted first before layering them on the casserole.  Garnish the Vegetable Enchilada Casserole with spring onions and Italian parsley.  If you are looking to make this recipe spicy, you can add jalapeño in the vegetable mixture.
I also found that green enchilada sauce is so much better for this recipe.  It adds a little tang to all the ingredients.  If you like a red enchilada sauce, try my gluten-free creamy enchilada sauce.
Flour, White Corn or Whole Wheat! Which is your favorite variety?
Related: You may also like my Vegetarian Enchiladas Recipe


Vegetable Enchilada Casserole
Vegetable Enchilada Casserole
Vegetable Enchilada Casserole is made with fresh cauliflower, mushrooms, grilled corn, spinach and red peppers. Topped with organic cheese
Cuisine:
American, Mexican
Ingredients
12

Mission Organic White Corn Tortillas

1

cauliflower

small-sized

1

red bell pepper

1

avocado

2

cups

white button mushrooms

sliced

2

corn on the cob

sweet, small, husked

½

red onion

1

cup

baby spinach

loosely packed

1

Tbsp

extra virgin olive oil

1

tsp

salt

1

tsp

cayenne pepper

½

cup

Italian Parsley

chopped

1

lime

1

Tbsp

taco seasoning

1

cup

pepper jack cheese

organic and shredded

1

cup

sharp cheddar cheese

organic and shredded

1

jalapeño

¼

spring onions

chopped

3.5

cups

green enchilada sauce
Instructions
Preheat oven to 400°

Cut the cauliflower into small crowns

Cut the onions and pepper into small pieces

In a bowl, mix the cauliflower, onions, pepper, cayenne pepper, salt and oil

Spread the veggies on a tray and roast for 20 minutes or until the veggies have browned

Remove and let them cool for a few minutes

While veggies are roasting, grill the two corn on the cobs

Remove from the grill and strip the corn into a bowl

Add about ½ of the Italian parsley to the bowl and leave the rest for garnish

Add the roasted veggies, avocado, taco seasoning and juice of the 1 lime to the bowl

Mix well

Warm up the tortillas in a pan

Spray a baking dish (10.25" Square)

Start with layering 4 tortillas

Spread about 1 cup worth of enchilada sauce

Layer with the mixed veggies.

Repeat the layer one more time

Layer with the last four corn tortillas and 1 cup of enchilada sauce

Add a layer of the baby spinach

Top with the remaining mixed veggies

Top with the shredded cheese

Drizzle the remaining green enchilada

Place in the oven for about 10 minutes or until the cheese has melted

Remove from the oven

Garnish with the jalapeño, spring onions and remaining parsley
Recipe Video
Nutrition Facts
Vegetable Enchilada Casserole
Amount Per Serving (12 servings)
Calories 1218
Calories from Fat 315
% Daily Value*
Total Fat 35g 54%
Cholesterol 54mg 18%
Sodium 2815mg 117%
Potassium 1500mg 43%
Total Carbohydrates 40g 13%
Protein 23g 46%
* Percent Daily Values are based on a 2000 calorie diet.