Add a little rose water to turn any traditional vegetable side dish into an aromatic and delicious comfort food. Only one drop of all natural rose water transforms any roasted vegetables recipe into an instant holiday classic.
This roasted vegetables recipe is sponsored by Nielsen-Massey. All opinions are my own.
Have you had ice cream with rose water?
How about a milkshake with rose water?
Maybe a cocktail with rose water?
If not, you are seriously missing out on a delightful culinary experience.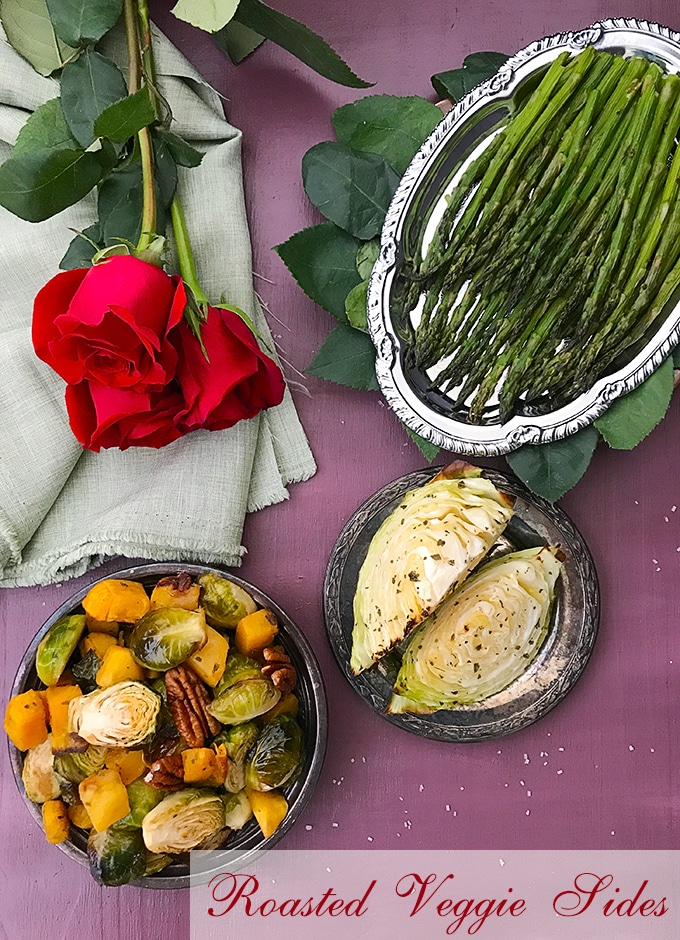 Growing up Indian, we always used rose water. Our favorite way to consume it was in milk. The recipe is commonly known as Faluda where rose water, milk, rose syrup and soaked sweet basil seeds are mixed together.
Its normally served cold and makes for a very cool and refreshing drink, especially on hot summer days.
Even as an adult, I cannot resist adding rose water to recipes. My favorite way is to add a drop to mineral water and drink it up!
This time, I am adding rose water to roasted vegetables recipe that are traditional Thanksgiving sides.
Having the right rose water makes all the difference. The correct and only way to make rose water is to extract it from roses using a steam distillation process. It is a time-honored process and really brings out the best essence of any rose.
It made me so happy to see that Nielsen-Massey uses this process to make their rose water. When I got the product in the mail, I couldn't open it up fast enough!
Just opening the bottle and inhaling that first aroma from the bottle brought back so many wonderful memories for me! Even a few forgotten memories came flooding in which was a pleasant surprise.
It also filled my entire home with the aroma of roses! I sat in my home living room and let the aroma soothe me.
Other than the rose water, I also tried their Madagascar Bourbon Pure Vanilla Sugar and their Tahitian Vanilla Beans.
That vanilla bean pod was HEAVENLY! I have never used a pure and natural vanilla pod quite like this one. I don't know where it has been my whole life!
The next milkshake I make, will definitely have this vanilla pod along with the rose water.
The Madagascar Bourbon Pure Vanilla Sugar was a completely different experience. I have always heard that vanilla-infused sugars are so good because they are made with pure vanilla extract.
I never believed the hype until I tried it myself! It was so good and I don't know if I can use any other sugar after this.
The aroma from the vanilla sugar made me think I was in Madagascar. They use a cold extraction process instead of a heat process and that helps preserve all the flavors.
With the holiday season coming up, making desserts is going to be my biggest experiment. I am not going to trust my desserts to just any ingredients. Pure ingredients make desserts that much more interesting and delicious.
I have been spending a lot of time on Nielsen-Massey's Facebook, Twitter and Instagram pages. Their social feed is filled with exciting recipes, deals and funny moments.
You can order their products online or find a location near you that sells them. Come back and tell me which products you tried. You know what always makes me happy? It's seeing the pictures of the recipe you made!
So, as you can see, using rose water for cooking can be so much fun and delicious.
What's your favorite way to use Rose Water?
Related: If you like this roasted vegetables side, you will also like this broccoli with potatoes recipe


Roasted Vegetables With Rose Water
Roasted Veggies with Rose Water
Traditional Thanksgiving sides made using Rose Water

Print
Pin
Rate
Ingredients
For the Roasted Butternut Squash
For the Roasted Asparagus
For the Roasted Cabbage Wedges
Instructions
Preheat oven to 400 degrees
For the Butternut Squash
In a bowl mix all the ingredients (except the pecans)

Lay out the veggies in a baking tray and place in the oven

Roast veggies for 20 minutes or until they have browned

Remove from the oven and let them cool.

In a serving bowl, add the pecans and the roasted butternut squash. Mix well and serve
For the Roasted Asparagus
Mix all the ingredients in a bowl

Arrange the asparagus on a baking tray and place in the oven

Roast for about 10-12 minutes or until the asparagus are tender

Remove from the oven and let them cool for a few minutes

Transfer to serving tray and serve immediately
For the Cabbage Wedges
In a bowl, mix all the ingredients (except the cabbage)

Use a brush to baste the cabbage wedges with the oil mixture

Be generous

Place in the oven on the lowest rack and bake for about 15 minutes or until the wedges have browned

Remove from the oven and let it cool

Serve immediately
Notes
My instructions above are for those who are not used to rose water's taste. For this reason, I added it before the roasting process. If you are a regular user of rose water, add a drop of it after removing it from the oven. Add the rose water drop, mix well and then serve.
Nutrition
Calories:
332
kcal
|
Carbohydrates:
20
g
|
Protein:
4
g
|
Fat:
28
g
|
Saturated Fat:
3
g
|
Sodium:
1049
mg
|
Potassium:
618
mg
|
Fiber:
7
g
|
Sugar:
6
g
|
Vitamin A:
7830
IU
|
Vitamin C:
84.5
mg
|
Calcium:
114
mg
|
Iron:
2.2
mg