Vegan Kimchi Pizza made with gochujang. My first attempt at a Vegan Korean recipe is beyond delicious! It was really easy to make and I only needed a few ingredients.
How much do you love pizza?
Have you tried putting it on kimchi?
This is the first time I put kimchi on my pizza and YUM!!!
This pizza is bursting with flavor like no other recipe I have ever made.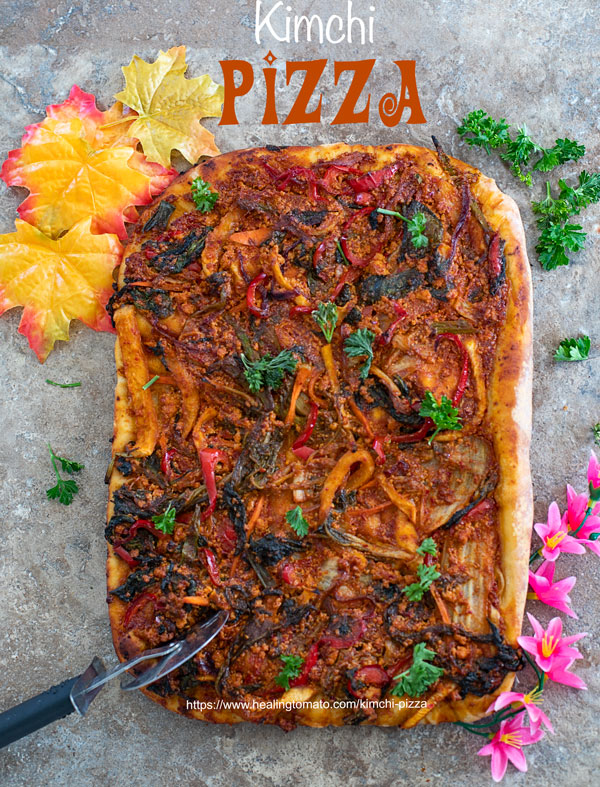 Between 1993-1994, I was Kimchi obsessed! I had a few Japanase friends who loved Kimchi and they got me hooked on it.  They would make a vegetarian version of it and send it to me.  I devoured every morsel of that kimchi
I would mix it in a coconut rice recipe and wolf down the whole bowl.
Kimchi made a huge difference to my digestive system in those days.  That's one of those wonderful health benefits of eating Kimchi.
In recent years, I have tried to add Kimchi again in my diet.  It has been difficult because I miss that homemade Kimchi recipes.  They were prepared just for me and it spoiled me.
Recently, I tried King's Kimchi and totally fell in love with their recipe.  They are not sponsoring this post.  I just wanted to do a recipe using their amazing product.
What is Kimchi
Kimchi is a huge part of Korean cuisine.  They use it like we use ketchup and mustard.  Its present on the table at every meal in a Korean household
Every family has a variation of Kimchi recipe in their home.  They use different types of seafood sauces and pastes for the base and that makes it so unique in flavor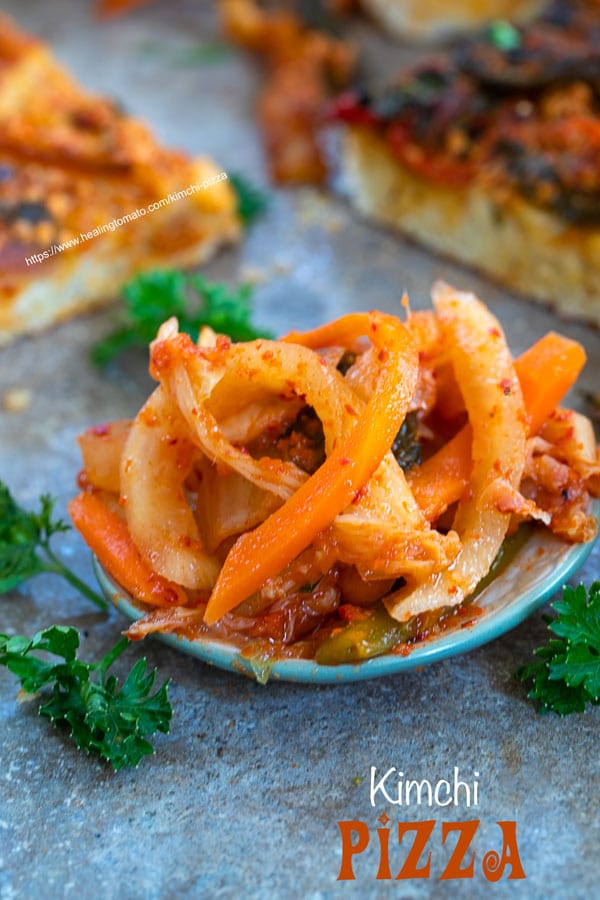 The common ingredient you will find in all kimchi is cabbage.  Cabbage ferments so well and can last a very long time.
Even though Kimchi is Korean, it has made its way into to other Asian cultures, especially Japanese.  They can make a mean Kimchi which I really loved.
What Type Of Cabbage Is Used To Make Kimchi?
Napa cabbage is the most common one.  However you can use other types of cabbage, too
– Red cabbage
– Regular cabbage
– Bok Choy
– Savoy cabbage
I like the idea of used red cabbage which is what I am experimenting with at the moment.  Plus, I have made red cabbage pizza and I can't wait to try it on pizza again.
Do you know the best way to cut cabbage?  Check out my tips and tricks on how to cut cabbage the right way each time.
How Does Kimchi Taste?
Kimchi is pickled which means it tastes spicy and sour.  All recipes use vinegar and red chili in it which is why its so yummy.
All the ingredients are put into a glass bottle and sealed.  They are marinated for a few days before it becomes Kimchi.
Just like wine, the longer the kimchi is fermented, the better it tastes.  So, my bottle of kimchi can easily last a year and tastes so good each time I make this Kimchi pizza.
I am a huge fan of pickling vegetables.  Check out my pickled cauliflower and other vegetables recipe.
Is Kimchi Vegan?
No, traditional version of kimchi are not vegan or vegetarian friendly.  Kimchi is made with shrimp paste, fish sauce or raw oysters.
I found this out the hard way recently!  So, learn from my mistakes and read the label diligently before buying it.
However, there are many companies that sell vegan version of Kimchi.  King's Asian is one of those companies.  I get it from my local Publix store, but, they are also sold at Whole Foods, Walmart, Safeway and others.
There are also several recipes online of how to make it at home.  Minimalist Baker and The Kitchn have delicious recipes for vegan kimchi.
I am also working on a recipe of my own and will post it soon.  I can't believe I haven't made my own version before!
Is Kimchi Good For You?
Yes it is good for the body because of one major reason.  Its filled with the good kind of probiotics formed during the fermentation process.
As you know, Probiotics are really important for the digestive system.  It has made a huge difference for my digestive system and I plan to consume it regularly.
As a vegan, I know the importance of eating saurkraut and kimchi.  Since vegans don't eat dairy products, we have to find a way of getting probiotics into our system.
There is no more delicious way of getting probiotics into our system than with Kimchi! I think I would eat this Kimchi pizza everyday, if I could.
I love this article at WebMD which gives me so much more information on Probiotics.
What is Gochujang?
Gochujang is a hot and sweet Korean sauce that is used in dips, spreads and stir fry recipes.  Think of it as a pimped out version of ketchup.
I have to admit that I didn't know of Gochujang until I started researching Korean cuisine.  Its one of those things that I can't believe I didn't know existed because it tastes so good!
I added it to my Kimchi pizza because it really added a sweetness and spice to the it.  I can't tell you how delicious it tastes! You have to make it for yourself and then your tastebuds will thank you.
This Gochujang will be so delicious in an Udon stirfry or a spread in a corn-on-the-cob recipe.
How will you use gochujang?
Where to buy Gochujang?
– (Affiliate Link) Amazon
– Publix (International food aisle in the Asian food section)
– Walmart (possibly in their sauce or BBQ section.  Can also be ordered through their website)
– Target (In their international food aisle, Asian food section.  Can be ordered online through their website)
– Your local Asian specialty store.
I thought it might be hard to find locallly, but, I am so glad I was wrong.  Its very easy to buy anywhere in my area.
So, how do you say Gochujang?  Check out this youtube clip! Is that how you've been saying it this whole time?  I wasn't, lol! I said "Go-chew-jang".  Its actually pronounced "Go-shu-jang"!!!
How To Make Gochujang?
If you find yourself wanting to make this kimchi pizza but don't have Gochujang in your refrigerator, here is a quick and dirty version of making it at home.  Mix all the ingredients together before adding it to the kimchi.
– 3 Tbsp ketchup
– 1 Tbsp tomato paste
– 1/8 tsp salt
– 1/2 tsp apple cider vinegar
– 1/2 tsp cayenne pepper
– 1 Tbsp agave (or maple syrup)
– 1 tsp soy sauce
And what to do if you don't have ketchup?  Well, make it at home using my homemade ketchup recipe.
I made extra kimchi pizza because it tastes even better the next day!
What's your favorite way to use Kimchi?

How To Make Kimchi Pizza
Kimchi Pizza
Simple kimchi pizza recipe.

Ingredients
2

Tbsp

coconut oil

1/4

red onion

julienne

1/2

red bell pepper

julienne

5

pieces

asparagus

just the tips

1

cup

baby spinach

tightly packed

1/4

cup

gochujang

https://amzn.to/2O8VvRl

1/4

tofu

pressed and crumbled

1

cup

kimchi

I used vegan kimchi

1/4

cup

kimchi liquid

this is the liquid that the kimchi is fermented in

16

oz

pizza dough
Instructions
Heat a stainless steel pan for 30 seconds on medium heat before adding the coconut oil


Add the onions and bell peppers, cooking them until soft


Add the asparagus and cook for 30 more seconds

Add the baby spinach and cook until they are half the size


Mix well before adding the kimchi and kimchi liquid


Cook on medium heat until the liquid has evaporated


Remove the pan from heat and set aside to cool


While the kimchi topping is cooling, roll out the pizza dough


Place rolled dough on a lightly sprayed baking tray or pizza stone


Spread the kimchi mixture on the rolled out pizza dough


Place in the oven for 30-35 minutes or until its browned


Cool to touch before serving

Nutrition Facts
Kimchi Pizza
Amount Per Serving
Calories 491
Calories from Fat 117
% Daily Value*
Total Fat 13g 20%
Sodium 1107mg 46%
Potassium 249mg 7%
Total Carbohydrates 82g 27%
Protein 13g 26%
* Percent Daily Values are based on a 2000 calorie diet.